Top 10 Tips to Create a TSI Math Study Plan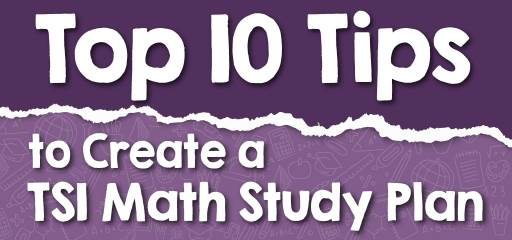 The Texas Success Initiative Assessment, known as the TSI, is a test to assess the appropriate level of college work for an incoming student. It is a quick and comprehensive assessment of students' academic abilities. The TSI test consists of three separate tests:
Mathematics
Reading
Writing
The TSI math consists of 20 questions. This test covers geometry, algebra, and data analysis at both basic levels and intermediate.
To succeed in TSI mathematics, you must have a TSI study program. This plan tells you what and how you can prepare for TSI math. It also helps you manage your time and make the most of TSI math. Here are some tips to help you get started with a TSI math study program. So join us!
The Absolute Best Book to Ace the TSI Math Test
1- Make a list of all the TSI math topics to study
The first step in creating a TSI math study plan is to make a list of all the math subjects. Calculate how many hours you need to study for each math topic.
2- Find TSI study materials
Before you start preparing for TSI mathematics, it is important to find all your study resources. That way, you do not have to spend time studying to find resources.
3- Start early for TSI math
Waiting to start studying TSI math until the last minute is the biggest mistake you can make. As the day of the TSI math test approaches, you will probably find it harder to feel stressed, tired, and reminded of anything. It will stress you out, and you will be in an endless struggle. Starting early in TSI math lets you study for just a few hours each day and relax your brain.
4- Design a table to manage time
You can use your time better by designing a table. After doing this, you can assign each column of the table to a TSI math topic. Fill in the columns according to the TSI math topics you want to read. It will help you get things done faster than you expect.
5- Take TSI practice tests
Participating in the TSI test is one of the best study methods available to you. These practice tests will help you become familiar with the types of questions you encounter and the content you are looking for. They can also help you identify areas where you should spend more time studying. TSI practice tests are an essential study tool that can help you achieve the required score.
Best TSI Math Prep Resource for 2022
6- Use alternative study methods
While practice tests are very important, some students know that they can better retain information by changing their daily study schedule using alternative materials. Flashcards for the TSI and study guides for the TSI can also be incredibly helpful at ensuring you are prepared to perform your best on exam day!
7- Create a study environment
Mathematics is a subject that needs focus more than other subjects. A good study environment without distractions can be a decisive factor when solving TSI mathematical equations! Therefore, it is very important to study mathematics in a private space with adequate lighting.
8- Commit yourself to the study program
You may have an attractive plan to pass the TSI math test, but keep in mind that the design of this program does not guarantee its implementation. To get the right result from TSI math planning and test success, you must take the time and force yourself to run it. After a while, the TSI program becomes part of your regular program.
9- Join a study group
Working math with a study group can help you stay focused and motivated while studying TSI math. It is a good way to review the math topics you are weak in, instead of focusing on the parts of the test that you are strengths.
10- Take care of yourself
Your health is very important, and you should pay attention to it during the TSI study program. You can spend many hours studying and preparing for TSI math, but you should eat the right food, sleep enough, and exercise. These steps will help you to be more focused and prepared when preparing for TSI math.
Finally, keep in mind that although a study program can help you pass the TSI math test, it does not work alone, and the final success of the TSI test depends on your willpower.
The Best Books to Ace the TSI Math Test
More from Effortless Math for TSI Test …
Not sure about the policy and conditions of Retaking the TSI test?
Top 10 Tips You MUST Know to Retake the TSI Math is the guide you will need to review if you want to retake the TSI exam.
Can't find the right worksheets to practice more TSI math?
TSI Math Worksheets: FREE & Printable is what you are looking for!
How much do you know about the TSI math test? What kind of Math is on the TSI test will help you learn more about the math section of the TSI test.
The Perfect Prep Booksfor the TSI Math Test
Have any questions about the TSI Test?
Write your questions about the TSI or any other topics below and we'll reply!
Related to This Article