4th Grade K-PREP Math Worksheets: FREE & Printable
Does taking the K-PREP math test seem difficult for your 4th-grade student? Using our K-PREP math worksheets will address this concern!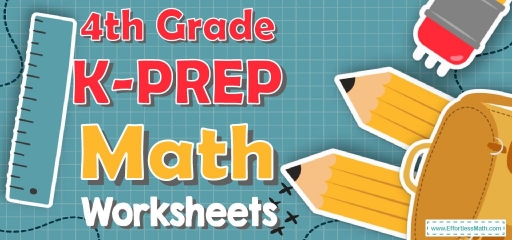 The Kentucky Performance Rating for Educational Progress (K-PREP) is an assessment of academic achievement for grades 3-8 in Kentucky.
What strengthens 4th-grade students in the math section of the K-PREP test is enough practice. This important thing is possible by using comprehensive K-PREP math worksheets.
Do not worry if you do not have access to free K-PREP math worksheets for further practice for your 4th-grade student! We have provided what you need in this article.
Our 4th-grade K-PREP math worksheets are well organized and you can easily find, download and even print your favorite topic!
IMPORTANT: COPYRIGHT TERMS: These worksheets are for personal use. Worksheets may not be uploaded to the internet, including classroom/personal websites or network drives. You can download the worksheets and print as many as you need. You can distribute the printed copies to your students, teachers, tutors, and friends. 
You Do NOT have permission to send these worksheets to anyone in any way (via email, text messages, or other ways). They MUST download the worksheets themselves. You can send the address of this page to your students, tutors, friends, etc.
Related Topics
The Absolute Best Book to Ace the 4th Grade K-PREP Math Test
4th Grade K-PREP Mathematics Concepts
Place Values
Numbers Operations
Rounding and Estimates
Money
Time
Fractions and Mixed Numbers
Decimal
Measurement
Data and Graphs
Geometric
A Perfect Practice Book to Help Students Prepare for the K-PREP Grade 4 Math Test!
4th Grade K-PREP Math Exercises
Place Values and Number Sense
Adding and Subtracting
Multiplication and Division
Mixed Operations
Data and Graphs
Money
Ratios and Rates
Measurements
Time
Geometry
Three-Dimensional Figures
Symmetry
Fractions and Mixed Numbers
Decimal
Looking for the best resource to help you succeed on the 4th Grade K-PREP Math test?
The Best Books to Ace the 4th Grade K-PREP Math Test
Related to This Article