Top 10 Tips to Overcome HSPT Math Anxiety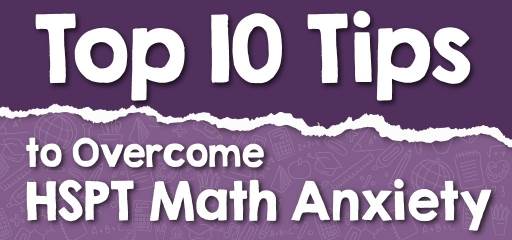 Do you think you will forget everything you know when you look at the HSPT exam sheet? Despite many studies, do you feel that you cannot answer the questions? One of the matters that many students face is not having a calm mind during exams and tests. Exam stress can lead to serious damage to students' bodies and souls. Therefore, controlling stress and anxiety during the HSPT test can be a big step toward achieving the best result in the HSPT test.
In this post, we have brought you the best ways to overcome HSPT math anxiety. So join us!
The Absolute Best Book to Ace the HSPT Math Test
1- Find out what will be on the HSPT
Familiarize yourself with the HSPT format to know what to expect. See what the math section covers. Familiarity with the HSPT format can reduce your math anxiety and help you get better at exams.
2- Never procrastinate!
If you prepare for HSPT math early, your math anxiety will not bother you, and your mind is calm. If you try to learn everything quickly, you will put a lot of pressure on your mind, and your math anxiety increases. Therefore, it is better to prepare yourself sooner to get rid of math anxiety.
3- Study with others
Working with a group can be much more effective than your study. If you have friends like you who want to take this test, meet to study math and compare notes. Group study can reduce your stress and improve your weaknesses.
4- Behave well to reduce your stress
Math anxiety can occur just like any other type of stress with physical symptoms. Taking good care of your body can help you reduce and deal with the worst aspects of math anxiety. Get enough sleep and eat well. Hunger or tiredness can make feelings of stress and anxiety worse. Proper nutrition and rest make it easy to get close to HSPT math.
5- Write about negative emotions
If you are overwhelmed with negative emotions the night before the HSPT math test, write down what worries you. Research has shown that writing about experiential emotions before starting HSPT can greatly reduce your anxiety.
The Only Resource Your student Will Ever Need to ace the HSPT Math Test
6- Stay positive
Negativity leads to anxiety. When negative thoughts come to you, stop thinking about them. Instead, divert your thinking to good things in life. It is also important to distance yourself from negative testers or other anxiety. When others speak negatively, what they say affects you.
7- Thinking about your success
Visualizing yourself is the best way to get rid of HSPT math anxiety. Nothing is more successful than the thought of achieving success and goals. It is also associated with math anxiety. To be proficient in mathematics, you need to think about achieving the goal of imagining that you have solved all the questions with confidence and in the right way.
8- Failure is a natural part of learning
Failure is a natural part of learning math. Mistakes are part of the learning process. Do not interpret them as a reflection of your intelligence and avoid stress.
9- Familiarity with stress management and relaxation
Managing stress and relaxation is one of the best ways to overcome math anxiety. With this technique, you can overcome anxiety and be able to focus on the things that make you happy. In this method, you should meditate and take deep breaths that help your mind relax.
10- Taking care of yourself
You cannot take care of math unless you take care of yourself. To be a good student of mathematics, you have to take care of yourself so that your mind can function fully.
Finally, it is good to know that having a little stress is normal for HSPT math. To overcome this level of anxiety, you can use the mentioned topics and pass your HSPT math test successfully. But if you feel that your anxiety level has reached a level that cannot be controlled with the usual methods, be sure to consult a counselor in this area so that you can calmly take the HSPT math test.
Looking for the best resources to help you or your student succeed on the HSPT test?
The Only Resource Your student Will Ever Need to ace the HSPT Math Test
More from Effortless Math for HSPT Test …
Is the math part of the HSPT test confusing to you?
Learn HSPT math content step-by-step with our math course: The Ultimate HSPT Math Course (+ FREE Worksheets & Tests)
Are you one of those HSPT test-takers who find it difficult to memorize math formulas?
You can use The Ultimate HSPT Math Formula Cheat Sheet to solve your problem.
Want to start studying for the HSPT math test using a good prep book?
You can use our article to find the right book for you: Top 10 HSPT Math Prep Books (Our 2022 Favorite Picks)
The Best Books to Ace the HSPT Test
Have any questions about the HSPT Test?
Write your questions about the HSPT or any other topics below and we'll reply!
Related to This Article