Top 10 Tips for Managing Time Effectively on the SAT Math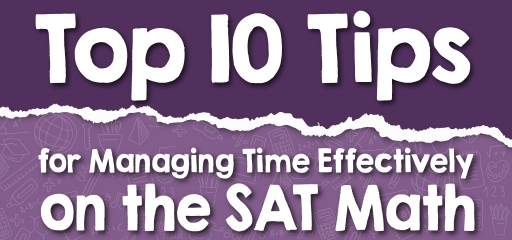 For many students, the SAT math section is the most difficult. With the need to answer many questions in a short time, is it even possible to finish them all? But do not worry! Here are some tips on how to pace yourself during the SAT math. So join us!
The Absolute Best Book to Ace the SAT Math Test
1- Practice, Practice, Practice
Sit at home with a test and take your time. Get used to both the types of math questions and the steps you need to complete on time. We recommend that you have at least three full-length SATs before the exam day to be well prepared.
2- Read questions carefully
Read the math question thoroughly, and make sure what the question is looking for. For each question, underline what you need to find in this question so that you do not get confused in the calculation process and can save time.
3- Learn to let go of a question
It can be very tempting to sit and try to puzzle a question out, but you have to learn how to be more unjust by answering the questions and choosing the questions you have to answer. Each question has the same amount of points, so first select the questions that you can solve the easiest and fastest, and then try more questions.
If you look at a question and do not know how to solve it, mark it and move on. Sometimes moving back to later can lead your mind to a new approach.
4- Eliminate answer choices
Write on your booklet as you go through the test. Write at the angles and lengths given to you, draw graphs, and, most importantly, eliminate the wrong answers.
You are often given a wide range of choices, one or two of which are very wrong. Do yourself a time-saving favor and cross these off your booklet. The faster and more efficiently you can eliminate your wrong answer options, the more you will answer correctly.
5- Identify math problems that will take a long time
Sometimes solving a math problem is not necessarily difficult, but rather a suction time. Identify these and save them forever. If this is a multi-choice question, this is a good time to use the delete process in some answer options. That way, if you need to check the question to get back to it later, you have limited your answer options.
Best SAT Math Prep Resource for 2022
6- Don't do all of the multiple-choice first
Of course, grid-in responses come after multiple-choice questions, but that certainly does not mean that you have to do them in order. Generally, the last few multiple choice questions are more difficult than the first few questions of a grid-in. For this reason, it is helpful to work on the grid-in (at least the first few) before completing the multiple-choice.
Also, the last multiple-choice question is often very hard, and even if you know how to do it, it may take several minutes. It only makes sense to leave this question or questions like it for the end. Achieving the grid-in questions is very important for a good score.
7- Don't erase computations in your test book
This is a waste of a lot of time. You can cross out calculations you no longer want to consider. This is faster than trying to erase with a pencil, especially if you have written out a long formula.
8- Bring a watch
The College Board lets you bring one, so why not? Just make sure the watch is not a smartwatch and will be silent for the duration of the test (no beep!). This is much easier than looking at the clock somewhere else in the room or, in some cases, searching for a clock that is not there.
9- Familiarize with calculator
Make sure your calculator model is approved for SAT. Work with the calculator before the test and familiarize yourself with it so don't get confused during the test and save your time.
10- Don't worry about routing to anyone else
Ignore others in the room as much as possible while you're taking your test. If you worry about how fast or slow other people are taking the test, you will lose focus. Just focus on your test and ignore the steps others take. Your test and your goals are all important.
We hope these tips and tricks help you beat the clock during SAT math!
College Entrance Tests
Looking for the best resource to help you succeed on the SAT Math test?
The Best Books to Ace the SAT Math Test
Related to This Article