Top 10 Free Websites for GED Math Preparation
The GED test is for those who didn't finish high school to obtain their diploma upon graduating. Some students have life-altering events that force them to drop out. Others feel that a GED would be far more beneficial for their current situation. GED test is a few hours test designed to measure your skills in different subjects including Science, Math, Social Studies, Reading, and Writing. These subtests will measure your skills in problem-solving, critical thinking, and communication.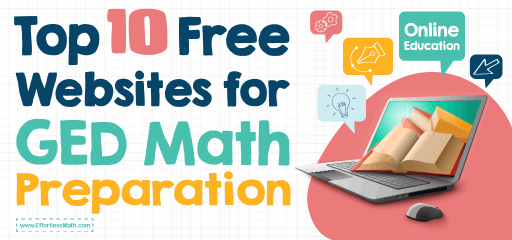 GED covers most elementary subjects with starting levels of data and skillset that are required by an individual. One of the foremost important subjects that are covered under the GED is math.
Mathematics is an elementary-level subject that's been taught to students from the very beginning. From numbers, simple addition and subtraction problems to solving algebra or quantitative problems, math is usually there. GED Test consists of some basic knowledge of Math including Algebraic and quantitative problems.
GED is a crucial certification for everybody who has been home-schooled or couldn't attend a faculty during an early age if they need to pursue their career both professionally or academically.
The certification is recognized altogether in 50 states and you'll be considered eligible for admission to any college within the US if you hold a GED certificate. This makes people want to accumulate GED and thousands of individuals annually go for it.
However, if you're still unable to form time or scrap enough resources to hitch some classes face to face, you'll get help from several following websites which will assist you to learn all you need to pass the GED math at the comfort of your home: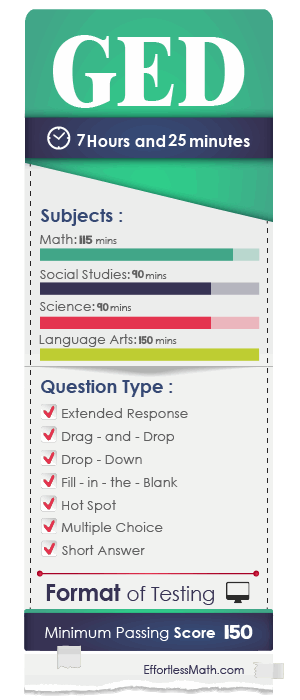 1: Effortless Math
Effortless Math is the most comprehensive math website with the slogan "We Help Students Learn to love Mathematics"!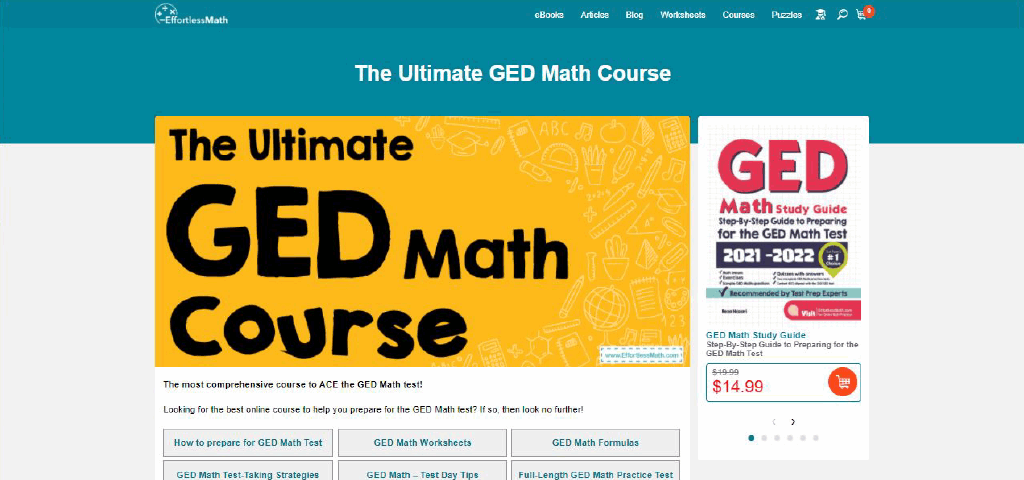 Effortless Math GED Center offers everything you will ever need to pass your GED Math test. The GED Math center is about making math learning effortless and enjoyable. You'll find numerous GED Math lessons, exercises, worksheets, formulas, practice tests, and test-taking strategies to help you master every single GED Math topic in an easy and fun way.
2: Math Help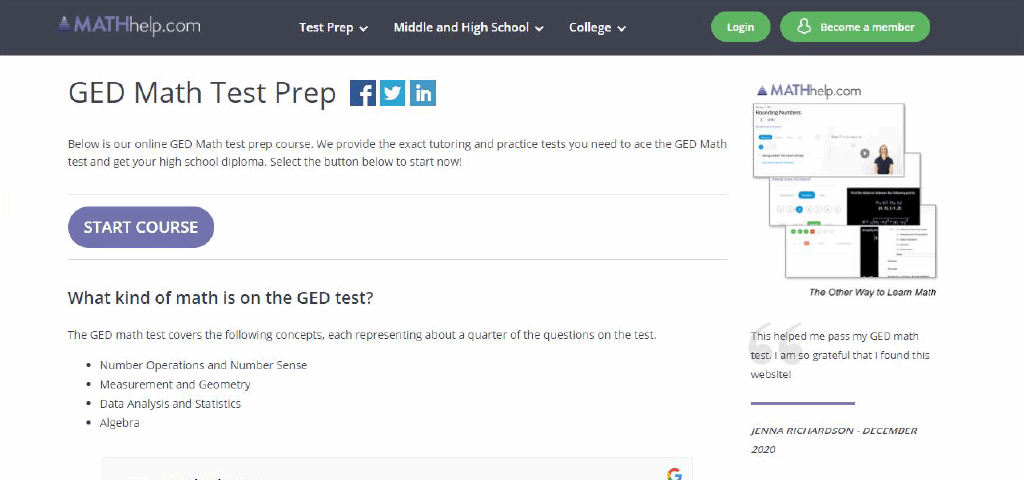 Math Help is another free website that's dedicated to assisting everyone with Math. Mathematics isn't a well-liked or favorite subject of most students but that surely doesn't make it any smaller. The scope of mathematics is so huge that it covers all the scientific subjects and you merely cannot work, or study with a scientific field let its computers, astronomy, or maybe biological studies without covering your math education. The website is all about math and helps students at every level steel themselves against it efficiently.
You'll get many courses including Middle and high school preparation material, a College curriculum to assist you to practice math, and a few test preparations including GED. The website features a carefully structured course designed specifically to assist students to steel themselves against their math exams at GED. This course can assist you to cover maths as a part of your GED, and this could be all the training you want to pass your GED math test. The course allows you to line your own pace, optimize the schedule that's comfortable for you then take it from there to strengthen your foundation.
The Absolute Best Book to Ace the GED Math Test
3: Study.com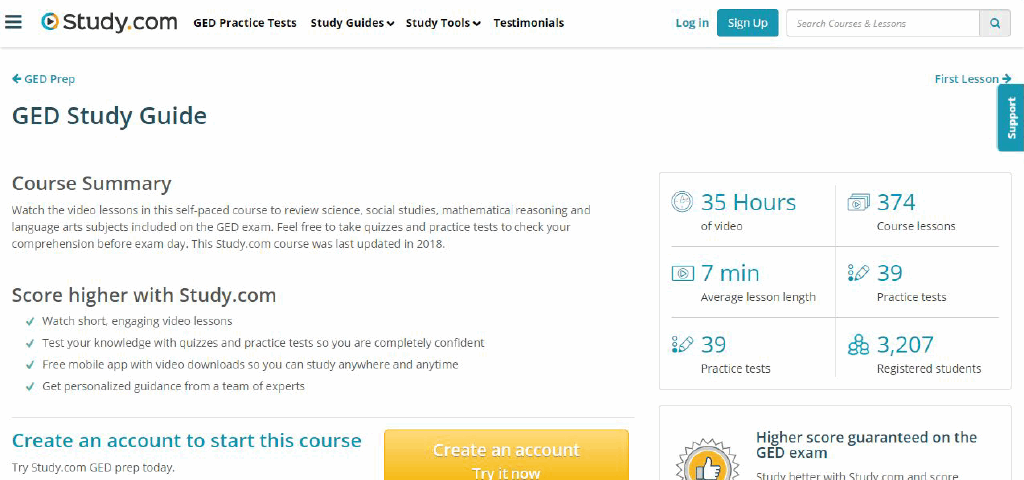 Study.com is another helpful website that will assist you with traditional studies to most major niches of online courses. The website has an in-depth library of courses alongside several other resources to assist you together with your learning journey. Not only that, they got multiple study plans, a good range of credit hours earning options to find out online degree programs, and a choice to get enrolled with their partnered institutions and have an opportunity at formal education, that too while sitting at your home. There are several great options listed on the website that will assist you to steel yourself against all GED subjects including GED Math.
These courses are specifically designed to enable you with all the specified knowledge that you simply will get to take the maths part on your GED. These courses include some preparatory courses with quantitative, arithmetic, and algebraic problem-solving skills. There also are some helpful resources like Flashcards to assist you to steel yourself against GED math efficiently and effectively. There also are some super helpful courses which will not only get you all the knowledge but also prepare you on how you'll take a GED Math test and ace it.
4: GED math lessons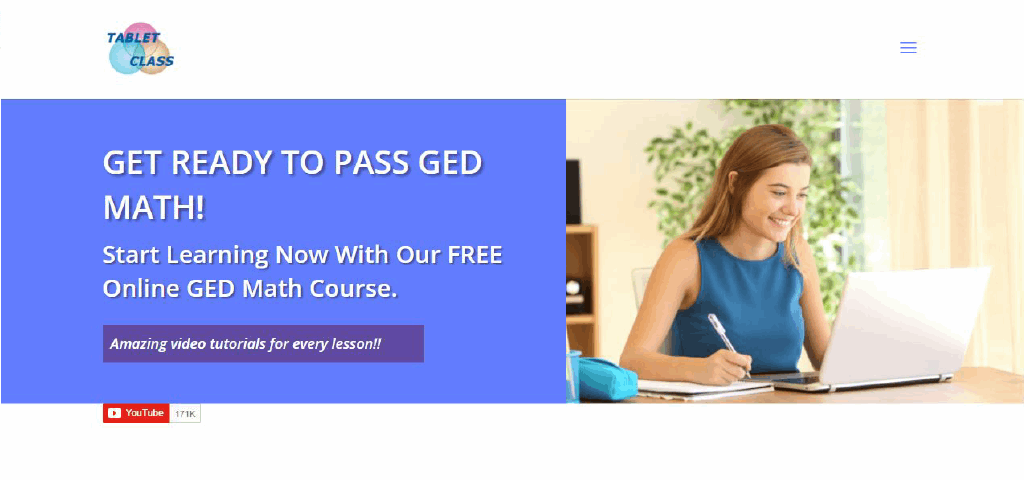 GED Math Lessons is a website dedicated to GED math lessons. The website is free to use for all, and the resources listed on this website are good in terms of qualitative learning. You can find numerous math lessons online but they need such a lot to supply that it can't be easy for you to sink it all, as long as you're preparing for your GED test and haven't been familiar with math in your prior life. There is such a lot to hide with the GED that's simply taught to other students over the years, and you've got relatively lesser time. This website offers you a singular opportunity that will assist you to learn all those topics and canopy the syllabus for GED math easily.
The dedicated website has divided all the curriculum into several chapters to form the understanding and learning process tons easier for you. You can find a good range of chapters and in these chapters, there are dedicated sections to assist you with all of your needs which will prepare you to require a GED Math test confidently. These chapters include Fractions & Decimals, Solving equations, powers and exponents, and far more.
Best GED Math Prep Resource
5: Pass GED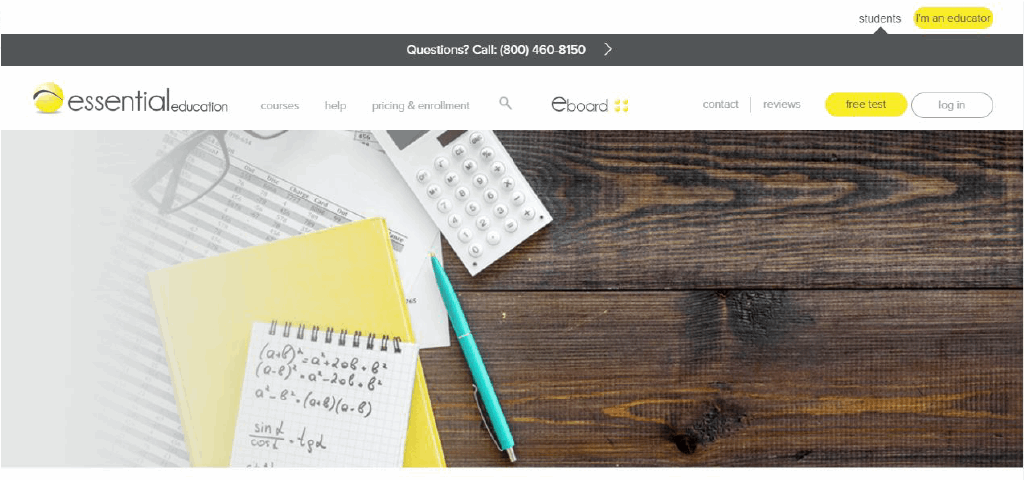 As the name suggests, Pass GED is about helping you pass your GED and steel yourself against it easily. You get access to top-notch resources that are exceptional in terms of comprehension, arrangement, and knowledge delivery. With this website, you'll rest assured that your goal is not only to steel yourself against the GED test but you're getting to pass it with the exception. You can find numerous courses on this website including the GED math course which will assist you to learn and grow your knowledge. you'll also get help from experts on the website whenever you would like and they are always happy to assist.
There also are certain free tests listed on the website that you simply can fancy test your knowledge and see if you're lacking at some point. Not only that, these tests are designed on the GED test pattern and format so you are feeling confident while attempting the test in real. There is an elaborative breakdown of all the courses below it so you'll better understand what you'll be learning through this course and set your expectations and schedule accordingly.
6: Study Pug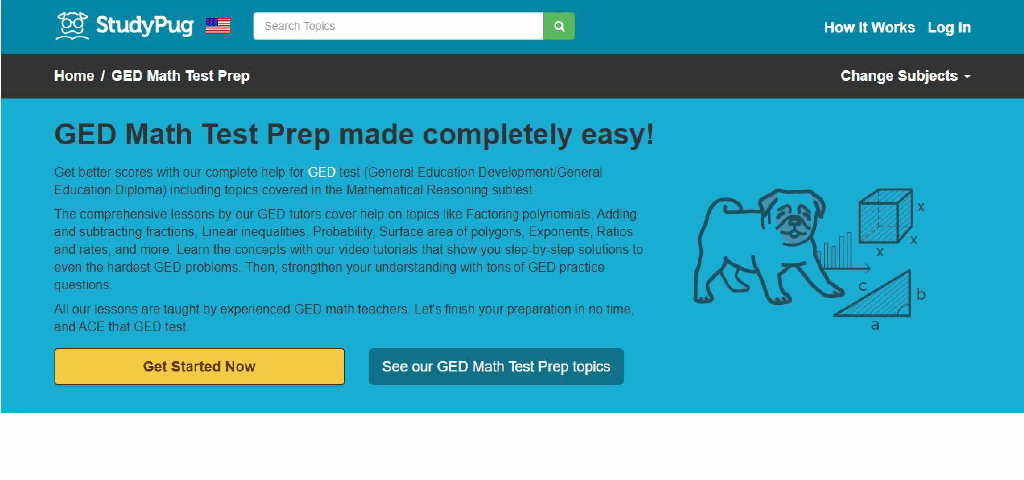 Study Pug helps you steel yourself against the GED test with the mathematical reasoning sub-test and obtain better scores. This is often the simplest thanks to finding a most comprehensive, to-the-point, and dedicated approach which will allow you to offer your best at the test and ace it easily. You can get access to over 36 topics and many subtopics to make sure that you simply are fully prepared for the test. These subtopics can prepare you for your weak aspects specially and you'll make sure that there are not any soft corners remaining. Top of form bottom of Form
7: CovCel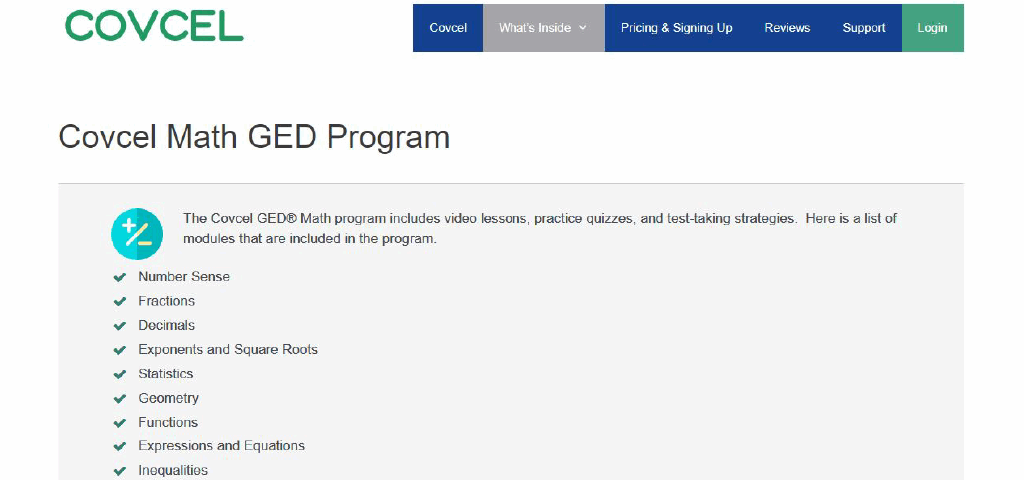 Math is taken into account as the toughest part of GED because it requires you to organize for it the proper way, and not having prior education is often the most important hurdle. However, you would like to stress no more as this website covers everything from the scratch and enable you with enough knowledge that you simply might require to require GED.
Covcel has Number Sense, fractions, decimals, geometry, Functions, Inequalities, Algebra, and lots of more lessons that you simply can learn from and grow your math knowledge to be efficiently ready to take the GED math test. There are video lessons, practice quizzes, and test-taking strategies listed on the website which will make your success a certainty. They have an enticing tool that's on every page and can show you the progress that you simply have made thus far. This way, you'll have the proper self-confidence that you simply have covered such a lot.
The Best Quick Study Guide for the GED Math Test
8: Test Prep Toolkit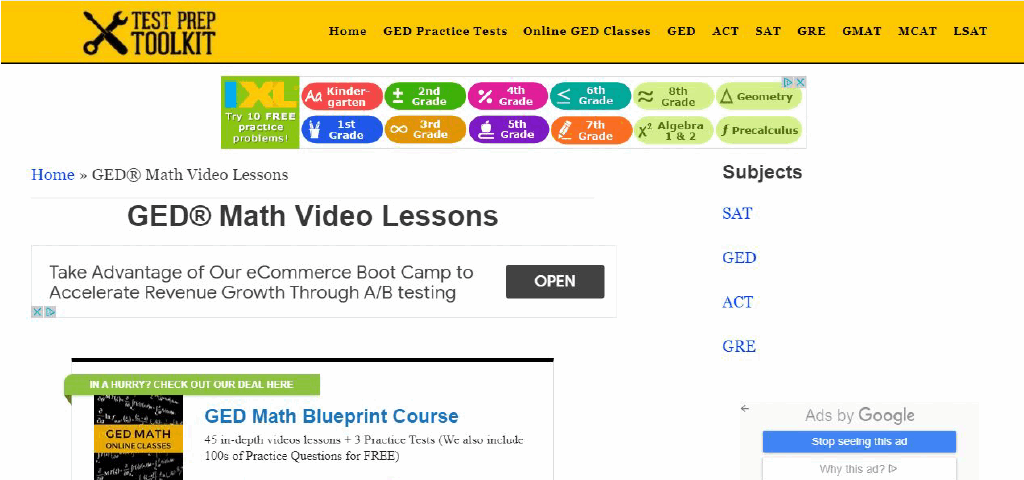 Test Prep Toolkit is all about enabling you with the proper resources and specializing in what's important for the test you're looking to require. The website offers a specifically designed course structure that will assist you to learn all there's about the test and what you'll get to not only take that test but ace it.
You can find a good range of courses on tests like SAT, GED, ACT, GRE and lots more. The website offers online classes for these tests including GED math lessons which will assist you to steel yourself against it efficiently. You can also get access to numerous practice tests on this website which will allow you to see your knowledge of a few particular subjects. The video lessons on the GED math test are illustrated with dynamic animations to form your learning journey tons more fun.
9: Wd2go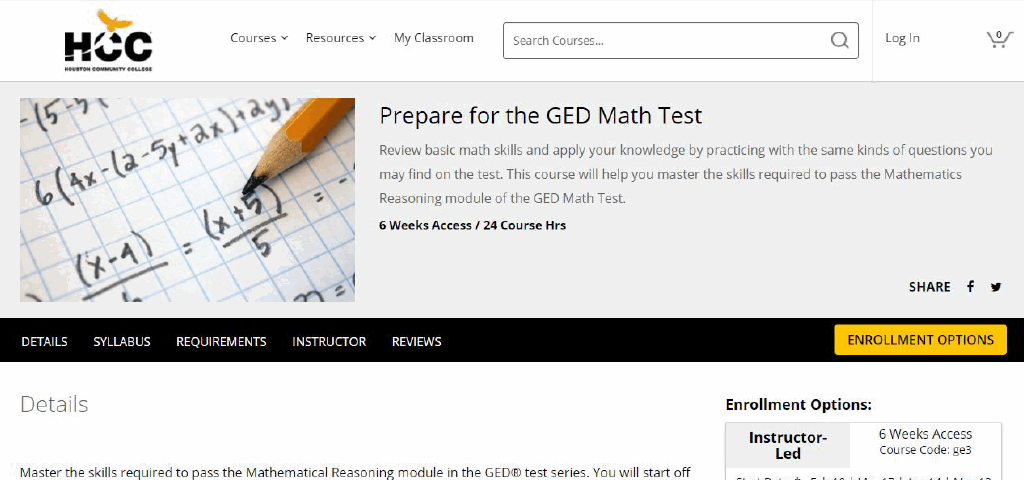 Wd2go brings traditional education online. While you'll find numerous internet sites over the web that claims to possess the proper knowledge on these subjects, they got their feet in too many subjects directly and hence they're not right for preparing a crucial test like GED. This website is meant specifically to concentrate on detail and every one of the course materials listed on this dynamic website is prepared to keep the scholar's understanding of the highest level in perspective. That means you'll get access to highly useful resources that will assist you to steel yourself against the GED Math test the proper way. They are offering 6 weeks access to 24-course hours that features a complete resource detail for your better learning and understanding process.
The website starts you with the essential reasoning and knowledge required to require a GED math test and assists you to move forward with solving all the complex equations with percentages, proportions, statistics, algebra, and more. There are practical exercises at the top of every level which will enable you to use your knowledge with the questions that you simply are likely to ascertain on your GED math test. This way, you'll make sure that your learning is up to par and you're prepared to nail the test.
10: Tabletclass-Academy.Teachable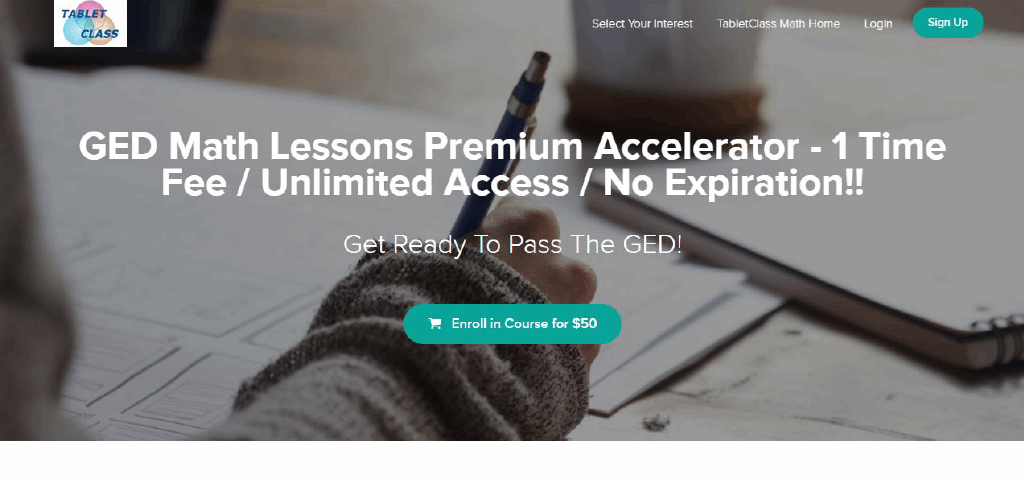 Tabletclass-Academy.Teachable is another highly useful website if you're looking to organize your math test for your GED and can't afford to require any risks. While you'll have multiple attempts at the test, you regularly got to wait to require another attempt which can cost you tons, if you're looking to urge employment, or if you would like to be enrolled with one among the universities of your choice. Hence, this website prepares you with the proper tools and a carefully designed course structure that's getting to assist you to learn GED Math lessons efficiently.
The website offers a one-time fee model that permits you to possess unlimited access to the course materials with no expiration so you'll set your own pace and study at your comfort. This is one of the simplest websites to organize for GED math lessons as you get the proper knowledge, confidence, and every one of those tricks to make sure the simplest results at your GED Math test. You can crush the test with the right preparations and this website here presents you with all the proper tools to organize for it.
High School Equivalency Tests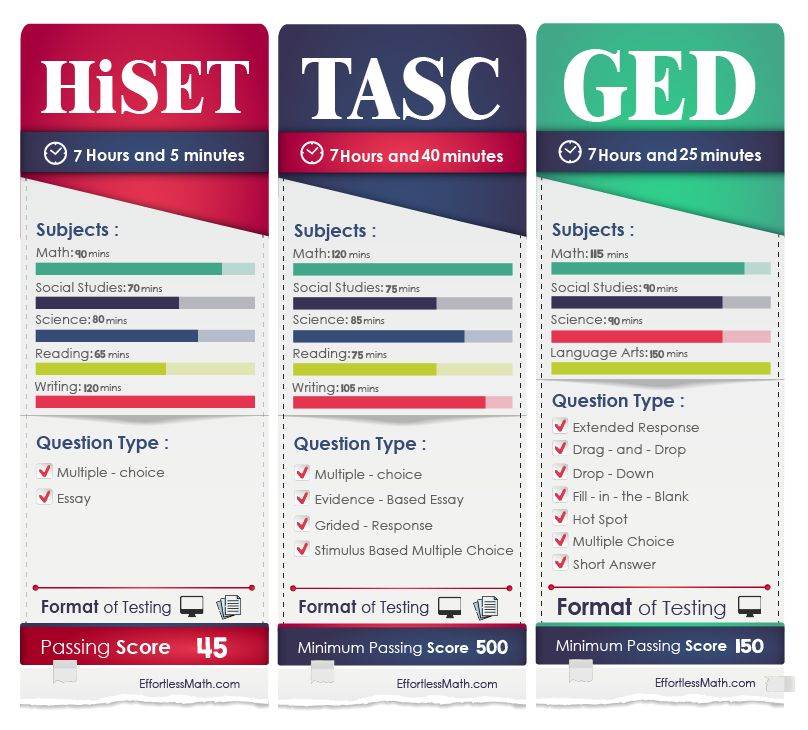 The Best Books to Ace the GED Math Test
More from Effortless Math for GED Test …
Are you looking for a complete and FREE GED Math course to help you prepare for your GED Math test?
Check out our Ultimate GED Math Course.
Want expert tips on how to prepare for your GED Math test?
Read our famous guide on how to prepare for the GED Math test.
Need to review the most common Math formulas on the GED test?
Review our complete list of GED Math formulas.
The Perfect Prep Books for the GED Math Test
Have any questions about the GED Test?
Write your questions about the GED or any other topics below and we'll reply!
Related to This Article