Best Computers for Graphic Design in 2023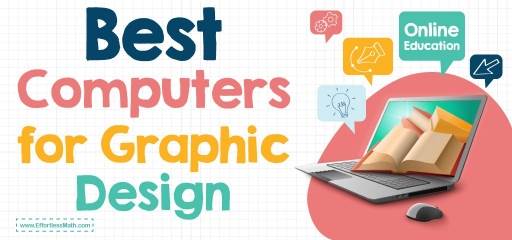 It's hard to find a good computer for graphic design, especially in 2023. Since there are so many options to choose from, like price, style, brand, and features.
We have gathered a list of top computers for graphic design. From Apple, Microsoft, and ASUS down to the specifications" price range all within a reasonable price. 
Most importantly, the best computer for graphic design will have a modern multi-core processor RAM, which has short-term memory to manage apps and other essential tasks.
Without the processor, applications cannot run properly, and with too little RAM, your computer will lag. This feature allows you to run multiple programs simultaneously, compartmentalizing different tasks to speed up your day!
It honestly does not matter the shape or size the computer comes in, whether it's the traditional desktop PC or the all-in-one iMac computer. It is solely up to you and your needs.
Graphic design students or professionals should wait for Black Friday, which is right around the corner! The sales are usually 30% off or half off the retail price or markdown price.
By the way, there's no guarantee these products will be marked down. Especially Apple products. However, with patience and if you're not interested in an Apple computer.
You should be able to find a laptop that is both high-quality and on sale on Black Friday. It can still run exceptionally fast, and process and store data smoothly, if not better than a Mac. You might even find a great sale on graphic drawing tablets, PC, and Power 4k monitors.
1- 2020 Apple iMac with Retina 5K Display
   Polished design and powerfully built-for graphic designs
Specifications
| | |
| --- | --- |
| CPU: 3.1 Hz 6-core i5 | RAM: 8GB DDR4 |
| Graphics: 5k | Weight: 19.7 pounds |
| Display: 27 inch | Storage: 256GB |
Reason to Buy
A powerful computer for multi-tasking
Large storage capacity
Reasons to Avoid
Not very flexible. The screen can title slightly
Lack of ports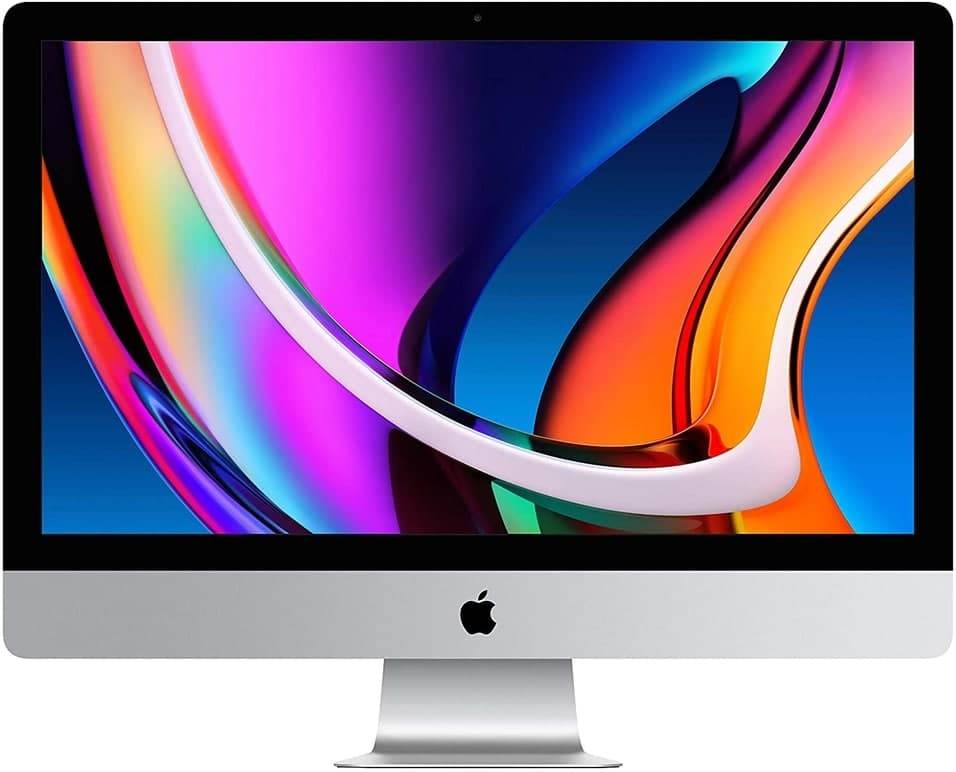 The traditional iMac with a full screen that can tilt but not fully adjust is the polished design for your workspace. 
The 10-core Intel Core i9 processor is a powerful installment for editing videos and beyond the content creation or graphic design spectrum. This is a simple yet powerful computer for multitasking because this computer's core processor can handle powerful software, projects, energy-exuding apps, and programs that some laptops and tablets could never touch!
In terms of graphics, the graphic Apple has updated the Radeon pro 5000 series. It is no surprise that the iMac is a costly computer, but it is well worth the coin for the features and powerhouse projects that this computer can take on. 
The 1080p webcam will allow you to conduct transparent zoom meetings with managers and colleagues. Work for a long time with the nanotextured glass. See everything crystal clear and in a 5k display with a nanotextured glass capable of reducing sunlight glare.
2- Microsoft Surface Studio 2 Newest Version
Super-clear image quality display and superior recline feature
Specifications
| | |
| --- | --- |
| CPU: 1.3 Ghz_3960x | RAM: 32 GB |
| Graphics: Geforce | Weight: 20.9 pounds |
| Display: 13.5 million pixels | Storage: 1000 GB |
Reason to Buy
Simplistic clean design
The recline feature to draw is exceptional
90-day warranty
Reasons to Avoid
The core processor is adequate
Small computer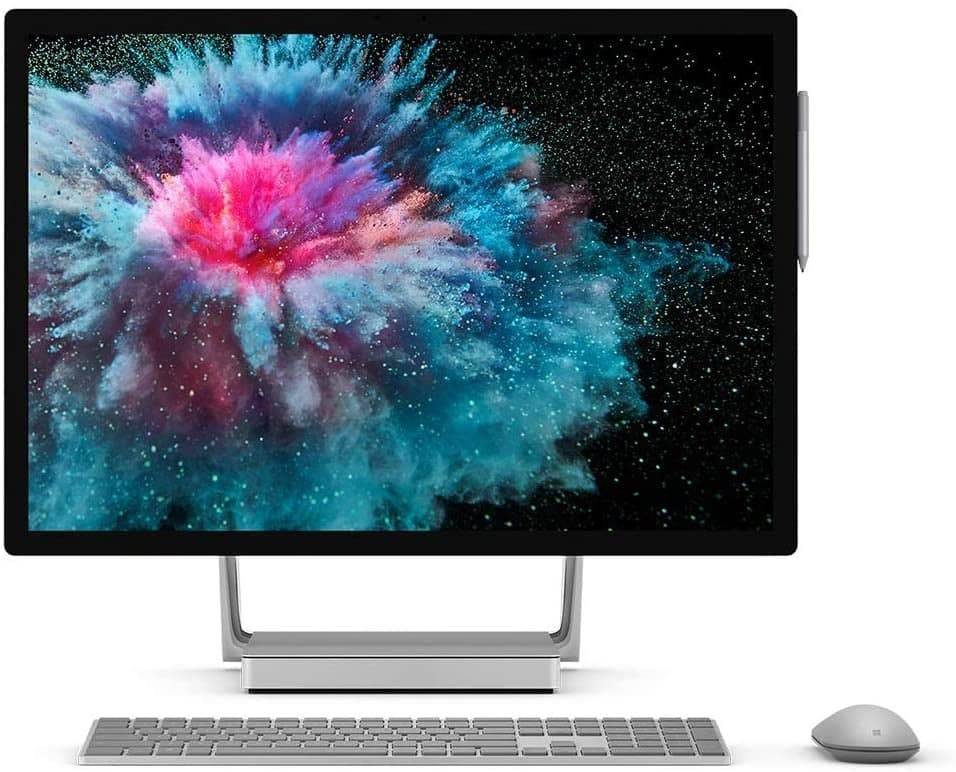 The Microsoft Surface recline gives you the full range to draw, design, and highlight with comfortability and ease. The interactive screen comes with a pen for full creativity.
The super high resolution is 4500 to 3000 pixies dispersed across the screen. The image quality is higher than 4k, allowing you to design and view images. The surface display measures 17.3 in high 25.1 across for an eye-catching presentation that looks good in any office space.
From a side angle, the Microsoft Surface is about half an inch thick, giving it a simplistic, less spacious, and clean overall presentation. The four USB 3.0 ports are parallelly constructed with one USB type-c port.
The HQclass mobile processor provides adequate power to run this computer. As a graphic designer, you probably have to deal with a lot of wires. The Surface will give you a smooth and manageable display because all the ports are in the back of the stem.
3- ASUS AiO All-in-One Desktop PC, 23.8" FHD Anti-glare
Minimalistic design with super clear imagery. Smooth core processor
Specifications
| | |
| --- | --- |
| CPU: Ryzen_3_ 3250u | RAM: 8 GB DDR 4 |
| Graphics: AMD Radeon | Weight: 11.9 pounds |
| Display: 23.8 inches | Storage: 256 |
Reason to Buy
Simple design easy title-screen feature
A minimalistic stand very easy to adjust takes up little space.
Reasons to Avoid
Very lightweight test out fully first.
Not enough ports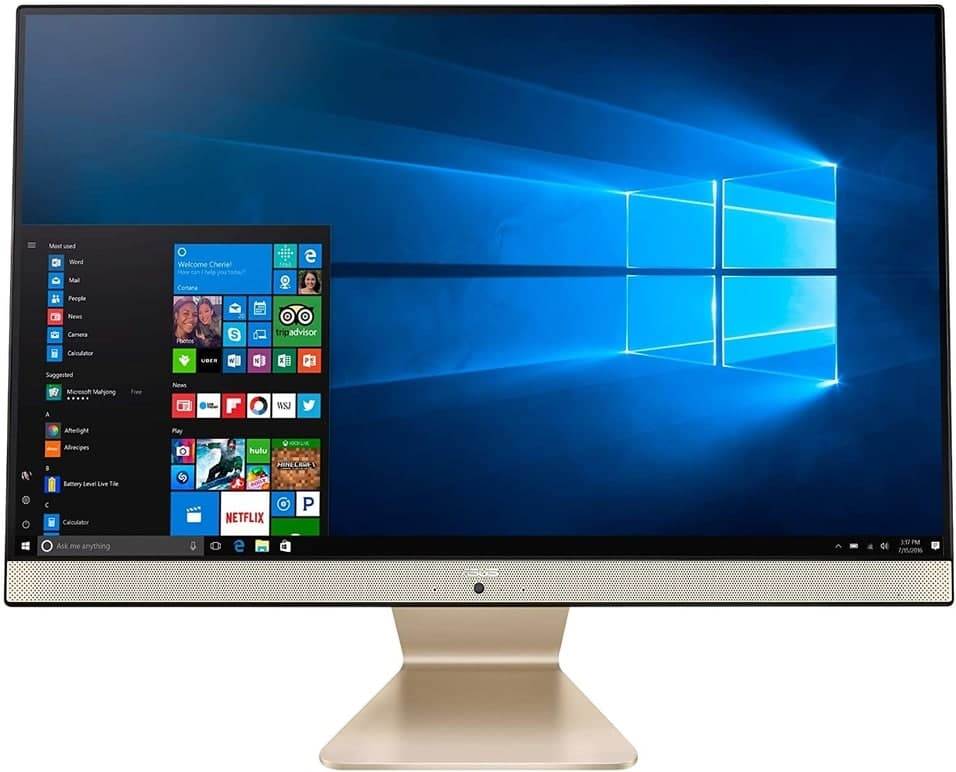 Get immersed in all of your graphic design possibilities with an all-in-one PC. ASUS AiO has an edge-to-edge viewing experience with full-screen 23.8 presentations. The nano-edge display has a 88% screen-to-body surface for a complete picture of whatever big project you're currently working on.
The 170-degree viewing angle will allow viewing the entirety of all your essential graphic design projects. The 100% color sRGB color gamut provides a natural yet realistic viewing experience.
 The microphones will filter out background noises. ASUS AiO All-in-One Desktop can hold up to any graphic design job. The ryzen 7 CPU is packed with high-speed DDR 4 memory and will store all information fast.
Feel confident with the high-speed core drive that will make your workday run smoothly, fast, and more productive. The USB 3.2 generation one port has blazing-fast connectivity to all your devices, charging everything fast!
4- Dell Inspiron Desktop Computer
Specifications
| | |
| --- | --- |
| CPU: Intel 2.9 GHz | RAM: 512 GB |
| Graphics: 5k | Weight: 12.00 pounds |
| Display: Intel HUD 630 | Storage: 12 GB |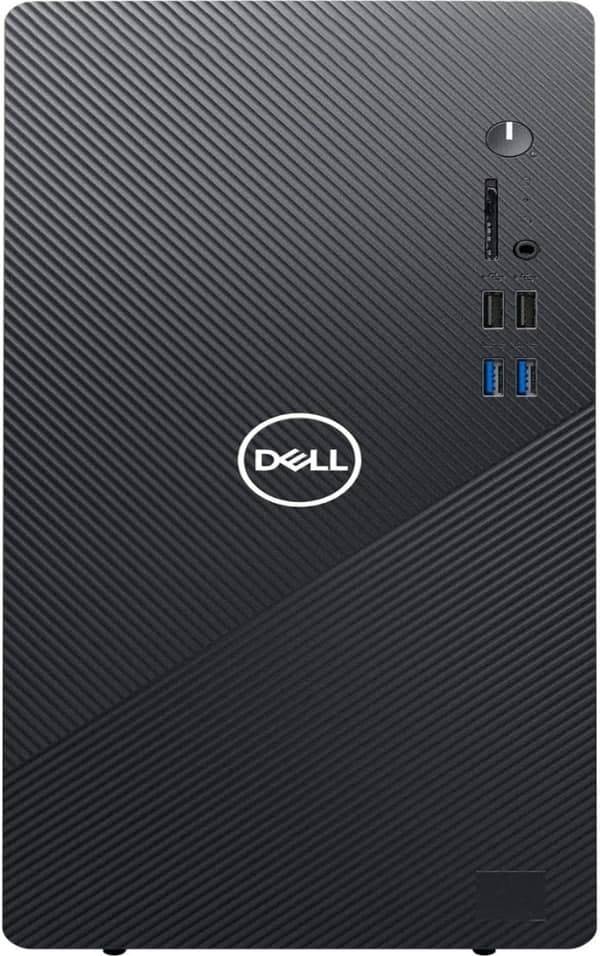 The Dell PC delivers enhanced performance. The Dell PC is powered entirely with an Intel Core i5-9.4 system. The 6core processor, 2.9 GHz, turbo to 4.1GHz will allow you to run multiple applications, conduct meetings, and edit projects efficiently, making your day fast and easy.
The GHz DDr4 22666 will run different programs with a super-fast connection to your computer to access or store files and programs.
The 60 – 30 chipset delivers an immaculate image picture to your monitor screen, from the 1.4 port outputs a stellar resolution up to 1920 x 1080 at 60 Hertz. Don't feel like using wires? Wirelessly connect all devices with Bluetooth 4.0 in Flash!
Mac vs. PC: A short breakdown comparison?
iMac computers are generally more expensive. Even the older versions are costly. These computers are high functioning and have a traditional design, Easy-to-navigate operating system ideally for content creators or graphic designers. The iMac has fewer ports. It's great for people that want an all-in-one computer experience.
For anything that you want to do gaming, graphic designing, or running energy-intensive applications, then a PC is your best bet. The Dell PC is effortless to pair with other devices because it has more ports allowing for more possibilities.
For the person that has a monitor already and needs a PC to bring that monitor to life. Dell Inspiron Desktop Computer is the perfect purchase.
For the person that wants everything all-in-one. Take the giant leap and consider the iMac or one of the other options above. Pick what matches your needs!
Related to This Article