Best Calculator For 8th Grade Students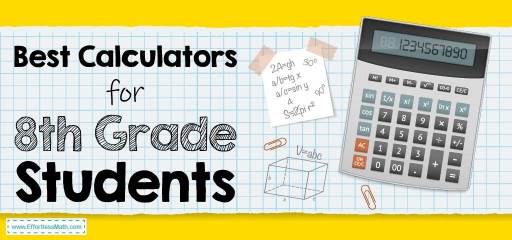 As school and grades progress, children require the best calculators for math practice. For 8th graders, two brands dominate the market when it comes to calculators: Texas Instruments and Casio. So, if you are looking for the best calculators for 8th-grade students, you are in the right place.
Here are the top calculators you can choose from to make your math subject easier.
2- TI-84 Plus
3- Casio FX-260 Solar II
4- TI-30Xa
Texas Instruments TI-84 Plus CE
Texas Instruments TI-84 Plus
Casio FX-260 Solar II School Edition Calculator
Texas Instruments TI-30Xa
Final Words
These are the top four calculators that will benefit any 8th grader. The one that is best for you will depend on your budget and preferences. So, be sure to go through these calculators in detail and choose the best one.
Once you do, you will love what the calculator has to offer. It will be of help to you even beyond 8th grade.
Related to This Article