Stand-Up Desks for Teachers and Students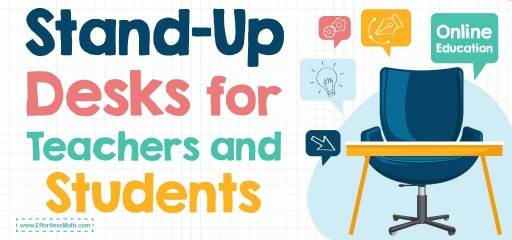 Gone are the days when teachers and students get a basic desk and chair with no option to stand or even adjust the desk's height. Instead, stand-up desks for teachers and students are now an affordable and healthier option that you should consider for the classroom or your home.
With a stand-up desk, you don't need to stand all day. The option is available to switch between standing and sitting. Even if you aren't standing, you can modify the desk's height depending on how you find it most comfortable.
Studies have even shown that stand-up desks make people 45% more productive during their day. This improvement is often due to increased blood flow and activity that keeps them from becoming tired and lethargic while sitting for long periods.
Health Benefits
Standing desks offer a variety of health benefits. You can go to the extreme with a treadmill desk which allows you to walk or run while you work.
Otherwise, you have the standard stand-up desk that just raises and lowers depending on if you want to stand or sit.
Studies have shown that standing desks lower your risk of heart disease and obesity, as well as lower pain in your back and neck.
Best Stand-Up Desks for Teachers and Students
Listed below are our top picks for stand-up desks for teachers and students. Depending on your budget and requirements for a desk, you should find a good option so that you can enjoy the benefits of a stand-up desk.
1- FEZIBO Standing Desk Converter
Pros
A converter is a cheaper alternative to a full-standing desk. It allows you to add a stand-up option to your current desk.
This converter is robust and can hold up to 37 lbs.
Adjustable from 4.5 to 19.3 inches.
Cons
This converter is not a full desk, so space is more limited than a full stand-up desk.
You place this on top of your existing desk, so there may be stability issues while you type.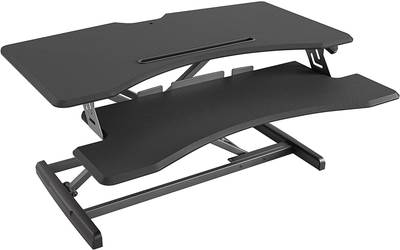 2- Sevil Sitting Mobile Laptop Desk
Pros
This desk is small and moveable, so you can put it away when not being used. You can also move the desk into whatever room you want to work in that day.
You can adjust the desk from 20.5 to 33 inches.
Cons
You need to adjust the height manually with a knob.
The surface area of this desk is small, so it will only support a laptop and nothing else.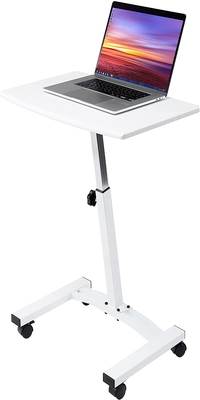 3- Balt Stand Up Mobile Teacher Workstation Desk
Pros
The desk comes with a lockable cabinet to store your items so they cannot be taken or viewed.
This option is a full desk with plenty of space for everything you're working on.
Cons:
With a higher price, this desk may not be within your budget.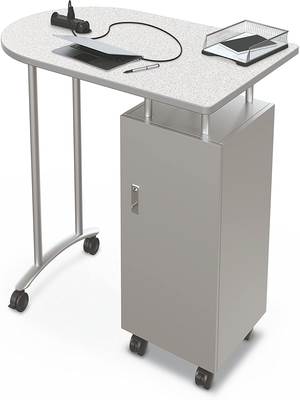 4- Mr IRONSTONE Height Adjustable Desk
Pros
The desktop surface area is large to support whatever you're working on.
Due to the crossbar installed under the desk, it is a highly stable desk.
Cons
This desk only has five height settings that you must manually adjust.
The surface of this desk can scratch easily.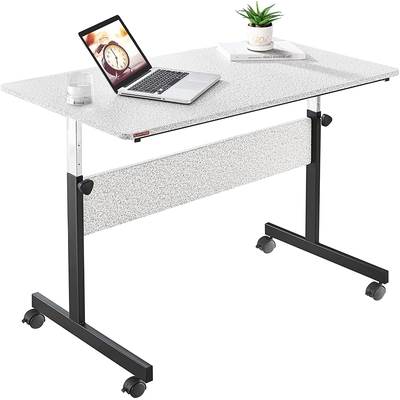 5- X-Elite Pro XL Standing Desk Converter
Pros
Even though this is a converter, the surface area is still large enough to handle most things you need on your desk.
You can adjust this desk from 8 to 16 inches.
Cons
The desk can be challenging to lift easily.
In addition, the surface area attracts fingerprints and stains, so you need to clean it often.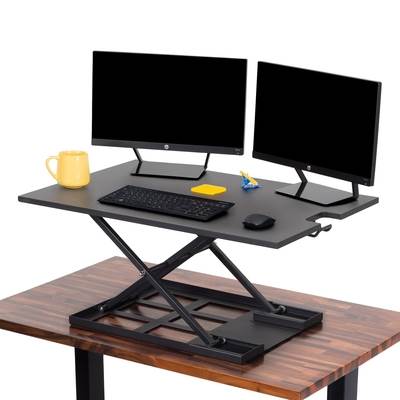 Final Thoughts on Stand-Up Desks for Teachers and Students
Budget constraints may stop everybody from having a full stand-up desk in a classroom. Still, cheaper options are available, and even options can be shared as needed to convert your sit-down desk into a stand-up desk.
Suppose you're looking for a personal desk at home. In that case, your budget can be much higher and allow you to get exactly what you need.
Your choice of desk is essential if you are spending hours working on papers. Being more efficient and more comfortable while you work can only benefit you.
Whether you're a student or teacher, you will likely spend a lot of time at your desk. Therefore, you should consider if a stand-up desk will benefit your work and your health and look for options that work best for you and the environment you are in.
Related to This Article