The Best Teacher Desks in 2023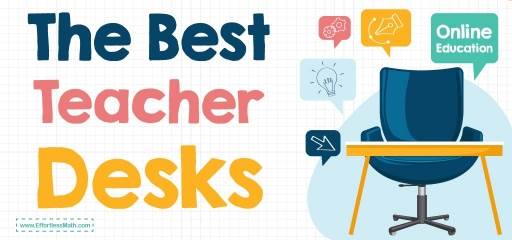 The ideal teacher workstation is customized to your needs, including the grade level you teach, your teaching style, and the classroom furnishings.
Some teachers like to sit at a typical desk, while others prefer to stand. If you're looking for the most wonderful desks for teachers in 2023, go no further. You've come to the right place!
1. Lorell Doube Pedestal Desk
Lorell Double Pedestal Desk looks professional, is solid and durable, and has a wide Tabletop, two pedestals with storage for files and smaller objects, and a lockable drawer. That's why it was made the top of our list. The straightforward style will look great in any classroom, business, or government office.
The high-performance steel construction features a double frame, strengthened inner structure, and is designed to withstand years of regular use.
The pedestal desk has a water-resistant, stain-resistant, and scratch-resistant laminate desk surface that is one inch thick. Steel and laminate materials are easy to clean.
2. L-Shaped SHW 55-Inch Large Electric Height Adjustable Computer Desk
A teacher can sit or stand for the entire day at the SHW Electric Height Adjustable L-Shaped teacher's desk. It fits in corners and accommodates devices, and it blends well with school classroom furniture.
The L-shaped desk is ergonomically constructed and adjusts for sitting and standing, allowing teachers to alternate back and leg muscles while sitting and standing.
You may move the desk legs from sitting to standing height, allowing for various teaching styles.
A fully motorized lift system changes from a 28-inch sitting position to a 45-inch standing position.
When working on a laptop or maintaining the arm in a resting position, the L-shape supports the arm pleasantly in a natural position.
Teachers are more at ease, and the form and height change allow for more flexibility in the classroom; it may even help with classroom management and student behavior.
3. Flexispot Standing Desk Converter
One of the most outstanding teacher desk options is the Flexispot Standing Desk Converter.
The desk riser converts a teacher's desk into a standing workstation with plenty of room for two monitors, a laptop, and a keyboard.
The desk converter is vertically adjustable and does not require a new footprint to adjust up and down. You may modify the height between 4.7 inches and 19.7 inches with single-hand control on the right side.
When elevating or lowering the desktop, the integrated air technology, together with the gas spring hovering system and the unique X-lift construction, ensures a safe and smooth transition.
4. Stand Steady Tranzendesk 55 Inch Standing Desk
Recent updates displayed the Tranzendesk standing desk to provide an ergonomic alternative for tall teachers and teachers who require a large amount of desktop space. Also ideal for online education is the height-adjustable sit-to-stand desk.
The instructor can move the desk to sit or stand during the day using an adjustable crank; the crank fits on both sides and does not limit the desk placement or a teacher's choice for being left or right-handed.
Adjust the teacher's desk to 46 inches by turning the crank to the optimum height; the full-size standing desk is 55 inches.
Related to This Article