Top 10 Tips You MUST Know to Retake the ISEE Math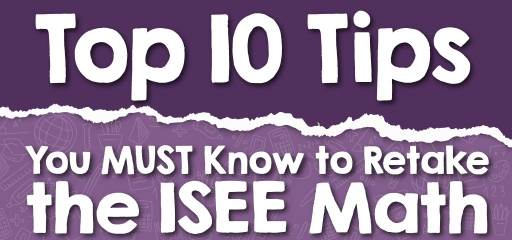 If you didn't pass the ISEE math, don't worry because you can retake this test. Each student is limited to one attempt at the ISEE test per testing period. It means that if a student takes the test in August and fails or does not perform well, he or she will be able to take the test from the beginning of December. A total of three exams per year are allowed.
The ISEE test is offered in two forms. Once students take the test in either form they are not limited to that testing format if they retake the ISEE test.
Now the main question is what strategies and tips should you follow to prevent failure again in ISEE math? By following the tips provided here, you can delete all barriers to passing the ISEE math test.
The Absolute Best Book to Ace the ISEE Upper-Level Math Test
1- Review your ISEE results report
The important step to success in ISEE mathematics is to identify weaknesses and focus on addressing them. So by reviewing your ISEE score report, you determine where to focus more.
2- Try different math study methods
If your previous ISEE math study method did not work, you may want to try a newer program. For example, you can use ISEE math preparation books that you have not read before. This time you can also use online resources for better learning of ISEE math.
3- Take many practice tests
One of the most important things you can do to pass the ISEE math test is practice a lot. In fact, the more you practice, the more likely you are to pass the ISEE math test. Try many practice tests and try to understand each ISEE math question.
4- Focus on the weaknesses
Adjust your ISEE study schedule to focus more on math topics that you have not worked on very well. By hard studying, you can increase your score. There are many useful tips for each section, so be sure to use them and improve your scores.
And another important point you should not omission your strengths and be sure to practice the topics that you are strong on.
5- Join a study group
Joining a study group, finding a study partner, or asking someone to review your progress can all be a way to ensure you are motivated to study regularly. Working with a study group is one of the benefits of gaining insight into other parts of the test that you may be struggling with. If you prefer to study alone, you can still benefit from having someone appointed to monitor your progress.
The Absolute Best Book to Ace the ISEE Middle-Level Math Test
6- Study a little bit every day
The continuous study is much more effective for many days leading up to the ISEE test than a few days of cramping. Intensive study often puts more pressure on students, increases math anxiety, and makes the brain less involved in learning. Control your study time every day!
7- Get help if you need
You can get help from a tutor to better understand ISEE math concepts. Tutoring may be expensive, but it's worth it. You can also utilize books that are like a tutor and help you learn ISEE math concepts.
8- Believe in yourself
The important thing about succeeding in any test is to believe in your ability. If you do your best, then you know you will succeed in ISEE math. Avoiding negative thinking and self-confidence will help you focus on passing the ISEE math test.
9- Implement your study plan
Remember that the most important part of the ISEE retake is the commitment to study at regular intervals. Do not leave your review until the last few days before ISEE math time. It is not a problem if you sometimes miss study sessions as long as you stick to the overall structure.
10- Take care of yourself
Taking care of your health is very important, and you should pay attention to it during the ISEE retake program. You can spend many hours studying and preparing for ISEE math, but you should drink plenty of water, eat well, and exercise. These steps will help you to be more focused when preparing for ISEE math.
Based on the above tips, it can be concluded that you must not let a bad test lower your self-esteem. No exam is so hard that you cannot succeed with enough effort. Always keep in mind that if others have passed the ISEE math test, you can too.
The Best Books to Ace the ISEE Upper-Level Math Test
Related to This Article