Top 10 Tips You MUST Know to Retake the HiSET Math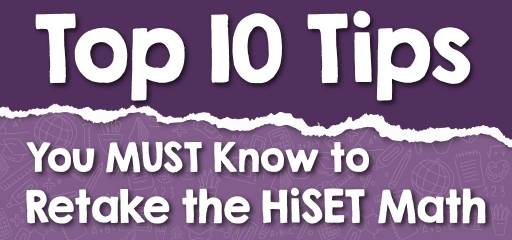 The High School Equivalency Test, commonly known as HiSET, is a standardized test released in 2014. The HiSET consists of five separate sections:
Social Studies
Language Arts Reading
Language Arts Writing
Science
If you don't succeed in the HiSET test, do not worry! Because you can retake the test. You can take a subtest a maximum of three times per calendar year. If you retake the subtest in the same format within 12 months of the date you purchased it, there are no additional ETS test fees. However, local test center costs may apply. If you want to retake the test after 12 months, you will have to pay for the ETS plus the cost of the state or test center.
Now the main question is what strategies you should follow to prevent failing the HiSET test again? By following the tips provided here, you can overcome all the barriers to passing the HiSET math test.
The Absolute Best Book to Ace the HiSET Math Test
1- Review your HiSET results report
The first step to success in HiSET mathematics is to identify weaknesses and focus on addressing them. So you should check your score report to determine where to focus more.
2- Make a new study plan
If your previous HiSET math study method does not work, you may want to try a newer program. For example, you can use HiSET math preparation books that you have not read before. You can also use online resources to better learn HiSET math.
3- Ask for help
If you are stuck with something, or it seems that something is not logical, you can always ask for help. Talk to your friends or HiSET Math tutor about topics you do not understand well. You can also find video tutorials for all the HiSET Math concepts and other resources needed to use the HiSET Math test on the Effortless Math website.
4- Change your attitude towards mathematics
Your success in retaking math depends to a large extent on your attitude towards mathematics. If you want to get rid of math exercises as soon as possible, you should try to take enough time to solve math exercises and make learning math as easy as you can. Consider math a useful challenge, celebrate your small success in solving problems, and reward yourself.
5- Practice math daily
To keep math concepts in mind, you need to study daily. Make a daily math study schedule and stick to it. If it is difficult for you to follow a daily study schedule, start with less time and gradually increase this amount.
Best HiSET Math Prep Resource for 2022
6- Take simulated tests
Taking HiSET simulated tests is one of the best ways to prepare for a retake test. Test conditions should be the same as the main test. Proper analysis of test results is crucial to identify strengths and weaknesses. You need to spend more time on your weaknesses and strengthen them with more practice. The more simulated tests you do, the more familiar you will be with the test conditions and the less stress you will have on the day of the main test.
7- Improve your bad habits
Maybe it is time to reconsider your habits. If you spend a lot of time with your friends, you need to limit your time with them. You may need to spend more time studying for the HiSET math test. Also, if you did not have a HiSET study plan, it is best to plan.
8- Believe in yourself
The key to success in HiSET math is believing in your ability. If you have done your best for HiSET math, then know that you are good enough and you will succeed. By avoiding negative thinking and self-confidence you can focus on passing the HiSET math test.
9- Prepare physically and mentally
Many students fall prey to HiSET math anxiety, so you need to be physically and mentally fit. If you are tired, sleepy, or hungry, your most important preparation is not to read math questions. Learning how to manage math anxiety and stay healthy is one of the best things you can do when determining how to retake the HiSET math.
10- Take care of yourself
Try not to stress too much! Although this is an important test, you should know that you have prepared yourself in the best possible way. The night before you try HiSET again, you should resist the urge to study overnight and try to do something fun and relaxing like watching a movie, reading a book, or hanging out with your friends. Make sure you have a good night's rest and always be careful when preparing for the exam.
From the above, we can conclude that we should not allow a bad test to lower our self-esteem. Remember that no exam is so difficult that you will not succeed with enough planning and effort. Always keep in mind that if others have passed the HiSET math test, you can too.
High School Equivalency Tests
If it is impossible for you to get the HiSET preparation classes in person or it is difficult for you to pay for the online classes, our team prepares the top 10 websites for free HiSET exam training for you to pass this exam. So join us!
Looking for a perfect study guide to help you prepare for your HiSET Math test?
Check out 5 of the best HiSET Study guides to help you to prepare for the HiSET Math Exam.
The Best Books to Ace the HiSET Math Test
Related to This Article