Top 10 Tips to Overcome PERT Math Anxiety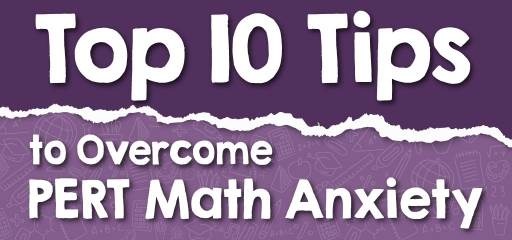 One of the most problems that many of us face is not having a calm mind during exams. Mathematical anxiety can damage our psyche. Therefore, controlling math anxiety is a big step towards achieving the best results in tests like PERT.
Join us to learn the best ways to deal with stress and anxiety for the PERT math.
The Absolute Best Book to Ace the PERT Mathematics Test
1- Learn the PERT test type
Even if you do not know what to expect in the PERT math test, relaxation is even more difficult. See what kind of math questions there are in the test. Knowing the types of expected problems will help you not be nervous because you will be more prepared.
2- Work on math a little at a time
Instead of trying to gather information in a long study session, try to spend an hour each day working on PERT math problems. Continuous study reduces your math stress.
3- Conceptual understanding is the goal
Conceptual understanding is the goal, not memorization. Instead of memorizing or copying the solution to a problem, try to understand why the problem works. In a stressful situation, such as during a PERT exam, understanding the concept helps you complete the problems.
4- Fight against negative thoughts
Negative thoughts are your biggest enemy, and you have to fight your negative thoughts to overcome PERT math anxiety. The issue with negative thoughts is a lack of self-confidence. To overcome negative thoughts, you need to increase your self-confidence by making positive statements about yourself such as "I can do it."
5- Taking care of yourself
You cannot take care of math unless you take care of yourself. If you want to be a good student in mathematics, you have to take care of yourself so that your mind can work fully.
The Ultimate Crash Course to Beat the PERT Math Test
6- Getting to know about stress management
Managing stress and relaxation is one of the best ways to overcome PERT math anxiety. With this technique, you can overcome PERT math anxiety and be able to focus on the things that make you happy. In this way, you have to meditate and take deep breaths that help your mind relax.
7- Cooperate with groups
Working with friends is a great way to overcome math anxiety. Each member of the group can learn from one another, by putting their heads together. Working in groups has been shown to help people overcome problems that they could have on their own.
8- Buckle down and get through it
Researches show that one of the most effective ways to overcome math anxiety is to force yourself to get started. Even if sitting down at your desk and forcing yourself to dig into your textbook seems awful, the mere act could help you get past the negative mindset you have about math.
9- Keep a positive attitude
Math can be intimidating, but you can overcome your anxiety and frustration with a positive mindset. Changing your mindset about math can have a huge impact on how you feel about it.
10- Solve the easy problems first
Solving easy math questions can significantly increase your focus time on difficult questions as well as your confidence. It can have a positive effect on your mind and send you the message "I did it", "I know it", and "I can do it".
It is good to know that it is normal to have a little stress for an experiment like PERT math. To overcome this level of math anxiety, you can use the tips and tricks listed above to complete your PERT math. But if you feel that your anxiety level has reached a level that cannot be controlled with the usual methods, be sure to consult an expert in this field so that you can confidently take the PERT math test.
Looking for the best resources to help you or your student succeed on the PERT test?
The Best Book to Ace the PERT Test
More from Effortless Math for PERT Test …
Do you need a study plan to succeed in the PERT math test?
This is what we specialize in, so we will guide you in this area: Top 10 Tips to Create a PERT Math Study Plan
Does the PERT test score section seem confusing to you?
To better understand it, refer to our article: How Is the PERT Test Scored?
Not much time left to memorize PERT mathematical formulas?
Do not worry, The Ultimate PERT Math Formula Cheat Sheet will help you in this regard.
The Perfect Prep Books for the PERT Math Test
Have any questions about the PERT Test?
Write your questions about the PERT or any other topics below and we'll reply!
Related to This Article