Top 10 Tips to Create a CLEP College Mathematics Study Plan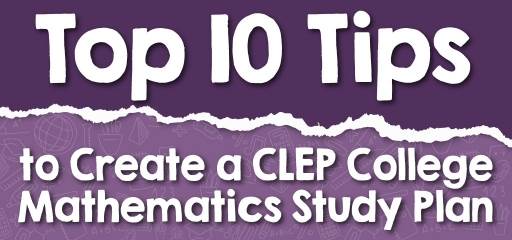 Basic courses can be one of the main obstacles for university students. Many students find the non-major courses extra and do not want to waste their time or tuition on attending class. To meet this demand, College-Level Examination Program or, CLEP test was developed. These tests allow students to earn credit for the relevant course without having to attend a real class. One of these tests is the CLEP College Mathematics Exam. This test is a 60 question test to be answered in 90 minutes.
To succeed in CLEP College Mathematics, you must have a CLEP study program. This plan tells you when, what, and how you can prepare for CLEP Math. It also helps you manage your time and make the most of your time for the CLEP Math. Here are some tips to help you get started with a CLEP College Mathematics study program. So join us!
The Absolute Best Book to Ace the CLEP College Mathematics Test
1- Get familiar with the format
The College Board website explains that you will find about 60 math questions in the CLEP Math test, and you have to answer them in 90 minutes. Pre-test questions will not be graded, and you will be given more time to present your personal information and complete any pre-test tutorials. The CLEP math test does not include any questions that require you to perform lengthy calculations or use a calculator. However, if you feel you need a calculator, the test center will provide it for you.
2- Study smarter
The subject covered in the CLEP Math exam is similar to the main type of math you learn as a non-math major during a college year. To study the different types of math you find on the exam, use a comprehensive CLEP math workbook.
3- Start early for CLEP Math
Waiting to start studying CLEP College Mathematics until the last minute is the biggest mistake you can make. As the day of the CLEP College Mathematics test approaches, you will probably find it harder to feel stressed, tired, and reminded of anything. It will give you stress, and you will be in an endless struggle. Starting early in CLEP College Math lets you study for just a few hours each day and relax your brain.
4- Design a table to manage time
By designing a table, you can make better use of your time. After doing this, you can assign each table column to a CLEP Math topic. Fill in the columns according to the CLEP Math topics you want to read. It will help you get things done sooner than you expect.
5- Create a study environment
Mathematics is a subject that requires a lot of focus than another subject. A good study environment without distractions can help you solve CLEP Math equations! Therefore, study mathematics in a quiet and well-lit place.
Best CLEP College Math Prep Resource for 2022
6- Practice, practice, practice
When you start studying for the CLEP College Math, take practice tests to get familiar with the test's format and learn about the mathematical topics you need improvement. Instead of taking the same test over and over, utilize different practice tests. Sources of practice tests include the College Board website and math-related CLEP workbooks. When you complete the practice tests, give yourself 90 minutes to simulate the actual CLEP Math exam.
7- Pay attention to your health
Your health is very important, and you should pay attention to it during the CLEP Math study program. You can spend many hours studying for CLEP Math, but you need to get enough sleep, eat right, and exercise. These steps will help you to be more focused and prepared when preparing for CLEP Math.
8- Focus on your weaknesses
In preparing for CLEP College Math, practice more on math topics that are more difficult for you and turn them into your strengths! Do not overlook to study your strengths.
9- Spend time on other activities
While limiting time for each topic, make sure you make time for family, friends, and rest as well. This is because you cannot succeed in your education unless you strike a healthy balance between your personal and academic life.
10- Stick to the schedule
A hard and fast rule about making sure of your CLEP Math Study Plan is that you must stick to your plan. If you do not adhere to it, creating a study program is useless.
Finally, keep in mind that although a study program can help you pass the CLEP Math test, it does not work alone, and the ultimate success of the CLEP Math test depends on your willpower.
Looking for the best resources to help you or your student succeed on the CLEP College Mathematics test?
The Best Books to Ace the CLEP College Mathematics Test
Related to This Article