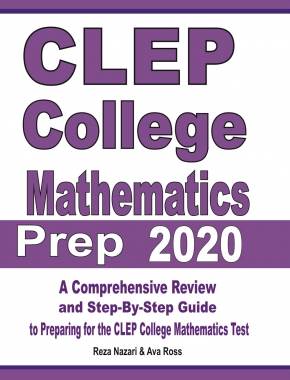 CLEP College Mathematics Prep 2020
A Comprehensive Review and Step-By-Step Guide to Preparing for the CLEP College Mathematics Test

If you are looking for a comprehensive and perfect prep book to help you improve your knowledge of mathematics, boost your confidence, and ace the CLEP Mathematics test, then look no further. CLEP College Mathematics Prep 2020, which reflects the 2020 CLEP College Mathematics test guidelines, helps students learn all CLEP mathematics concepts right from scratch. It is a breakthrough in Mathematics learning — offering a winning formula for learning Math topics and subject successfully. This updated version of the book is the only resource you will ever need to succeed on the CLEP Mathematics test.

+1K Downloads
Teacher's Choice
100% Guaranteed
Secure Checkout
Lifetime Support
Also included in: CLEP College Mathematics Comprehensive Prep Bundle
Whether you are intimidated by math, or even if you were the first to raise your hand in your math classes, this prep book can help you incorporate the best method to prepare for the test. Written by top CLEP Math experts and experienced instructors, CLEP College Mathematics Prep 2020 goes into details to cover all of the content likely appear on the CLEP Math test.
The best way to prepare for the CLEP Mathematics test is with practice in every math topic tested–and that's what you will get in CLEP College Mathematics Prep 2020. Not only does this comprehensive prep book offer everything you will ever need to conquer CLEP College Mathematics test, it also provides two complete and realistic CLEP College Mathematics tests that reflect the format of the CLEP College Mathematics to help you find your weak areas, check your exam-readiness, see what score you will be able to receive on a real test.
Published By:
Effortless Math Education
www.EffortlessMath.com
Effortless Math: We Help Students Learn to LOVE Mathematics - © 2023