SAT And ACT Tests Hacks and Tips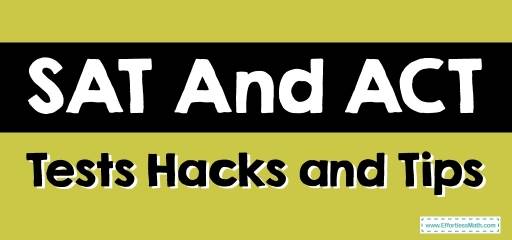 We all wish we had cheat codes or keys to help us unlock every answer to SAT and ACT exam questions. Of course, that is not the case, but you can use some hacks and tips. They can help your performance on your college entrance exam and ensure that you use your time in the best way.
Here are some of the best SAT and ACT exam hacks from an expert tutor that you need to implement.
The Absolute Best Book to Ace the SAT Math Test
1. Don't Do The Most Challenges Questions First
Time management is a significant problem for many students. If you go through this a lot and want to save time, you should pace yourself and do the easy questions first. After all, the easy questions will take less time, and you will not have to linger.
After answering the easy questions, you can move on to the more challenging ones. It will allow you to give your undivided attention, focus on the difficult part, and try to solve it in no time.
2. Understand The Structure
SAT and ACT exams are standardized, which is why their structure never changes. However, that is why you should familiarize yourself with it before your exam. It will help you get used to answering questions, and you will feel much more at ease.
Understanding the number, style, sequence, and type of questions coming in each section is crucial. These guidelines will become ingrained in your brain, and you will not have to worry about becoming surprised by the test structure.
The Absolute Best Book to Ace the ACT Math Test
3. Select A Concise Answer
When it comes to the English section, you have to write everything in the best way without being too wordy.
Conciseness is key because it ensures that you get your point across in as few words as possible. Of course, there are many exceptions to this rule, but picking the most concise answer is your safest bet.
4. Utilize The Process Of Elimination
The process of elimination is one of the top strategies when answering MCQs. That is because students find it much easier to get rid of answers than to pick the appropriate choice in seconds. The process of elimination works best for questions in the Reading and English section.
5. Remember All Important Formulas
When it comes to the SAT, they will offer you a reference key for the math question formulas. However, ACT does not provide such a key to students. That is why you have to know the formulas on your fingertips to save time.
For the SAT, be sure to take time out, in the beginning, to go through the reference key. It will help you recall the formulas as you begin your exam.
Final Words
These are the top five SAT and ACT exam hacks you need to know. Implement them in your preparation and during the exam to witness the best results. You will realize that these hacks can take your prep to the next level in no time.
The Best Books to Ace the SAT and ACT Math Test
Related to This Article