How to Prepare for the SSAT Upper-Level Math Test?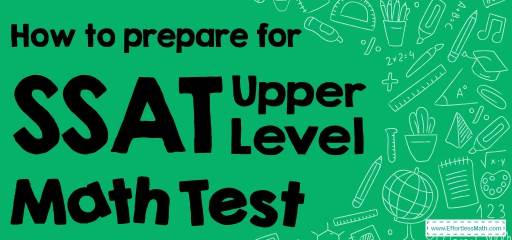 The SSAT, or Secondary School Admissions Test, is a standardized test to help determine admission to private elementary, middle, and high schools.
There are currently three levels of the SSAT:
Lower Level (for students in 3rd and 4th grade)
Middle Level (for students in 5th-7th grade)
Upper Level (for students in 8th-11th grade)
There are six sections on the SSAT Upper-Level Test:
Writing: 25 minutes.
Math section: 25 questions, 30 minutes
Reading section: 40 questions, 40 minutes
Verbal section: 60 questions, 30 minutes
Math section: 25 questions, 30 minutes
Experimental: 16 questions, 15 minutes.
Learn How to Prepare for the SSAT Upper-Level Math Test
The SSAT Upper-Level test is important for students who want to be admitted to top private schools and can even be very stressful.
Especially the math part of any exam is very challenging for most students. But if the student is diligent, studies well, and knows the tricks of success in the test, it will not be difficult to get a great score on this test.
Here we will try to guide you step-by-step to prepare for the SAT Upper-Level Math test.
The Absolute Best Book to Ace the SSAT Upper-Level Math Test
1. Choose your study program
Many prestigious SSAT Upper-Level books and study guides can help you prepare for the test.
Most major test preparation companies have some offerings for the SSAT Upper Level, and the short-listing of the best book ends up being a puzzling phenomenon.
There are also many online SSAT Upper-Level courses.
If your student just started preparing for the SSAT Upper-Level course or test and you need a perfect SSAT Upper-Level prep book, then SSAT Upper-Level Math for BeginnersThe Ultimate Step by Step Guide to Preparing for the SSAT Upper-Level Math Test is a perfect and comprehensive prep book for your student to master all SSAT Upper-Level topics being tested right from scratch.
It will help students brush up their math skills, boost their confidence, and do their best to succeed on the SSAT Upper-Level Test.
This one is an alternative book:
You can also use this great prep book:
If you just need an SSAT Upper-Level workbook to help your student reviews the math topics on the test and measure his/her exam readiness, then try:
"SSAT Upper-Level Math Workbook 2021 – 2022The Most Comprehensive Review for the Math Section of the SSAT Upper-Level Test"
This bundle contains 7 comprehensive SSAT Upper-Level Math learning resources to help test takers prepare for the SSAT Upper-Level Math Test.
This product is the only resource your student will ever need to ace the SSAT Upper-Level Math Test:
If you think your student is good at math and just needs some SSAT Upper-Level practice tests, then this book is the perfect SSAT Upper-Level test book for you:
You can also use our FREE SSAT Upper-Level worksheets: SSAT Upper-Level Math Worksheets
Have a look at our FREE SSAT Upper-Level Worksheets to assess your student's knowledge of Mathematics, find her/his weak areas, and learn from her/his mistakes.
SSAT Upper-Level Math FREE Resources:
2. Think of math positively
If you have ever been unaware of the impact of a positive learning attitude and are reluctant to study math, now is the time to change your perspective. Without a positive mindset, you cannot succeed in math tests.
To erase any negative views you have ever had about math, try to look at solving math exercises as a fun challenge from now on. Rest assured that after a short time, you will see the effect on your progress.
3. Make the concepts clear
Do you know what concepts and topics you are dealing with in this test?
Knowing this question is very important for you and will help your progress.
It is better to carefully review the concepts in the test from the beginning.
Check test concepts and topics.
Clarify and categorize topics to know how and where to start.
Many students study advanced concepts from the beginning without categorizing the content and knowing the level of each subject. However, they fail in their work due to not mastering the basic concepts and they also lose a lot of time.
If you encounter a problem during the initial evaluation of the subjects, you can get help from an informed consultant.
4. Practice math daily
Do not neglect the effect of daily math practice. You need a precise and purposeful daily plan. Studying math whenever you want is not a habit of a successful test taker.
Do not think that you do not need daily practice because you are talented in math. Daily practice makes it easy to remember things on the day of the test when you need to remember things quickly.
5. Choose online classes and tutor if you need
There are several ways to prepare for the test, such as prep class, self-study at home through prep books and online tests, and hiring a tutor. But do you know which of these methods might work for you?
You should consider ways to prepare for the test and then choose the best method according to your educational background.
Keep in mind that self-study at home may not be suitable for all students. If you feel you still do not know the basics of math well enough, or if you stay home you may lose motivation to continue studying, then this method will not be suitable for you.
Attending SSAT math test prep classes can be good in many ways. It is effective in increasing your motivation. In these classes, they give you good tips about tests and problem-solving that you may not have known before.
Having a tutor at home may seem better than all the other ways but it costs a lot. On the other hand, you need to make sure you study with a professional tutor, otherwise, you will waste a lot of time and money.
The Best Resources to Ace the SSAT Upper-Level Math Test
6. Memorize the formulas well
Knowing that you will not be given a formula sheet in this test may be a little stressful for you, but do not worry.
You probably already know most of the formulas used in this test. It is enough to keep them ready in your mind for the day of the test with continuous practice.
It is rare to use complex formulas that worry you during these tests.
Here is a list of mathematical formulas that are used on the day of the test and their application and meaning.
7. Test yourself through simulated practice tests
The next step is to test yourself with simulated tests. Do this when you are sure you have read the test's concepts well.
You can take the test online or on paper. Simulate the test conditions exactly like the main test.
Try to manage time during the practice test and do not use a calculator. The closer you get to the time of the main test, the more you have to review and take more practice tests.
After taking these tests, check the results, identify your weaknesses, and fix the problems as soon as possible.
Taking practice tests will reduce your stress and increase your time management skill.
8. Register for the test
You must Register through the SSAT site for the SSAT Upper-Level test.
The first step of registering is that parents to create for both themselves and their students an account on this site. Both accounts are required because Snapshot is only possible through the student's account, but the score must be sent from the parent's account.
To create an account, parents, and students must provide a series of personal information such as name, surname, phone number, address, city, postal code, current database, etc.
After creating an account, the next step is to log in to your account and go to the" Register for SSAT" section.
Parents can also specify 3 schools to receive a student's score through the parent's account before or after the exam at no extra charge.
The last step of registration is a payment, which varies depending on the type of test selected, registration time, and so on.
9. Tips for SSAT Upper-Level Math test day to follow
The night before the test, make sure you are fully prepared for the day of the test. But how?
Do not read new material but review the formulas again, pick up the equipment for the day of the test including an ID card, admission ticket, two pencils, an eraser, pencil sharpener, snacks, and a water bottle. set your alarm and go to bed early.
On the day of the SSAT test, eat a light breakfast.
if your test is paper-based, try to arrive at the test center 30 minutes early.
If you test from home and through the computer, try to make sure your computer is ready 30 minutes before the test.
Do not take your items such as cell phones with you to the test session.
Remember that you do not have the right to use the calculator on the test.
You cannot eat, drink, or smoke during the test.
The SSAT Upper-Level test is a 170-minute test consisting of two 30-minute math sections. So you have to control your time carefully. Of course, not so much that it makes you anxious and distracted.
Whenever you feel anxiety is distracting you, wait a moment, try to collect yourself first, then continue working.
Do not spend too much time on a question that you do not know its answer to. This will both waste your time and increase your stress. Draw a line around the question and postpone answering it until the end of the test.
Since you get a quarter of a negative score for each incorrect answer, only guess when you are sure that two or three answers are incorrect.
10. Check your score reports
About two weeks after the SSAT test, your score is ready to be displayed on the SSAT site and in the "My Scores" section. You must log in to your SSAT account to see your score.
Remember that both students and parents can receive a score, but sending a score is only possible from the parents' account.
You can also pay an additional fee and get the score by mail or FedEx. If you do so, you will have to wait longer for the score to reach you. In this method, it is not possible to send the score to the school and it will only be sent to your home address.
11. Interpret your score
You have two main scores on the SSAT test. The scaled score for each section and the other is the total score, which is the sum of the scores of the sections together.
The score range of the SSAT sections and the total sum scores depend on the level of SSAT you have taken.
In the SSAT Upper-Level Test, Section Score Range is 500-800 and Sum Score Range is 1500-2400.
You also have a percentile rank for each of your section scores in your test report, which compares your performance on the test with other students.
The students you are comparing with, are of the same grade/gender from Canada and the United States and have taken the test for the first time in the last three years.
What score is good on the SSAT depends on the school you are applying to. Most schools do not state exactly what score they think is good for a student's admission.
If your scaled score is too low, it will be difficult for you to be admitted to a good private school.
If you want to know what a good score is, to be honest, such a score cannot be determined exactly in the SSAT test. But do not worry, keep in mind that SSAT scores are only part of the admissions process.
Prepare for the SSAT Upper-Level Math Test Quickly
SSAT Upper-Level FAQs:
Here are some common questions about the SSAT Upper-Level test:
What is the SSAT upper level?
A multiple-choice test for students in grades 8-11. This test includes verbal, quantitative (math), and reading comprehension sections, plus a score-free writing sample.
What is a good SSAT score upper level?
In the SSAT Upper-Level Test, Section Score Range is 500-800 and Sum Score Range is 1500-2400. What a good score varies depending on the school you are applying to.
How long is the SSAT upper-level test?
the test takes 170 minutes or about three hours.
What is a good SSAT score for 8th grade?
In the SSAT Upper-Level test, the median score (SSAT 50th percentile) for grade 8 is 629.
What math is on the SSAT?
The SSAT tests a student's skills in three mathematical areas: computations, geometry/algebra, and mathematical concepts.
How many questions are on the upper-level SSAT?
167 questions including the writing sample.
Is it better to guess or leave blank on SSAT?
You will receive one point for each correct answer.
You will lose a quarter of a point for each incorrect answer.
For a question you did not answer, you will not receive a score or lose a score. So it is better to guess the answer to the question only when you are sure that two or three choices are wrong.
How long should you study for the SSAT?
To see your progress and get the desired score, it is better to take 3-6 months to prepare for the SSAT test.
What SSAT percentile is good?
There are some high schools with an average SSAT score in the range of 50-60%. The most competitive schools will have SSAT scores in the 90+ percentile.
How difficult is the SSAT?
The difficulty level of SSAT is up to 50% -60%.
How long is SSAT score valid?
Your SSAT test score is only valid for the current year, meaning you cannot use your current score for next year.
Is ISEE easier than SSAT?
The verbal section of the SSAT is more difficult than that of the ISEE, whereas the math section of the ISEE is more difficult than that of the SSA.
Are SSAT practice tests harder?
Yes, they are designed a little harder to prepare you better for the main test.
Is the SSAT harder than the SAT?
The SAT is considerably harder than the SSAT.
Is SSAT a computer or paper?
Both the Middle and Upper-level SSAT are available through Prometric test centers. The Elementary Level SSAT is only available as a paper-based exam.
Looking for the best resources to help you or your student succeed on the SSAT Upper-Level test?
The Best Books to Ace the SSAT Upper-Level Test
Related to This Article