SSAT Math-Test Day Tips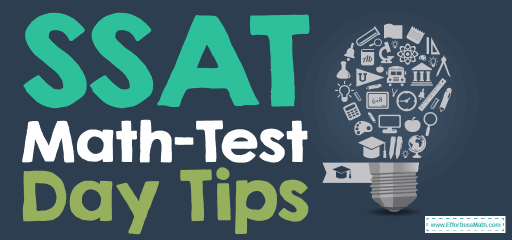 The Secondary Schools Admissions Test or SSAT is an entrance test used by independent private middle and high schools across the United States and administered by the Secondary School Admission Test Board. Because SSAT is used for students in a wide range of grades, it is offered at three different levels depending on the student's place of study:
Elementary Level: for students who are currently in grades 3–4
Middle Level: for students who are currently in grades 5–7
Upper Level: for students who are currently in grades 8–11
No matter what level the SSAT takes, the same three main competencies are assessed: quantitative reasoning, Reading comprehension, and verbal reasoning. However, the upper and middle versions of the test consist of two parts of quantitative reasoning, while the elementary level has only one part.
The SSAT middle– and upper-level exam questions test math concepts including geometry, algebra, measurement and analysis, and probability, while the elementary exam tests skills like subtraction, addition, multiplication, and division.
By planning and practicing for the math part of the SSAT test, you can have the best performance in the math section. As approach the SSAT test, it is better to get familiar with the tips and tricks for the exam day. We have brought some tips for you here.
The Absolute Best Book to Ace the SSAT Upper-Level Math Test
The Night before the Test!
Have a healthy dinner
Drink plenty of water and eat complex carbohydrates. Potatoes, pasta, and rice are good choices, as well as protein and vegetables.
Avoid screen time
You need to have a good night's sleep and bright screens (TV, phone, movies) wake up your brain and make driving harder in the early hours.
Be prepared
Make sure you are ready for the next day, the night before the test. Depending on the type of SSAT, collect the desired equipment.
Get enough sleep
Please go to bed early, even if your mind runs the night before the test. Calm your mind with a cup of tea or book and put down your cell phone. Aim for 8 hours to close your eyes.
The Absolute Best Book to Ace the SSAT Middle-Level Math Test
On Test Day!
Eat healthy breakfast
Wake up early and have a healthy breakfast. Eggs, toast, cereal, bagel, fruit, juice, cheese, milk are good choices for breakfast.
If you drink tea or coffee, follow your usual routine. Although you have never drunk a caffeinated beverage, it is not the time to start testing.
Choose comfortable clothing
Keeping your body comfortable helps reduce distractions and external influences on your abilities when taking the test. You don't want those shirts with the itchy tag or those jeans that are a little too tight.
Repeat positive affirmations
You've been preparing for this tough test, and you are ready! Avoid all negative talk (like I cannot do this). Remind yourself that you are ready and will do your best.
Calm yourself
If you feel on edge, pause and take some time to just focus on deep breathing. Deep breathing is known to reduce anxiety and calm your nerves.
Be on time for your test
If you are using a paper-based SSAT or an SSAT at a Parametric test center, find out where your test site is and how you can get there, and plan to get there at least 30 minutes early. In case of traffic, take extra time and avoid rushing, which will cause unnecessary stress. If you use SSAT at home, make sure you set up your room and your computer instead.
The Absolute Best Book to Ace the SSAT Lower Level Math Test
During the Test!
Relax!
Your perspective and attitude will be reflected in the test result. Be confident and calm during your exam. If you feel nervous or anxious, take a few deep breaths to catch yourself. Remember: SSAT is only part of your overall program.
Read the questions carefully
It may seem obvious, but it is easy for students to lose basic information when they are asked questions quickly. Slow down your speed when reading the questions and start seeing the question as being as important (more important) than the answer choices.
Below are the words and numbers that indicate the values, relationships, and calculations you need to answer the question. Words like "no" can be easily forgotten and what you are about to find in this question will change completely!
Work backward
Take good advantage of the fact that SSAT gives you more information than a question: it also gives you answer options, one of which you know must be the correct answer!
For questions with an unknown value, you can substitute the answer options for an unknown value to see which one is correct. Always start by choosing the middle answer to minimize the number of answers you need to replace.
Set a pace
Do not spend too much time on a question and do not move through carelessly. If you get stuck in a question, skip it and come back later if you have time. Read each question carefully and answer it carefully. Do not guess unless you can delete at least 2 answers.
Pick values
Sometimes it can be very challenging to summarize the math questions you see in a few sections. The question may ask how an unknown quantity will change if it undergoes a couple of percent changes, or to solve for one variable in terms of others. In cases like this, using actual numbers to determine the answer can be helpful, not trying to solve algebraically.
Double-Check
If there is enough time left, it is a good idea to go back and look at some questions that you might not have been clear on.
After the Test!
Relax!
You have finished your exam and there is nothing left to do! Anxiety at this stage will do more harm than good. So entertain yourself with things you enjoy like watching TV, going out with friends or cooking.
Assess
One thing we tell you to do is go back and evaluate your mistakes (calmly). What kind of questions did you get wrong? Did you have enough time in the end? How can you make progress (i.e. do not make the same mistakes next time)?
The Best Books to Ace the SSAT Upper-Level Math Test
Related to This Article