Top 10 Free Websites for SSAT Math Preparation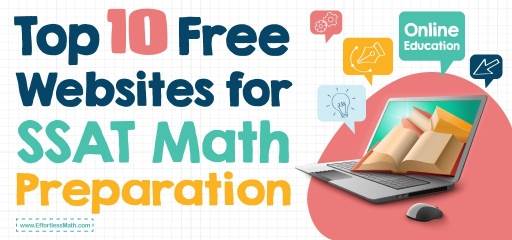 The SSAT is an entrance exam used by independent private middle and high schools in the United States and administered by the Secondary School Admission Test Board. There are currently three levels of SSAT:
Lower Level (for third and fourth-grade students)
Middle Level (for students in grades 5 to 7)
Upper Level (for students in grades 8 to 11)
No matter what level the SSAT is at, the same three core competencies are assessed:
Quantitative reasoning
Reading comprehension
Verbal reasoning
However, the Upper and Middle versions of the test include two parts of quantitative reasoning, while the Lower level has only one section.
The SSAT Middle–and Upper-Level exam questions test math concepts including geometry, algebra, measurement and analysis, and probability, while the Lower test tests skills such as subtraction, addition, multiplication, and division.
If you are unable to attend SSAT preparation classes in person or have difficulty paying for online classes, here are the top 10 free SSAT exam practice websites for you to take. So join us!
The Absolute Best Book to Ace the SSAT Upper-Level Math Test
1: EffortlessMath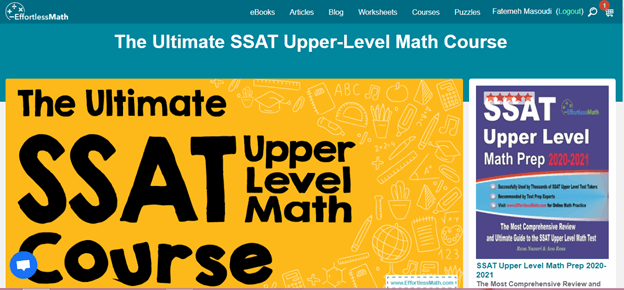 The EffortlessMath website facilitates students' access to math lessons, exercises, formulas, worksheets, as well as test-taking strategies. Students can learn and practice any SSAT Upper, Middle, and Lower level math in an easy and fun way.
2: Varsity Tutors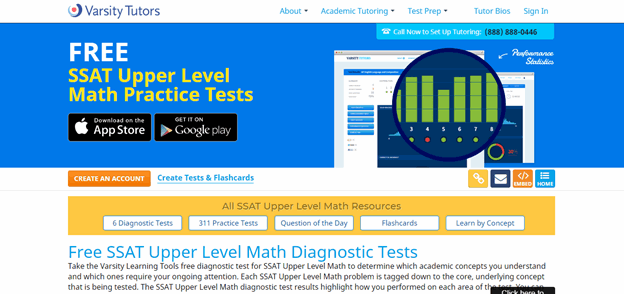 Varsity Tutors offers free SSAT Upper-level and Middle-level practice, with questions based on skill type. These may be useful as complementary materials, but do not expect them to look like formal SSAT problems.
3: 4test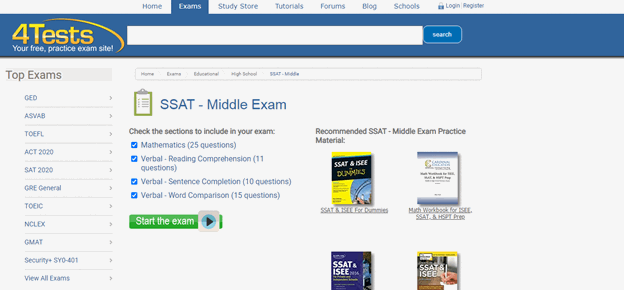 The questions on 4test.com are not very similar to what you see on SSAT. You can see one question at a time, and you can only work on them online.
4: TEST-GUIDE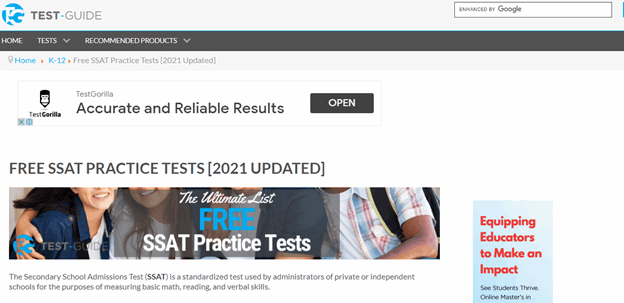 You can take free SSAT practice tests on the TEST-GUIDE website that will help you to prepare for the SSAT exam.
5: eTutorWorld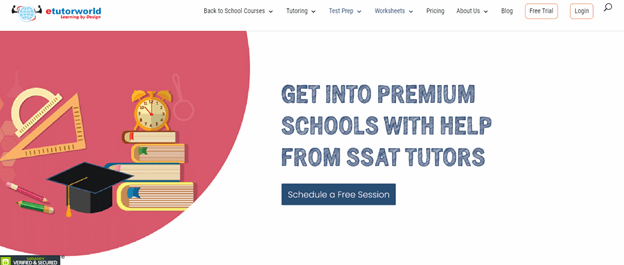 eTutorWorld website suggests timed full-length SSAT practice tests similar to the actual SSAT test, free online SSAT worksheets, and personalized online training to prepare for the SSAT test.
The Absolute Best Book to Ace the SSAT Middle-Level Math Test
6: KAPLAN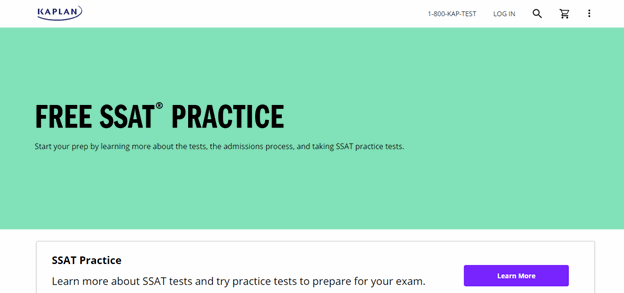 You can begin your preparation by learning more about the tests, the admission process, and taking the SSAT practice test on the KAPLAN website.
7: Ivy Global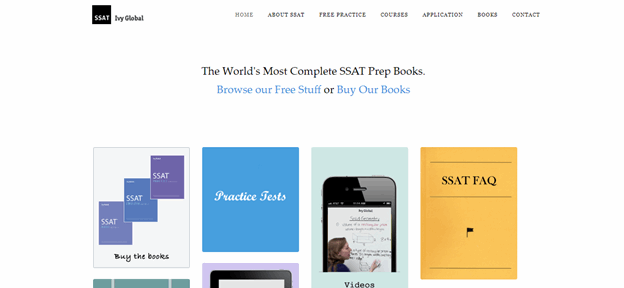 Ivy Global has free questions that are organized by level and section. They may be useful for reviewing test content, but they should not be used to understand the actual SSAT format – the style in which the questions are presented is very different from the actual test.
8: Mometrix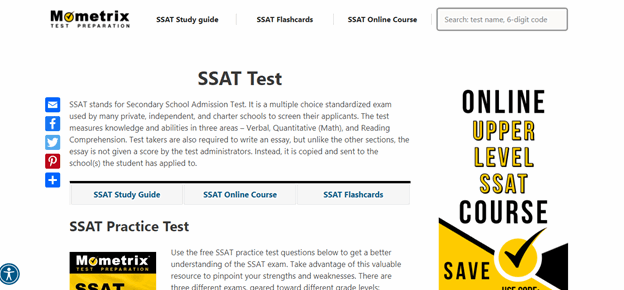 On the Mometrix website, you can use the free SSAT practice test. These practice questions will give you a better idea of how to prepare for your SSAT exam.
9: Exam Edge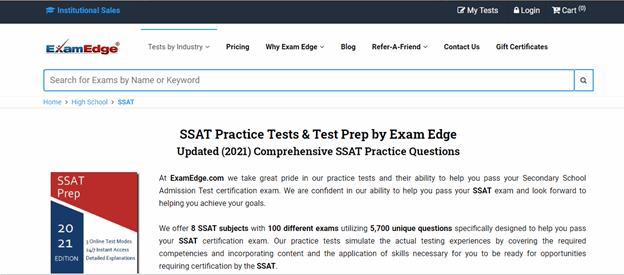 ExamEdge.com helps you pass your Secondary School Admission Test certification with practice tests.
10: Complete Test Preparation Inc.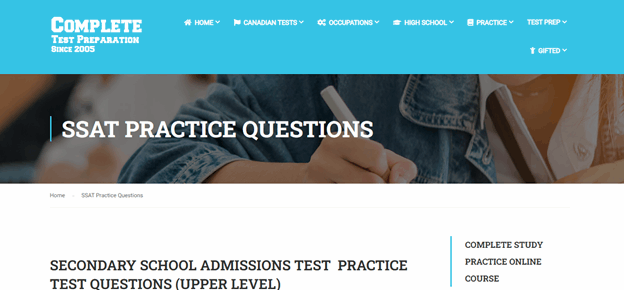 Get ready for SSAT with computerized materials just like the real thing! Try a free SSAT test sample, plus complete practice tests and sample essays on Complete Test Preparation Inc so you can get ready for the test.
Looking for the best resources to help you or your student succeed on the SSAT Upper-Level test?
The Best Books to Ace the SSAT Upper-Level Math Test
Related to This Article