Top 10 Tips to Create the SSAT Math Study Plan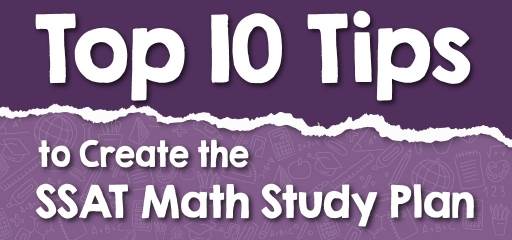 The Secondary School Admission Test or known as SSAT has four sections, and one unscored essay prompt. It takes almost 2 hours and 55 minutes to complete the test with a couple of short breaks built-in. This test is held at three levels:
SSAT Elementary-Level Test: grades 3-4
SSAT Middle-Level Test: grades 5-7
SSAT Upper-Level Test: grades 8-11
It does not matter which SSAT exam you want to take. To get a good score in mathematics, you need to have a study program. This plan tells you when, what, and how you can prepare for SSAT math. It also helps you manage your time and make the most of your time for SSAT math. Here are some tips to help you get started with an SSAT math study program. So join us!
The Absolute Best Book to Ace the SSAT Upper-Level Math Test
1- Take an official practice test
You must start preparing at least three months in advance before you plan to take the SSAT math. The first step is to take a practice test and then analyze your performance: What are your strengths and weaknesses, and what growth should you see to achieve your goal? You assess where you are and where you want to be.
2- Determine your resources and study tools
Effective study of SSAT math requires effective resources. Before you start, take the time to gather the study tools guaranteed to succeed!
3- Focus on your weaknesses
In your SSAT preparation, focus on the math topics that were hardest for you! But do not omission to study your strengths.
4- Practice math daily
Do not miss the effect of daily SSAT math practice. You need a precise and purposeful daily schedule. Studying math whenever you want is not the habit of a successful tester. Do not assume that you do not need daily practice you are talented in math. Daily practice makes it easy to remember things on SSAT test days when you need to remember things quickly.
5- Remember the formulas
Knowing that you will not be given a formula sheet in the SSAT test may be a little stressful for you, but do not worry. You may be already known most of the formulas used in the SSAT math. It is enough to keep them in your mind for the day of the SSAT test with continuous practice.
The Absolute Best Book to Ace the SSAT Middle-Level Math Test
6- Join a study group
Working with a study group or study partner can help you stay focused and motivated while studying SSAT math. It is a good way to make sure you review the information you need to cover, instead of focusing on the parts of the test that you are confident in your skills.
7- Take another practice test
Do a test every three weeks or so – most of the time if you are not comfortable with the test and want to make more progress, less often if you feel at ease testing and close to your goal. Use these practice tests as a time to increase your familiarity with the format of the test. Also, make a check-in to see how your troubled areas are progressing. Ask where your focus should be at this point.
8- Schedule other activities
By achieving a balanced program, your mind will be receptive to the time allotted for SSAT study. If you plan to study for several days in a row, you will be disappointed and tempted to leave. It is recommended to plan for other activities such as entertainment, socializing with other students, and sports.
9- Commit yourself to the study program
Although you may have an attractive plan to pass the SSAT math test, note that the design of this program does not guarantee its implementation. To get the right result from SSAT math planning, you should take some time and try to force yourself to run the designed program. After a while, the SSAT program will become part of your regular program.
10- Slow down about a week before the SSAT test
Take enough time to rest. Reduce your study time and get enough rest. Stop studying altogether one or two days before the test. You need to get enough sleep for the SSAT math day!
Finally, keep in mind that while a study program can help you pass the SSAT math test, it does not answer on its own, and the final success of the SSAT test depends on your willpower, and performance.
The Best Books to Ace the SSAT Upper-Level Math Test
Related to This Article