Best Ergonomic Chairs for Online Teachers in 2023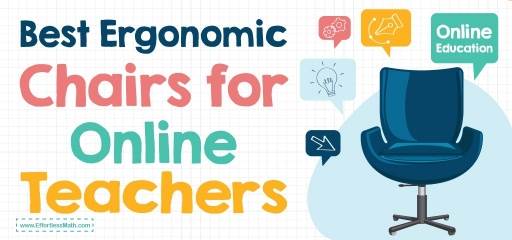 Why is it important for a teacher to own an Ergonomic chair?
The focus on the importance of Ergonomic chairs has been such a popular topic this year! Due to the pandemic, many teachers have been working from home because the classes are still in session!
So more teachers now than ever have been on zoom and spending long hours in the same position. That's right. Zoom has replaced the classroom.
They usually conduct these calls in a number of places: kitchen tables, desks, or even sitting on the floor. Resulting in awkward positions, hunched over the back, neck strain, and wrist strain. This could potentially lead to all types of injuries. It probably hasn't occurred to people that the kind of chair plays a significant role in their overall health.
The truth is sitting in the same position for a long time is bad. Most people are prone to injury because they are not disciplined enough to have extremely good posture. That is why it's imperative to invest in a good quality ergonomic chair that is comfortable and conforms perfectly to your body.
According to osha.gov, to be the most productive at your workstation, you must have the best posture. A neutral body position allows your joints to be naturally aligned, reducing stress.
The hand wrist and forearms should be straight. Head and shoulders are relaxed, elbows stay close to the body. The back is supported at a vertical position. The hips should align with the blows. The best ergonomics chair will supposedly suit your entire body and more.
Choosing the right agronomic chair can be difficult, especially over the internet. But fear not, there are ways to choose the best chairs, and you will never even have to sit on them.
Ergonomic chairs will be adjustable; seat height, seat width, have good seat depth, lumbar support, and good back support.
All of these things are connected because the material has to be high-quality. If the material isn't good, then the chair is a bad fit. Let's break it down further!
The features of an Ergonomic Chair
The best Ergonomic chair will have all of the ergonomic features.
Ergonomic Adjustability
Seat height: Adjust the seat's height up or down, allowing your feet to be at a comfortable distance.
Back seat: the rear seat can be raised and lowered both horizontally and adjusted vertically for the best comfort.
Seat: adjustable seat angle to conform to the user's height and reach.
Ergonomic Support
Seat-depth: allows the seat head to move in and out for short legs or longer legs
Laminar: has two adjustments: height up-and-down and depth adjustments in and out.
Tilt lock: Where you could tilt backward or upright position and tilted position in the reclining.
Ultimately, we can highlight the key features that make the best ergonomic chair based on comfortability and versatility. But, the only person who can find the perfect chair is you. So, here is what we recommend for the best ergonomic office chair for online teachers in 2023.
Best Ergonomic Chairs for Online Teachers
Related to This Article