How to Prepare for the ISEE Lower Level Math Test?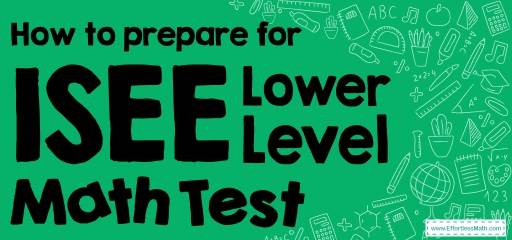 The Independent School Entrance Exam (ISEE) is an admission test developed by the Educational Records Bureau for its member schools as part of their admission process.
ISEE Lower Level tests use a multiple-choice format and contain two Mathematics sections:
Quantitative Reasoning
There are 38 questions in the Quantitative Reasoning section and students have 35 minutes to answer the questions. This section contains word problems requiring either no calculation or simple calculation.
Mathematics Achievement
There are 30 questions in the Mathematics Achievement section and students have 30 minutes to answer the questions.
Mathematics Achievement measures students' knowledge of Mathematics requiring one or more steps in calculating the answer.
How to Study for the ISEE Lower Level Math Test?
Since any test can be a stressful challenge for students, the ISEE Lower Level test has always been a challenge for students in grades 4 and 5 who are candidates for admission to grades 5 and 6.
Especially if they think their math base is weak. But we tell you not to worry about the math part of this test.
Here we will guide you step by step to prepare for the ISEE Lower Level Math Test.
The Perfect ISEE Lower Level Math Test Book For You
1. Choose your study program
There are many prestigious ISEE Lower Level books and study guides that can help your students prepare for the test.
Most major test preparation companies have some offerings for the ISEE Lower Level, and the short-listing of the best book ends up being a puzzling phenomenon.
There are also many online ISEE Lower Level courses.
If your students just started preparing for the ISEE Lower Level course or test and you need a perfect ISEE Lower Level prep book, then ISEE Lower Level Mathematics Prep 2019: A Comprehensive Review and Ultimate Guide to the ISEE Lower Level Math Test is a perfect and comprehensive prep book for your students to master all ISEE Lower Level topics being tested right from scratch.
It will help students brush up their math skills, boost their confidence, and do their best to succeed on the ISEE Lower Level Test.
You can also use this great Exercise book:
ISEE Lower Level Math FREE Resources:
2. Think of math positively
If you are always complaining about math and do not want to study it, this way of thinking about math must change.
Why not see solving math problems as an interesting challenge? If you can look at math like this and patiently spend time practicing math, you will better understand the material and you can pass the test.
3. Make the concepts clear
Checking the concepts in the ISEE Lower Level Math Test will help you find the areas you need to focus on.
You should categorize the concepts in the test into two basic concepts and advanced concepts. This will help you to know where to start studying.
Knowing where to start studying is an important step in learning. Suppose you study advanced material without reviewing the basic material first. In this case, you may not understand much of the material due to not having sufficient mastery of the basic mathematical material.
4. Practice daily
Having a daily study schedule is another important step that can help you perform better on ISEE Lower Level Math Test.
Check what math concepts you should study over the next week. Divide the material into smaller sections. Include a small portion of the material in your weekly schedule each day. You can start with less content or less study time and gradually increase this amount.
If you do not know how to make a study plan, get help from an academic advisor.
However, having a study schedule for each day is a requirement for you to pass the test. Research has shown that daily studying of the material makes them well-remembered.
5. Find the best way to learn
You can use many ways to speed up your learning. Participating in prep courses and using prep books are good ways to prepare for the ISEE Lower Level Math Test. Here you can find a complete list of books you need to prepare for the math test.
There are also many online resources you can use to learn.
Hiring a good tutor is another way you can try it if you want.
6. Memorize formulas well
In the ISEE Lower Level Math Test, you have to memorize all the necessary formulas.
You have learned most of these formulas before, but you may not have used them for a long time.
Of course, do not worry, trust your brain, and you will remember all the formulas well on the day of the test.
Just have this list of formulas that we have prepared for you and review the formulas regularly.
7. Take practice tests
After getting acquainted with the basic concepts and generalities of mathematics, it is time to participate in the simulated tests.
It does not matter if these tests are written or online, all the conditions and factors must be the same as the main test.
After taking each of the simulated tests, analyze the test results and identify your weaknesses. Once you identify the weaknesses, fix them with more practice.
8. Register for the ISEE test
Registration for the ISEE test is possible by the student's parents or legal guardian on the ERB website.
An account must be created for parents first. Creating a parent account requires a series of information such as name, surname, phone number, and address.
The next step is to create a student profile. If you have more than one student who wants to take the test, you must create a separate profile for each.
In the next step, you must specify the day and place of the exam using the student's profile.
In the next step, you must specify the day and place of the exam using the student's profile.
Your enrollment process ends by specifying the schools to which the test scores will be sent and paying the test fee.
9. Take the ISEE Lower Level Math test
The first important thing to consider on the day of the test is to arrive at the test site at least 30 minutes early. This will help reduce your stress on the test day.
You are not allowed to use the calculator during the test, so do not bring it with you to the test session.
Put unnecessary personal items in your home or another safe place.
The items you need on the day of the test include an ID card, two pencils, a sharpener, an eraser, a snack, and a bottle of water.
You are not allowed to eat or drink during the test.
The ISEE Lower Level Math test consists of two parts: Quantitative Reasoning and Mathematics Achievement. These two sections consist of a total of 68 questions and you have 65 minutes to answer these questions.
Concentration and time management are two important factors during the test and you should be aware of them.
Remember not to leave any questions unanswered as there is no penalty for wrong answers. If you do not know the answer to the question, make the best guess you can.
Prepare your student With This PERFECT ISEE Lower Level Math Book
ISEE Lower Level FAQs:
Here are some common questions about the ISEE Lower Level test:
What is the lower level ISEE?
The ISEE Lower Level test is designed as part of the admissions process for students currently in grades 4 and 5 who are candidates for grades 5 and 6.
How long is the lower level ISEE Test?
It is 2 hours and 20 minutes long.
Is the ISEE test difficult?
The ISEE test, like any other test, has its difficulties. But if you prepare well for this test, you can succeed in this test.
How do you prepare for the lower ISEE?
Effective ways to better prepare for the ISEE test include careful study, reviewing test concepts, participation in prep courses, and taking pre-test practice tests.
Which test is better ISEE or SSAT?
The verbal part of SSAT is more difficult than ISEE, while the mathematical part of ISEE is more difficult than SSAT.
Can I use a calculator on the ISEE?
No, you are not allowed to bring a calculator into the test room.
Should you guess on the ISEE test?
There is no penalty for guessing on the ISEE, so you should not leave any questions unanswered.
How often can you take the ISEE test?
A total of three tests per year are allowed.
How long does it take to get ISEE scores back?
You will receive a score report within 14 days.

Looking for the best resources to help you or your student succeed on the ISEE Lower Level test?
The Best Books to Ace the ISEE Lower Level Test
Related to This Article