What skills Do I need for the GED Math Test?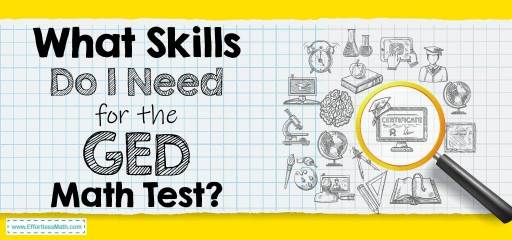 You've come to the right website if you're looking for a step-by-step guide to passing the GED Mathematical Reasoning test.
The General Educational Development Test, also known as the GED or high school equivalency diploma, is a standardized test accepted in all 50 states of the United States.
The GED test is for people who haven't finished high school but want to continue their education. Many colleges accept the GED exam, which is comparable to a high school diploma.
The exam candidate must be at least 16 years old and not actively enrolled in high school to take the GED. Check your state's laws for how long you must have been out of high school to be able to take the GED test before registering.
Most people believe that the mathematical reasoning section of the GED exam is the most difficult of the four portions.
The GED Mathematical Reasoning exam is a 115-minute single-section exam covering basic math, quantitative problem-solving, and algebraic questions.
The Absolute Best Book to Ace the GED Math Test
Topics on the GED Math are:
number operations and sense,
measurement and geometry
statistics and data analysis
and Algebra
The section on Mathematical Reasoning is divided into two parts. The first section has five questions that do not allow the use of calculators. There are 41 test questions in the second section, and you may use a calculator.
You'll require strong analytical skills as well as an essential awareness of numbers, their relationships, measurements, geometry, data analysis and statistics, probability, patterns, functions, and algebra.
To pass this test, you must have mathematics knowledge equivalent to that of most high school graduates and the ability to apply that knowledge to real-world issues.
Best GED Math Prep Resource
There are various ways to improve your GED math skills. Among them are:
1. Think of math optimistically.
You won't be able to learn anything as long as you have a negative attitude toward math. You could rush through the questions to relieve yourself of this stress, but you wouldn't recall anything during the test. So, to grasp it, think of it as a simple and enjoyable subject.
2. Make the concepts simple and straightforward.
Begin by reviewing and memorizing GED Math fundamental themes and concepts such as fractions, mixed numbers, percent, ratios, proportions, and so on.
When you feel comfortable with the fundamentals, you can move on to more sophisticated math concepts like polynomials, systems of equations, quadratics, and so on.
You should review basic pre-algebra concepts before beginning to solve algebra problems. You will struggle to master higher-level arithmetic ideas if you do not do so.
You can't just move on to higher-level math without first learning the fundamentals. You must complete each level of math and must understand the previous topics.
3. Practice daily
This action is significant. Even if you are a genius, you must practice daily. By doing this, you can significantly improve your skills, as well as learn and memorize things. When it comes to math, the key to success is a regular practice.
High School Equivalency Tests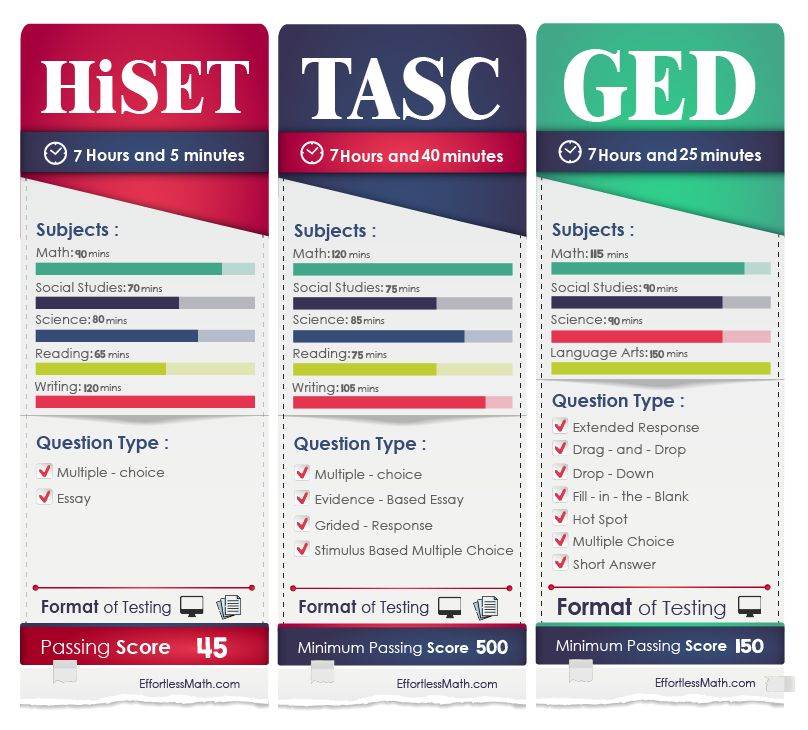 The Best Books to Ace the GED Math Test
More from Effortless Math for the GED Math Test …
Now that you've gone through the Math skills you need to learn before your GED Math test, take a look at our comprehensive GED Math Worksheets to help you practice all GED Math concepts and prepare for the GED Math test.
Also, don't forget to review our complete list of GED Math formulas.
Need a practice test to help you increase your GED Math score?
Our Full-Length GED Math Practice Test and Free GED Math Practice Test can help you measure your exam readiness.
The Perfect Prep Books for the GED Math Test
Have any questions about the GED Test?
Write your questions about the GED or any other topics below and we'll reply!
Related to This Article