Top 10 Tips to Create the TExES Core Subjects Math Study Plan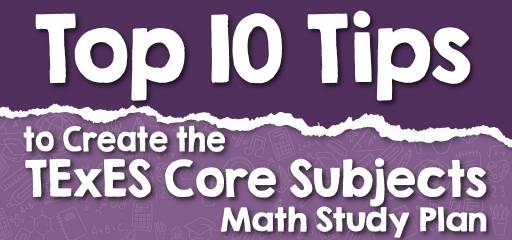 Candidates for the Texas Teacher Certificate must have passed the Texas Examinations of Educator Standards (TExES). The goal of these exams is to ensure that each instructor has the prerequisite content and professional knowledge necessary for the initial position in Texas public schools.
The TExES Core Subjects EC-6 (291) exam is structured with five thematic exams:
English Language Arts and Reading & the Science of Teaching Reading
Social Studies
Science
Fine Arts, Health and Physical Education
To get a good score in TExES math you must have a study program. This plan states to you when, what, and how you can prepare for TExES Core math. It also helps you manage your time and make the most of your time for TExES Core math. Here are some tips to help you get started with the TExES Core math study program. So join us!
The Absolute Best Book to Ace the TExES Core Subjects Mathematics Test
1- Make a list of all the TExES math topics to study
The first step in creating a TExES math study plan is to make a list of all the math subjects. Calculate how many hours you need to study for each math subject.
2- Find the best way to prepare yourself
There are many ways to help you do better on the TExES math test. You can accelerate your learning by taking preparation courses and using prep books. Also, if you don't want to hire a tutor, some books can help you as a good tutor.
3- Practice TExES math daily
If you want to succeed in the TExES math test, you have to plan and arrange your time. You should practice math daily. Daily exercise will speed up your progress. So adjust a realistic schedule and stick to it. If you have a little trouble setting up the program at first, do not worry. Start with less time and increase your study time gradually.
4- Create a study environment
Mathematics is a subject that requires more focus than other subjects. A good study environment without distractions can be a determining factor in studying TExES math topics! Therefore, studying mathematics in a calm environment with sufficient light is very important.
5- Work with study partners
Everyone knows their strengths and weaknesses when studying. Some people avoid studying or reduce their study time if they do not have the motivation and proper response. If this describes you, it is a good idea to find other people who are studying TExES math and join them to study. Studying with others can help you focus on exploring areas you may not be very interested in. It can also motivate you to study independently to prepare for your group study sessions.
Prepare for Excellence With This PERFECT TExES Math Practice Book
6- Save time for other activities
While limiting time for each TExES math topic, make sure you make time for family, friends, and rest as well. It is because you cannot succeed in your education unless you strike a healthy balance between your personal and academic life.
7- Do practice test
Although it may be boring to do a workout, doing so is a great way to prepare for TExES math. Doing practice exams can help you in many ways. You can know your math strengths and weaknesses. And manage your time answering TExES math questions.
8- Keep your schedule up to date
Before each study period, your study plan should be updated to identify the specific goals, learning outcomes, and content of that study session.
9- Let others know about your plans
Sometimes it becomes difficult to run programs. Because others like to spend time with you. So to prevent this from happening, describe your planning to family and friends. Ask them to align themselves with your planning and help you execute the plan.
10- Slow down about a week before the TExES math
Take enough time to rest and reduce your math study time and get enough rest. Stop studying one or two days before the TExES math. You need to be energetic on TExES math day.
Finally, keep in mind that while a study program can help you pass the TExES math test, it does not answer on its own, and the ultimate success of the TExES test depends on your willpower.
Looking for the best resources to help you succeed on the TExES Core Subjects test?
The Best Books to Ace the TExES Core Subjects Test
Related to This Article