How is the TExES Core Subjects Scored?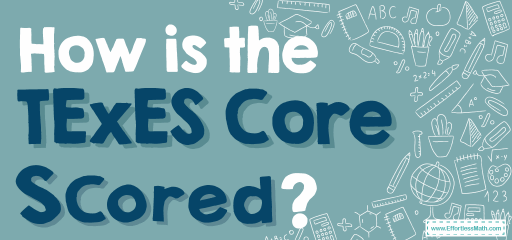 If you are interested in becoming an entry-level educator in the Texas public school system, you need to take the TExES Core Subjects EC-6 exam. TExES Core Subjects assessment evaluates the knowledge and skills needed to teach from early childhood to grade 6 in Texas public schools. The TExES Core Subjects test, administered by the Texas Educator Certification Examination Program, follows the guidelines of the current educator standards. This exam is 5 hours, with 267 multiple-choice questions.
The TExES Core Subjects is divided into the following tests:
Mathematics (18% of the TExES Core Subjects exam)
Social Studies (16% of the TExES Core Subjects exam)
Reading, English Language Arts, and the Science of Teaching Reading (28% of the TExES Core Subjects exam)
Science (19% of the TExES Core Subjects exam)
Health, Fine Arts, and Physical Education (19% of the TExES Core Subjects exam)
The Absolute Best Book to Ace the TExES Core Subjects Math Test
TExES Core Subjects passing score
The TExES Core Subjects EC-6 test based on a pass / no pass score. Candidates seeking to pass the test must obtain a scaled score of at least 240 on each subject on the test.
How scaled scores work?
On a scale, the scores range from 100-300. The minimum passing score threshold is not equal to the exact number of questions answered correctly. This figure is known as the raw score, and although it is certainly important, it does not tell the whole story.
While managers try to avoid major differences between the original versions to subsequent adaptations, it is virtually impossible to ensure that each form contains the same level of difficulty.
To match these differences, each test form is graded relative to the original form. For example, if you sit for a more challenging form for the test, you will have to answer fewer questions correctly to get a passing score. On the other hand, giving an easier test means that you will need more correct answers.
Purpose of scaled scoring
The scaled scoring method creates a common ground and allows for easy comparisons when looking at candidate scores. Instead of simply providing a raw score and forcing candidates and schools to determine how to compare, the Educational Testing Service (ETS) offers these scaled numbers so that all versions become equal.
Non-credit questions
Your test may contain several questions that do not count in your score. To assess the potential of new questions, test administrators add them to current exams and measure their long-term viability based on how candidates respond to them.
Score reporting
You must receive your scores within one week of the test date. In addition to the pass / no pass result, you will also receive an accurate score report that provides valuable information about your performance.
In some cases, the reporting process may be delayed if you do not comply with registration policies, have problems processing your payment, or fail to provide proof of approval for testing.
If ETS detects an irregularity in your performance or finds proof of misconduct, your points will be void forever.
The Best Resource to Ace the TExES Core Subjects Math Test
Related to This Article