How to Prepare for TExES Core Subjects Math Test?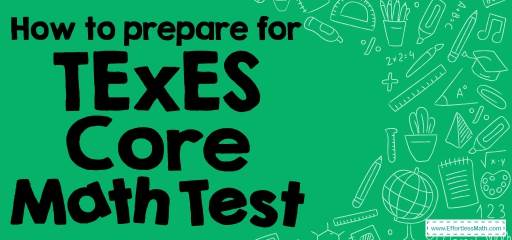 Texas teacher certification candidates are required to pass the Texas Examinations of Educator Standards (TExES).
The purpose of these examinations is to ensure that each educator has the prerequisite content and professional knowledge necessary for an entry-level position in Texas public schools.
All TExES exams are criterion-referenced examinations designed to measure a candidate's knowledge about an established standard of competence (a criterion) rather than about the performance of other candidates.
The TExES Core Subjects EC–6 (291) exam is structured with five Subject Exams:
English Language Arts and Reading & the Science of Teaching Reading: 75 selected-response questions
Mathematics: 47 selected-response questions
Social Studies: 41 selected-response questions
Science: 52 selected-response questions
Fine Arts, Health, and Physical Education: 52 selected-response questions
The Mathematics section comprises 18% of the test. This section of TExES contains 47 multiple-choice questions that assess content in the following areas:
Number Sense and Operations
Patterns, Relationships, And Algebra
Data, Statistics, And Probability
An on-screen scientific calculator is provided in the mathematics section of TExES. Test takers have 60 minutes to complete the TExES Core Subjects Mathematics.
The Absolute Best Book to Ace the TExES Core Subjects Mathematics Test
How to Study for the TExES Core Math Test?
If you want to be a Texas school teacher, you must take the TExES test to prove your skills.
Such a test, especially the math part, can probably be challenging and somewhat stressful for you. But we tell you that worry is useless.
By following the simple tips that we will tell you in the following, you can succeed in this exam. It is enough to follow these tips step by step.
1. Choose your study program
Many prestigious TExES Core Subjects books and study guides can help you prepare for the test.
Most major test preparation companies have some offerings for the TExES Core Subjects, and the short-listing of the best book ends up being a puzzling phenomenon.
There are also many online TExES Core Subjects courses.
If you just started preparing for the TExES Core Subjects course or test and you need a perfect TExES Core Subjects prep book, then TExES Core Subjects EC-6 MATH For BeginnersThe Ultimate Step by Step Guide to Preparing for the TExES Math Test is a perfect and comprehensive prep book for you to master all TExES Core Subjects topics being tested right from scratch.
It will help you brush up on your math skills, boost your confidence, and do your best to succeed on the TExES Core Subjects Test.
This one is an alternative book:
You can also use this great prep book:
TExES Core Subjects EC-6 Mathematics Workbook 2021 – 2022 The Most Comprehensive Review for the Math Section of the TExES Test
If you just need a TExES Core Subjects workbook to review the math topics on the test and measure your exam readiness, then try: "Comprehensive TExES Core Subjects EC-6 Mathematics Practice Book 2021 – 2022: Complete Coverage of all TExES Math Concepts + 2 Full-Length TExES Math Tests"
TExES Core Subjects Math FREE Resources:
2. Think of math positively
A positive attitude is an important factor for success. Changing your negative outlook on math can change the course of your life.
Because those who are interested in math lessons and patiently take the time to learn them usually perform better on tests.
If you have never been a fan of math, it is better to change your outlook on math from today and look at it as a challenge that paves the way for your success.
3. Make the concepts clear
One of the most important principles before studying is to know what the TExES math test covers.
You will be assessed in the TExES math test in the following areas: Number Sense and Operations, Patterns, Relationships, Algebra, Data, Statistics, Probability, Geometry, and Measurement.
The next step is to evaluate how much you know about these concepts. If you do not master the basic concepts, review them first, then include the study of advanced concepts in your study plan. This method will prevent confusion and waste of time and help you better understand the concepts.
4. Practice daily
If you want to succeed in the TExES math test, you have to plan and organize your time.
You need to practice math daily. Practicing daily will speed up your progress. So set a realistic schedule and stick to it.
Don't worry if you have a little trouble adjusting to the program first. Start with less time and gradually increase your study time.
5. Find the best way to prepare yourself
There are many ways to help you do better on the TExEs Math Test. You can speed up your learning by taking prep courses and using prep books.
Here is a complete list of books that can help you prepare for the TExES exam. Also, if you do not want to hire a tutor, some books can help you as a good tutor.
Prepare for Excellence With This PERFECT TExES Math Practice Book
6. Memorize formulas well
Although you will be given a formula sheet in the TExES Math Test, you should know that it does not include all the formulas you need. This means that they prefer not to provide the many simple formulas that most test takers should know.
Giving the formula sheet is because instead of memorizing commonly used formulas, pay attention to their applications.
If you do not know many of these formulas and do not know where to find them, do not worry. For your convenience, we have prepared a complete list of formulas with their meanings and applications.
7. Take the simulated tests
Simulated tests have a huge impact on your preparation process. After getting acquainted with the basic concepts of mathematics, you should take these tests.
Simulated tests can be online or in writing. The conditions of the simulated test should be as similar as possible to the main test to have a greater impact on your preparation.
The more simulated tests you take, the more familiar you will be with the test conditions and the less stress you will have on the day of the main test.
8. Online registration
You must have a TEA ID number to register for the TExES exam. For this reason, you must create an account on the TEA site before registering for the TExES test.
To register, you must visit this site and enter your email and TEA ID.
You can also visit here to check the day and place of your test. After completing the required information and paying the test fee, your registration process will end.
9. Take the TExES Math test
On the day of the test, do not forget to arrive at the test site earlier to reduce your stress.
All the equipment needed for the TExES test, including the ID card and admission ticket, must be ready the night before.
Keep all your items in a safe place as you are not allowed to take any extra items with you, including electronics, to the test room.
An on-screen scientific calculator is provided in the TExES Math section so there is no need to bring the calculator with you.
Remember that you are not allowed to eat or drink during the test.
The TExES math test consists of 47 multiple-choice questions. You have 60 minutes to answer this section, so be aware of the time, but do not worry about it.
Whenever you are very anxious, wait a moment and take a few deep breaths, and then start again. If you do not know the answer to the question, do not worry, try to make the best guess you can.
The Best TExES Core Quick Study Guide
TExES FAQs:
Here are some common questions about the TExES test:
What is the passing score on a Texas teacher certification test?
240 is the minimum passing score.
How soon will I get my TExES scores?
Results are usually available 3-4 weeks after your test date.
What is the Texas teacher certification test?
This test is to determine if the teacher has the necessary knowledge to teach the subject or not.
How long does the TExES exam take?
It takes five hours.
How many attempts are on the TExES content exam?
Five attempts include the first attempt to pass the test and four retests.
What does TExES stand for?
Texas Examinations of Educator Standards.
How do I get my TExES scores?
After registering your account, you can choose to have the test results emailed to you.
Looking for the best resources to help you succeed on the TExES Core Subjects test?
The Best Books to Ace the TExES Core Subjects Test
Related to This Article