Top 10 Tips to Create an ATI TEAS 7 Math Study Plan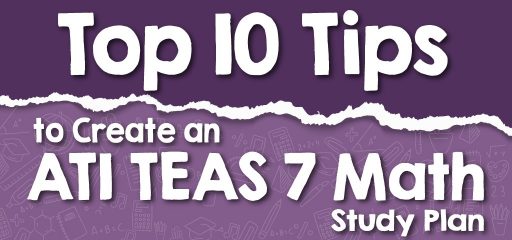 The study is an important part of success in ATI TEAS 7 Math preparation. But sometimes it is difficult to find enough time to study. Especially the study of mathematical sections that need further review. One surefire way to succeed in the ATI TEAS 7 math test is to have a study plan. With a little thought and a little more activity, you will have no problem preparing a suitable study program to achieve all your academic goals.
Follow this post to learn step by step how to create an ATI TEAS 7 math study program.
The Absolute Best Book to Ace the ATI TEAS 7 Math Test
1- Know the TEAS test
The first step in creating a study program is to make a list of all the math topics you need to pass the ATI TEAS math test. This will help you develop ideas that should be there.
2- Collect study materials
Before you start preparing for ATI TEAS 7 math, it is important to gather all of your study material. That way, you never waste time studying to find resources you can use.
3- Utilize Online test prep resources
Participating in online practice exams is an effective way to determine if you know the test material you need and if you can find a way that benefits you.
The Assessment Technologies Institute is as known as ATI is the creator of the TEAS test. Their website has study guides and various learning options that prospective nursing students can use. For example, they offer online tutorials, study guides, practice tests, and learning strategies to help students succeed.
4- Organize your study time
The test-taker must take the time to study each day. TEAS tests should not be performed without proper preparation and study time. A great way to stay organized is to set aside a specific day and time to study. For example, Mondays, Wednesdays, and Fridays from 5:00 to 7:00 p.m. When someone puts "appointments" to study, it creates responsibility and leads to a greater likelihood of following up. Calendars, schedules/phone alerts, and personal planners can help students stay on schedule with their study time.
5- Spend time on your strengths
While it is important to identify your ATI TEAS 7 math weaknesses, do not overlook your strengths. You can assign more time to topics and types of questions that need further development. However, this does not mean that you should ignore other topics and types of questions that you are sure of.
Best ATI TEAS 7 Math Prep Resource for 2022
No Product Here.
6- Join a study group
When we have someone who has the same goal as us, it is amazing. You can share how to study, how to find content, and talk about the ATI TEAS. If you are trying to understand something in the ATI TEAS, working with other people can also be helpful.
7- Take care of yourself
It is important to take care of your health. You can spend many hours studying and preparing, but you should eat well, drink plenty of water, and exercise. These actions will help one concentrate during the material review as well as during the ATI TEAS.
8- Talk to a nursing advisor
It is also a good idea to talk to the relevant staff at the postsecondary institution you want to attend. Your school may have a nursing advisor or other faculty member who can provide additional study materials and training tips that you can use when preparing for the TEAS exam.
9- Increase your efficiency
Studies show that 10 to 15 minutes of rest every 1 hour betters your ability to concentrate. Conversely, if you do not take study breaks, you will end up stressed and tired. Regular rest can positively affect your study schedule so that you do not have more stress.
10- Evaluate your study plan, and modify it if necessary
Your study program will help you become more efficient and productive. Do not despair if you find that it does not work. You know what's best for you, make changes.
Finally, keep in mind that although a study program can help you pass the ATI TEAS math test, it does not answer on its own, and the final success of the test depends on your willpower.
The Best Books to Ace the ATI TEAS 7 Math Test
Related to This Article