ATI TEAS 7 Math-Test Day Tips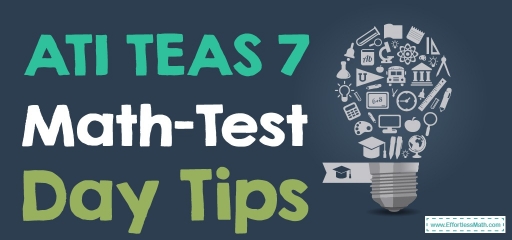 The Test of Essential Academic Skills is known as TEAS is a standardized test used to judge a student's readiness to enroll in college-related health care programs. According to the ATI or Assessment Technologies Institute, the TEAS test consists of 170 multiple-choice questions that take 209 minutes to answer a variety of topics. The ATI TEAS 7 covers four topics: Reading, English and Language Usage, Science, and Math.
The Math section of ATI TEAS has 36 questions to be completed in 54 minutes. The questions include algebra, arithmetic, and data and measurement. If you have not studied math recently, your skills may be a bit rusty. Take some time to go back and review the specific math calculations you need to know about in the TEAS math section.
After weeks of preparation, you know what to expect at TEAS. You have studied a lot and passed one or two practice tests. Now your test day is near. Here there are several tips to help you to do your best on test day.
The Absolute Best Book to Ace the ATI TEAS 7 Math Test
The Night before the Test!
Have a healthy dinner
Drink plenty of water and load up complex carbohydrates, just like marathon runners: potatoes, pasta, and rice are good choices here, as well as protein and vegetables.
Organize your bag for test day
The night before, it is time to put your ID, pencil, admission ticket, and other items in the bag.
Relax!
Do something fun (but not crazy or tiring) the night before the exam. Maybe you can have a good dinner, watch a movie, do the housework (a clean house is relaxing for some people) or play a game.
Plan to reach the test site
Before going to bed, make sure you know exactly how you want to get to the test site. If you are planning to find a parking space, plan. If you trust public transportation, check the schedule and make sure your subway/bus/train is working. If a friend or parent goes with you, make sure they know what to do.
Get enough sleep
Not only does sleep help your long-term memory to retain information, but getting enough sleep in the days leading up to the test helps you become more alert, positive, and less stressed.
On Test Day!
Eat a healthy breakfast
Get up early and eat a healthy breakfast. Here are some good options: toast, eggs, cereal, sweet bread, juice, fruit, cheese, and milk.
If you drink coffee or tea, follow your usual routine. Although you do not drink a caffeinated beverage every day, testing time is not the time to start. You need calm, slow, and steady energy today.
Wear appropriate clothing
When dressing, think about the weather in the test room and the environment. Even if it is 60 degrees outside, think about what the test environment will be like. Most likely, it will be the air conditioning and you will sit there for hours, so make sure you get dressed to stay ready at the right temperature.
Warm-up
Do a TEAS warm-up before taking the test. This helps your brain prepare at its best. Do not take any exercise material to the test center, but do some easy practice at home or work before leaving for the test.
Leave home early
There is nothing more stressful for yourself than arriving late. Allow time for unexpected traffic and delays to reach the test site in your spare time. This allows you to be comfortable and relaxed with your environment before starting the exam.
During the Test!
Read the question carefully
Read the question and find out what question was asked. Do not assume that it asks one thing but is looking for something else or that it is a trick question (a good test has no trick questions). Try to match the question with the topics you have covered or reviewed, especially if you are told something during the review or test session.
Don't let nerves derail you
You have every reason to feel confident. You are ready for this test! But if you notice nervousness or loss of concentration, sit in a chair and place your feet flat on the floor. Imagine yourself relaxing and visualizing a calm image. It helps you clear your mind and fill your blood with oxygen.
Remind yourself that you have studied diligently and are ready for TEAS. When you are ready, take the test again.
Keep moving
Do not let yourself get caught up in a question. You can go back to questions that you are not sure about, so whenever there is a threat of slowing down or stealing time from other questions, skip your questions. Wrong answers in TEAS are not penalized, so be sure to answer any questions before the time is up, even if you have to guess some questions.
Eliminate choices you know are wrong
Use a multi-choice format to your advantage: If you can eliminate one or two incorrect answer options, you greatly increase the chances of correct guesses.
Review your work
If you have finished early, go back and review the questions you have doubts about. Rereading the questions until you know you have completed that part and are no longer in a hurry, perhaps what you need to provide the correct answer.
After the Test!
After the test, celebrate! You have prepared, practiced, and performed like a hero. Now that the test is over, it's time to congratulate yourself on doing a good job. Knowing that you have taken an important step towards achieving your goals, celebrate responsibly with your friends and family, and enjoy the rest of your day.
The Best Books to Ace the ATI TEAS 7 Math Test
Related to This Article