Best Math Websites for Students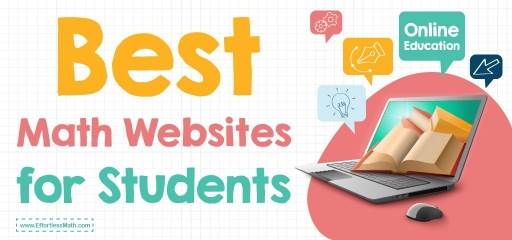 When filling in college applications, one of the key subjects evaluators look at is Math. Also, your performance in math can greatly influence the career path you take in life. Therefore, if you are looking to better your future life, it is high time you improved your math grades.
However, most students consider mathematics their least favorite subject. Yet, for you to succeed in math, you need to do more than just study it; you also need to love it. And well, you cannot love something if it is not fun, right?
Math websites for high schoolers and kids are designed to help you not only learn math but also love the subject. These websites feature interactive games, creative tips, videos, detailed answers, among many other resources that make the learning process much more fun.
More so, considering that teachers cannot offer that one-on-one experience to every student, these websites provide just the ideal supplement for classes.
In other words, the websites are practical tools that help the students improve their math skills more engagingly.
Here are ten Top Math Websites for High Schoolers and Kids, divided into each level:
A. 5 Top Math Websites for High Schoolers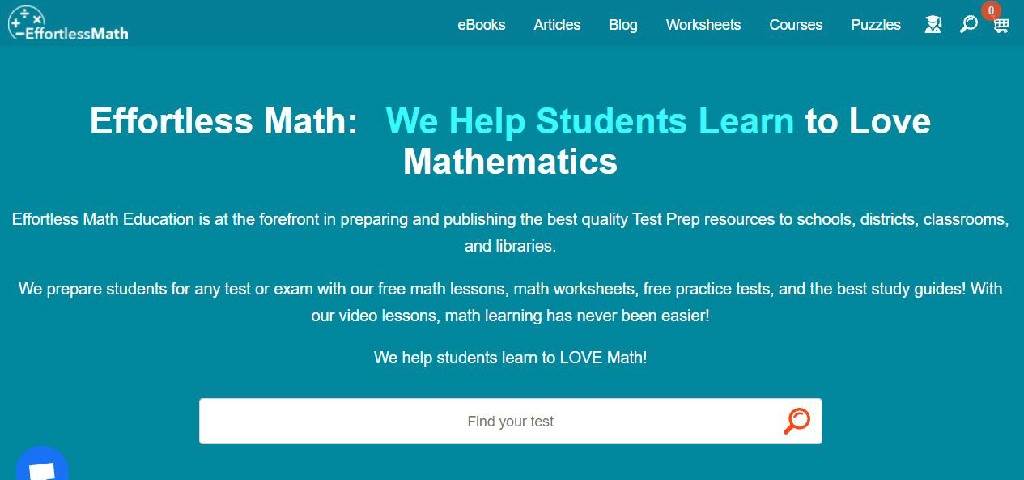 EffortlessMath is an e-book designed to help students love math and improve their skills. It offers more than 2,000 test preparation titles and 100 mobile applications for test preparation. Founded on the belief that each student can learn, the site offers personalized training and instruction.
Therefore, all students can learn at their own pace and be guaranteed of improving their skills. More so, EffortlessMath has an average star rating of 4.5. This added to the 10,000+ positive reviews left by happy customers indicates that the website is very effective when it comes to teaching Math.
2. MathPlanet.com
This website provides math lessons on a wide range of topics, examples, and detailed answer explanations. To make it easier for the students to understand, most of the topics are in form of video lessons.
Also, Mathplanet.com consists of several ACT and SAT tests, as well as their accompanying answers. You can download these answers separately, to identify your weak points and areas needing improvements.
3. WebMath.com
This top math website for high schoolers is operated by Discovery Education. It provides a free platform where students can enter any math question they have and get detailed answers immediately.
Also, teachers can use the helpful resources provided to make their classes more interesting and effective.
WebMath.com does more than just provide math-related questions and solutions; it also offers practical examples of how Math applies in everyday life. These examples are compiled in a section known as "Math for Everyone." For example, you can learn how to calculate the amount of tip to leave at a restaurant, or even how to use Math to figure out your chances of winning a lottery.
4. Math.com
Math.com is popular for its user-friendly interface. In addition to being easy to navigate, the website is also designed with a drop-down menu that offers different mathematical subjects for different grade levels.
Also, teachers can greatly benefit from incorporating Math.com in their teaching activities. After all, the site has a section where tutors can access classroom resources and practical information for their lesson plans. What's even better, the site has a homework directory that parents can use to help their children learn math.
5. S.O.S. Mathematics
S.O.S Mathematics is an award-winning website. Established in 1995, this site has proved very useful in helping high school students learn math and improve their skills.
It provides detailed explanations in all areas of the subject, from the theory part to problem-solving equations. Also, S.O.S Mathematics has a page that provides numerous practice tests and quizzes to help you learn mathematics.
B. Top 5 Math Websites for Kids
1. Fun Brain
Fun Brain features numerous games and interactive activities that make learning math fun for kids. You can find these games by searching either the grade level or math topic.
These games not only engage young learners but also help them comprehend and reinforce important math concepts.
The games offered usually focus on several fun themes, such as beautiful landscapes, animals, and sports. Fun Brain also features a "Playground" page which is packed with numerous games for kindergarten and pre-kindergarten kids.
2. Cool Math Games
Just like its name implies, the Cool Math Games website offers fun and interactive math games for students. For example, it is designed with a jigsaw puzzle section that consists of numerous pictures changed into puzzles. Such creative puzzles can help kids develop their spatial relations and problem-solving skills.
Cool Math Games can also be used by high schoolers. It includes an extensive review of calculus and other related games for the middle school level. Indeed, this comprehensive website is worth using as an additional resource tool!
3. Math Blaster
Math Blaster aims at helping kids improve their brain and logic skills. The interface is designed with an alien and outer space theme; just the ideal kind of theme to help kids love learning math and improve their critical thinking skills. However, while the games are all free, you are required to register first to access these.
4. Math Game Time
The Math Game Time Website is ideal for kid students between pre-kindergarten and grade 7. It features a wide range of educational games aimed at helping kids grasp and understand important math concepts.
These games are divided into different sections for different grade levels. They include the Jet Ski Addition, Integer War, and Ratio Martian games.
5. Learn Zillion
If you are looking for additional resources to supplement what your kids learn in school, the Learn Zillion site is the ideal tool to use. This website consists of lessons intended for kids in grades 3 to 9. These lessons offer a comprehensive approach, giving detailed math solutions to help kids improve their skills.
Conclusion
Learning becomes more fun and interesting when games are incorporated. Therefore, if you are a parent or a teacher, incorporate these Top Math Websites for High Schoolers and Kids in your kid's homework or your lesson plans.
By so doing, you will increase your child's passion for math. Better yet, you will ensure their success in the subject, which will, in turn, translate to admission to a better college and a better life overall.
Related to This Article