Top 20 Math Websites for Virtual Learning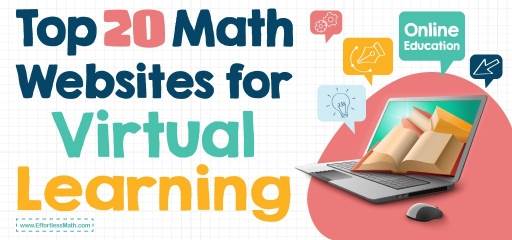 People turn to virtual learning for many reasons, affordability, extra help, and tutoring for energetic little kids. Whatever the reason, there are many resources, it can be discouraging to find the right one.
People learn differently. Some people are interactive learners, and others are visual Learners or both. This article will cover the top 20 math websites for virtual learning.
1- Effortless Math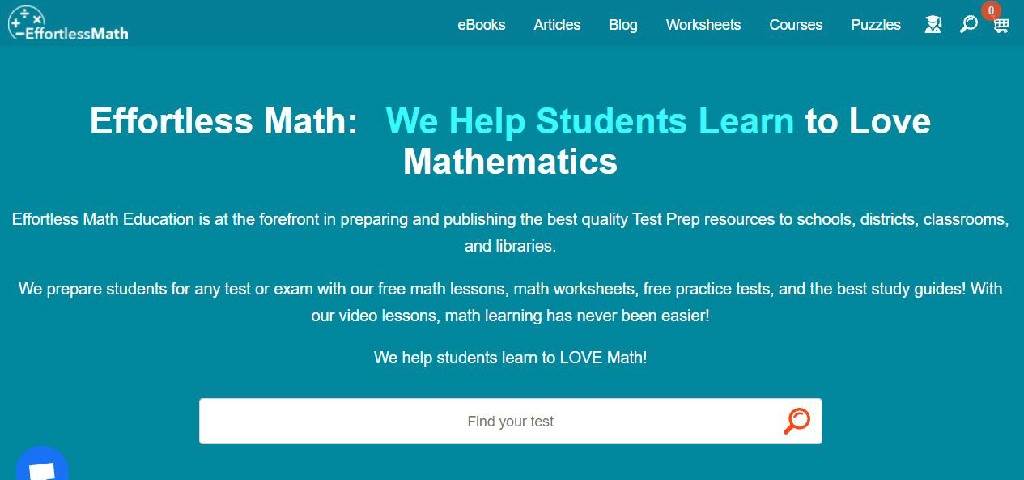 As it implies, Effortless Math is an online learning platform that gives students the resources to succeed in math. Not only does the virtual website help students learn to love math but there are many Math learning videos.
In addition, they offer a wide range of resources at an affordable rate on the website and on Amazon.com.
2- ST Math
Bet you never thought an incredible visual instructional learning program existed. ST Math is a visual k-8 level program that offers a unique approach to math through puzzles and problem-solving—students giving informative feedback to help them understand why their answer is correct or wrong.
ST math's "patented approach" teaches the fundamentals of math concepts (visually), including object manipulation (so that students can understand the value), ideas connected to symbols, and language. ST Math offers a different way of learning that will help all students.
3- CueThink
CueThink is a program that contains hundreds of tasks to help students create a different ways to solve problems. By using open-ended issues to help students think outside of the box.
Cuethink is comprised of a 4 stage approach plan, solve, and review. The website is designed to paste students through the task.
For example, if they cannot complete the task, the program prompts them to slow down and explain the problem. The goal of Cuethink is to help the student strengthen their critical thinking skills to become better at math.
4- Khan Academy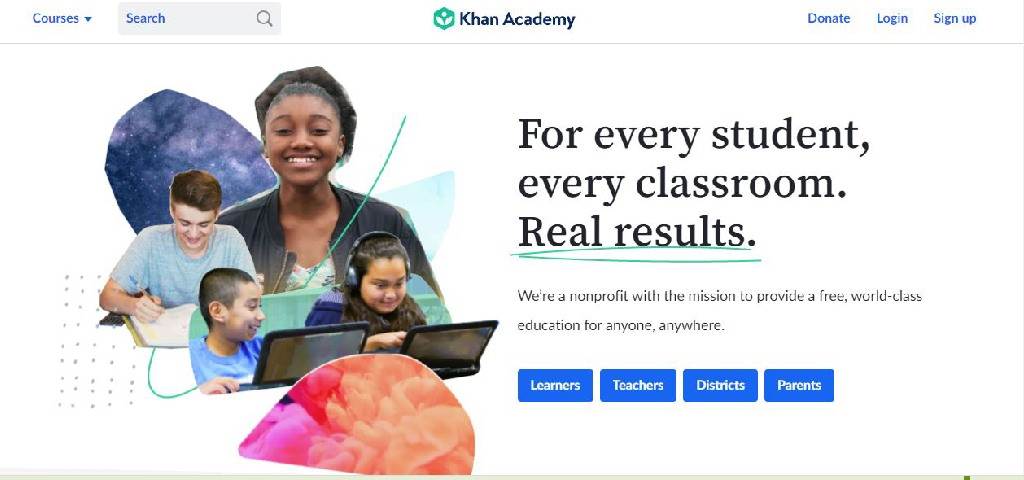 Khan Academy is a personalized learning website with many subjects available for free. The site also has SAT prep. Students can practice at their own pace.
The virtual learning site is from k-12 and early college level. The site offers a wide range of math concepts with well-organized put-together videos for all topics in math.
5- Kahoot
Kahoot! their Number one mission is to make learning more fun. Many people from all over the world use Kahoot.
With this game-based platform, you create games and quizzes and make learning more enjoyable. Create fun and exciting games in any subject and language.
This online gaming platform is for everyone. It doesn't matter the age anyone could play Kahoot. Play Kahoot on your mobile device, in a live setting, on an iPad, or on a laptop.
6- Prodigy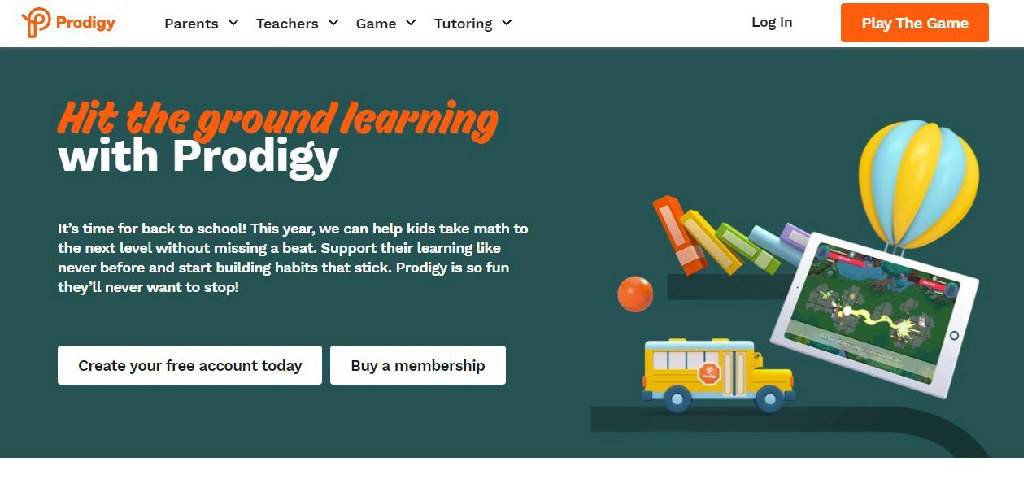 They say to learn math is to do. Prodigy is an interactive virtual learning platform.
In the Prodigy game world, students must answer questions to complete the epic quest. Their progress is recorded throughout the game, and this will motivate them to push forward.
7- Brightstorm math
Brightstorm Math covers many different subjects like Math and ACT prep. They believe in great learning starters with excellent teaching.
Brightstone finds the best teachers. Then, combine their videos with textbooks and tools to create a comprehensive learning experience.
The online platform has free Algebra, Geometry, Algebra 2, Trigonometry, Precalculus, Calculus, and pre-algebra. Start your free trial with Brightstorm Math!
8- Common Sense Math
Common Sense Math understands how important media and technology are to kids. This interactive, adaptive learning site has thousands of apps, games, resources, and tools to help kids learn and love math.
9- Mathspace
Visual learning is probably the method when learning a new subject. Mathspace Has put together learning tools, video lessons, textbooks, and Adaptive exercises all in one space to encourage students to become more independent and accountable learners.
10- Education.com
So your little one can't remember anything they learned in school? Education.com has over 30,000 + worksheets, online games, and lesson plans to help build a solid foundation in math.
Simply browse the library and check out all the exciting games and exercises that Education.com has for young children.
11- BrainPop Math
BrainPop Math is excellent for students and teachers. It's an engaging tool that helps students process information. The quizzes will help increase their knowledge of the subject, and the fun assessments will help explain how they got the answer.
12- DreamBox
Kids love adventure, games, and challenges if it's fun, of course. DreamBox does all of that but with a math twist. The website has over 2,000 lessons. The grade level is pre-kindergarten up to the 8th grade. Some tasks are presented as fun little adventure games for children to solve.
13- CK-12
CK-12 is a nonprofit organization based in California. The organization's primary goal is to provide free education to the youth up until the 12th grade.
Not to mention, textbooks, videos flashcards, and real-world applications are all available for free. There are also many different language options on the website.
14- IXL Math
IXL Math Has unlimited practice problems. In addition, you can track your child's progress on the site. The topics range from K to 12 and give excellent feedback and guidance to students
15- IXL
IXL requires a subscription membership. There are free tools on the site as well. The subscription package comes with practice questions, analytics, personalized skill recommendations, and certifications.
16- Illustrative Mathematics
Sometimes it's challenging for teachers to find resources for students. Illustrative Mathematics gives you exclusive access to different tools and information to help support students.
17- Mind Research Institute
Mind Research Institute is a nonprofit organization that specializes in neuroscience and education research to create ST Math. The goal is to mold the minds of the next generations to create the best and brightest mine for STEM.
Students will think more strategically, solve mathematical problems, gain confidence, become more motivated, and advance even higher.
18- PSS MATH
Imagine playing seasonal or holiday-based math games with your favorite characters. Look no further PBS MATH is perfect for young kids. Since the math games represent shows on PBS. Children can experience the best of both worlds learning with their favorite show.
Some fun and exciting games on PBS math are investigation, mystery, subtraction & adding, and division, just to name a few.
19- NCTM
NCTM is also known as the national council of Teachers and Mathematics. The platform has math talks, a daily ritual used to develop an in-depth understanding of numbers, operations, and mathematics. It's mainly an information platform.
The site has games and problem-of-the-week tasks to solve. The grade level is from k-12. There is a hands-on task for students to practice relating to popular topics in math.
20- Art of problems Solving
Art of Problem-Solving has different ways to help students gain access to math-related resources. Students can enroll in online school and access the bookstore, and textbook, and explore additional resources. There are motivational messages, game boards, and articles.
Related to This Article