Top Math Websites for Virtual Learning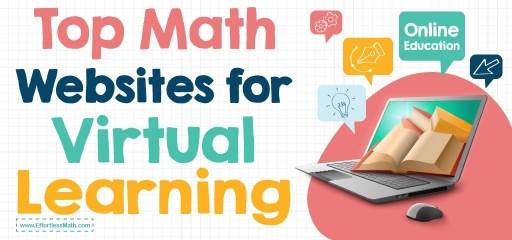 Why is learning math online the new way to learn math?
Math is a difficult subject for many people, but there are still many who get through it more easily. In the past, there were only two options when it came to getting math help:
First, to take an in-person class and second to buy a book. Nowadays, however, we have many more options when approaching math. There are plenty of math tools and websites where you can learn math online.
If you want to become better in mathematics but don't know how to do so in person, then the best option for you would be to learn math online. It's not only less expensive than in-person classes (saving both time and money), but it also has plenty of advantages over traditional textbooks that make it worth your while!
What is the Best Way to Learn Math Online?
Learning math online has its fair share of advantages and disadvantages. The biggest advantage is that you can do it on your own time and easily in your own home.
For those who are more visual learners, this method is perfect because there are so many tutorials and videos available for you to watch and learn from.
The biggest disadvantage is that some kids may not have a computer or internet connection at home. This means they won't be able to use the same benefits as those who do have access to these things.
With that, here is a list of the top 5 best math websites online for learning math:
1– Effortless Math: Effortless Math is a math learning company that offers tutorials and practice problems for students to learn new concepts in elementary, middle, and high school math.
Effortless Math also offers full courses and worksheets to assist various types of learners. Effortless Math takes the cake here due to the sheer number of resources they offer to learners which in effect means no one is left behind.
2- Khan Academy: Provides free lessons in K-12 mathematics, pre-algebra, algebra I & II, trigonometry, calculus I & II, and linear algebra.
Khan Academy offers free online lessons for students at all levels. They offer free courses in K-12 math, algebra I & II, trigonometry, calculus I & II, and linear algebra. These courses are great for students who can't afford a private tutor or a traditional classroom setting.
3- AAA Math: AAA Math is an online math learning program for students in grades K-8. They offer courses on topics like fractions, decimals, problem-solving, algebra, and more.
The courses are aligned with the new Common Core standards and are self-paced for individualized learning.
4- Common Sense Math: Common Sense Education is a revolutionary educational program that is designed to address the fundamental gaps in math education for children and adults.
They offer a range of multimedia-based instructional materials, including guided mathematics instruction, animated tutorials, and personalized assessments. Common Sense Education's goal is to make learning math easy and fun again.
5– Kahoot: Kahoot! is a free game-based learning platform that offers instant feedback and rewards for inquisitive minds. The games are designed to make math learning more engaging since they are fun and interactive.
What Makes These 5 Great Free Websites Unique?
Finding the best free math website can be difficult. With so many to choose from, it is hard to know which one will provide the resources that you need at the time they are needed.
These websites are unique in that each provides different opportunities and use cases. This means you can choose the best one for your needs as your or your child's goals change, the best way to choose is by accessing the math level of you or your child and aligning that with the best math website and the features it offers.
Learning math online has evolved into a fun and productive learning experience that brings actual results and helps you achieve your learning goals.
Related to This Article