The Best Calculators for Back to School 2023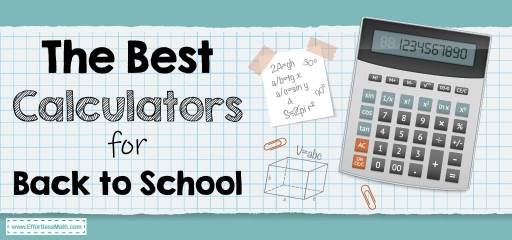 Thinking about go back to school for studying math and science? In this case, in addition to all the school supplies you added to your cart, you also need an appropriate calculator. Today, a variety of models of professional calculators are available in the market. Do not worry if you do not know which one can be a good option for you. In this article, by reviewing the features of the best calculators, we will help you find the right calculator according to your needs.
2- TI-30XS MultiView
3- TI-36X Pro
4- fx-300ES PLUS
5- TI-1795 SV
The Absolute Best Book for the Algebra I
Texas Instruments TI-84 Plus CE Color Graphing Calculator
Because the TI-84 Plus CE is easy to use and has a good mix of features needed for students, it has become the first choice of many students. This calculator is available in eight different and attractive colors in the market, which is a unique feature. Other outstanding features of this calculator include having a backlight display, being lightweight, having a rechargeable battery. This calculator is allowed for use in most major tests. In general, it can be said that TI-84 Plus CE is one of the best calculators that can meet all your needs.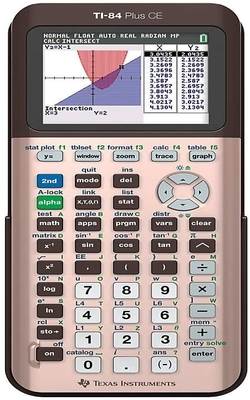 Pros:
Trusted and widely used by students
Comprehensive functionality
Allowed in major tests
Thoughtful design
Easy to work with
Has a decimal to fraction converter
Cons:
Expensive
Prices vary according to color
Texas Instruments TI-30XS MultiView Scientific Calculator
The TI-30XS MultiView is a powerful four-line scientific calculator with many special features. This device is one of the few cost-effective devices with high performance. With this device, you can enter more than one calculation at a time so you can compare results on the same page. This calculator is easy-to-use and you can use the buttons easily and see the results on a clear display. This device is approved for use in SAT, ACT, and AP exams, which makes it very popular among students. The TI-30XS MultiView can be a powerful tool for achieving students' studying goals.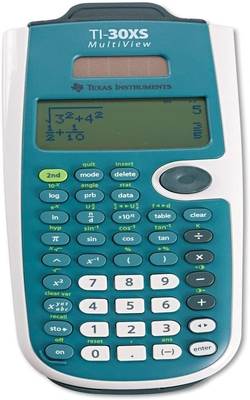 Pros:
Four-line display
Easy-to-use device
MathPrint™ feature
Fraction/decimal conversion
Solar and battery-powered
Approved for use GED, SAT, ACT, and AP exams
Cons:
Sometimes gives random and incorrect answers
Texas Instruments TI-36X Pro Engineering/Scientific Calculator
The TI-36X Pro is a great Texas Instruments calculator. It has MultiView technology that allows you to view multiple calculations simultaneously. Another feature of this calculator is MathPrint, which displays numbers, symbols, and expressions as you see in textbooks. It's a four-line display device that allows you to compare multiple calculations at a time and on one screen. It is suitable for high school and college students because it can solve all problems related to algebra 1 & 2, geometry, trigonometry, statistics, calculus, biology, physics. The TI-36X Pro is an ideal device for those curricula where graphing technology may not be permitted.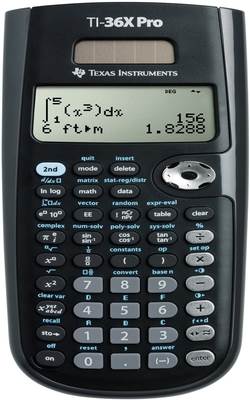 Pros:
Four-line display
MultiView display
MathPrint™ feature
Ideal for students at every level
Approved for use SAT, ACT, and Ap exams
Reasonable Price
Cons:
It may be difficult for some to use
Buttons are really small
Casio fx-300ES PLUS Scientific Calculator
Casio fx-300ES PLUS with more than 200 features for accurate calculations can be one of the best calculators for those who want to go back to school and study math. This calculator is a reliable device that works with a solar battery and uses the battery supply in case of a lack of light. It has a Natural Textbook Display feature and the device fulfills everything you expect from a screen by providing a large, multi-line display. This device is approved for use in SAT, AP, PSAT / NMSQT, and ACTs. Casio fx-300ES PLUS will help you get ready to solve the most difficult questions!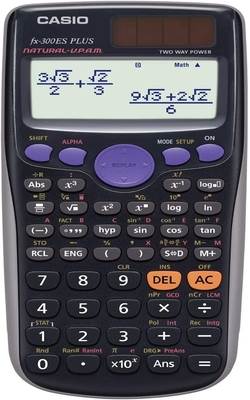 Pros:
Multi-line display
Large screen
Solar Plus with Battery Back-up
Natural Textbook Display
Perfect choice for students
Approved for use on SAT, AP, PSAT/NMSQT, and ACT exams
Over 200 features and calculations
Cons:
Doesn't support the more advanced functions
For some users, it's complicated to use
Texas Instruments TI-1795 SV Standard Function Calculator
Finally, for students who do not need a Scientific calculator and want a basic business calculator, we consider the TI-1795 SV 8-Digit suitable. This calculator has a clear 8-digit LCD and works with solar and battery power. The display of this device is Angled SuperView display type for easy viewing. Its keyboard is very easy to use and has buttons for financial calculations and a Built-in tax rate key for easy accounting. TI-1795 SV 8-Digit Although is not a Scientific calculator, it is a very convenient device for doing basic mathematical calculations.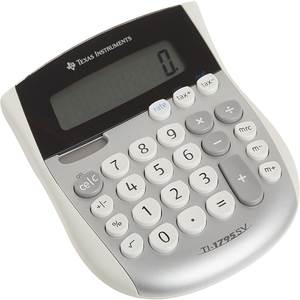 Pros:
Great basic business calculator
Clear 8-digit LCD display
Buttons for financial calculations
Built-in tax rate key for easy accounting
Square root key
Solar and battery power
Angled Super view display
Easy keyboard operation
Cons:
Cannot display more than eight digits
If you need a scientific calculator, this is not for you
The last word is that, before making a purchase, make sure that the calculator has all the required features. Some calculators are not allowed to be used in some tests and courses. Also, some models are more suitable for calculating special topics problems. We hope our article has helped inform you to make the right choice.
The Best Books to Ace the Algebra 2
Related to This Article