Top 10 Tips to Create the CLEP College Algebra Study Plan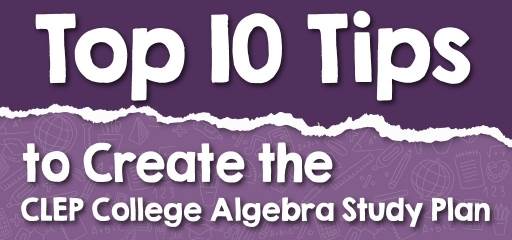 The College-Level Examination Program, known as CLEP, is a set of standardized tests that assess your knowledge of specific subjects. The College of Algebra exam includes items that are typically taught in a one-semester college course. About half of the tests consist of routine problems requiring basic algebraic skills. The rest involves solving non-routine problems in which candidates must demonstrate their understanding of the concepts.
This test consists of approximately 60 questions that can be answered in 90 minutes. Some of these questions are pretest questions that are not graded.
To get a good score in Algebra, you need to have a study program. The study plan tells you when and how you can prepare for CLEP College Algebra. It also helps you manage your time and make the most of your time for CLEP College Algebra. Here are some tips to help you get started with a CLEP College Algebra study program. So join us!
The Absolute Best Book to Ace the CLEP College Algebra Test
1- List all the CLEP College Algebra subjects you need to study
The first point in creating a CLEP College Algebra study plan is to make a list of all the topics needed to study. Writing commitments on paper will help you get a better idea of what you have to do.
2- Determine your study tools
Effective study of CLEP College Algebra requires effective resources. Before you start, take the time to find the study tools guaranteed to succeed!
3- Divide the information into small pieces
Do not try to deal with all the information you need to know at once. It will only put pressure on you. Instead, break up the material into small pieces and set aside a few days or a week to master each CLEP College Algebra section.
4- Eliminate distractions while reading
Find a comfortable, without distracting study space. Turn off any electronic devices you do not need to read. Immersing yourself in a distraction-free environment during CLEP College Algebra study sessions can help you read material easily.
5- Give yourself breaks
No one can work long hours without pause, instead of planning to cram all night, work about half an hour and rest for 10 minutes and work another half hour. You have to use rewards to motivate yourself. For example, after each study session, allow yourself to enjoy the snack you like.
A Perfect Prep book to help you ACE the CLEP College Algebra Test
6- Take any practice tests offered
CLEP tests are sometimes included in the study guide. These may be found if you are taking a practice course online or just being offered online for free. Talk to your teachers about where you can find quality CLEP practice tests and take as much as possible.
7- Join a study group
Working with a study partner can help you stay focused and motivated while studying CLEP College Algebra. It is a good way to make sure that instead of focusing on the parts of the test you are confident in, you will review the information you need to cover.
8- Commit yourself to the study program
You may have a good plan to pass the CLEP College Algebra test, but remember that the design of this program does not guarantee its implementation. To get the right result from the CLEP College Algebra program, you should take some time and try to force yourself to do the designed program. After a while, the CLEP College Algebra program becomes part of your regular program.
9- Keep updating your CLEP College Algebra schedule
Before each study period, your CLEP College Algebra study plan should be updated to identify the specific objectives of that study session and study materials.
10- Slow down about a week before the CLEP College Algebra
Take enough time to rest. You should reduce your study time and get enough rest. Stop reading altogether one or two days before the test. You should get enough sleep for CLEP College Algebra Day!
Finally, keep in mind that while a study plan can help you pass the CLEP College Algebra test, it does not work alone, and the ultimate success of the CLEP College Algebra test depends on your willpower.
Looking for the best resources to help you or your student succeed on the CLEP College Algebra test?
The Best Books to Ace the CLEP College Algebra Test
Related to This Article