Top 10 Tips to Create an ASVAB Math Study Plan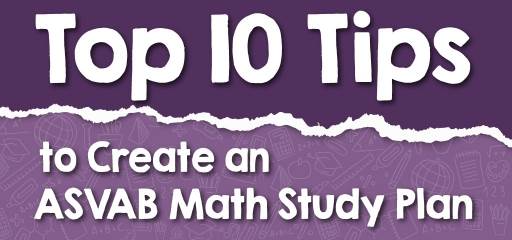 To do well on the ASVAB math test, you must have an ASVAB study plan. This plan tells you what, when, and how to prepare for the ASVAB math. It also helps you manage your time so you don't have to concentrate too much on specific topics.
Here are some important tips for creating an ASVAB math study program. So join us!
The Absolute Best Book to Ace the ASVAB Math Test
1- Set studying goals
Trying to achieve a tangible goal helps you focus while studying. Before you start practicing ASVAB math. consider what you hope to achieve by doing well on the test. A higher score can qualify you for more branches and positions in the military, so motivation will be important.
Creating and maintaining specific goals can help motivate you. At the beginning of the study sessions, decide whether you want to study a certain number of problems or pages or for a specific number of hours.
2- Know what to study
The first and foremost way to approach a study for a test is to know what to study. The ASVAB covers two math topics:
Arithmetic reasoning
Mathematics knowledge
The best way to determine what topics to study is to consult study guides and practice tests. All the information you need about each part of ASVAB is available online or through your local military office.
3- Create a study schedule
Schedule study time whenever you prepare for an important test. The first step is to find a program that you can repeat daily until it becomes a routine. It may include waking up early and studying before going to school or work. It may be easier for you to plan a few hours a night to focus on your studies.
Use a calendar to schedule your time and reminders to study. Consider scheduling on an electronic calendar that sends notifications to remind you to read. Creating a schedule helps you follow a consistent routine until the day of the ASVAB exam.
4- Find your study style
It is important to find the study style that works best for you. You may find a quiet place in your home where you can work in silence. It is easier for you to meet a friend and ask him to quiz you with flashcards or practice questions. If you prefer to study outdoors, try studying outdoors or at your local library. Keep experimenting with different places and study tools until you find a style that works for you.
5- Use all your resources
There are many resources available that can help you get a good score on ASVAB math. Consider completing practice tests online to make sure you feel comfortable with the format. Many online exams include practical questions similar to those on the exam. Online tests usually have a time limit that helps you gauge your speed when answering questions. Taking practice tests will acquaint you with the speed of the exam and help you to be more prepared on the day of the exam.
In addition to online tests, you can use study guides. Flashcards are also a useful tool for memorizing unfamiliar math formulas or vocabulary words. The more tools you use, the more prepared you are when test day arrives.
The most comprehensive workbook for the ASVAB Math test
6- Take care of yourself
Taking care of your health is important. You can spend many hours studying and preparing, but you should drink plenty of water, eat well, and exercise. These actions help you to focus while reviewing materials as well as ASVAB.
7- Commit yourself to the study program
Although you may have an absorption program to pass the ASVAB math test, note that the design of this program does not guarantee its implementation. To get the right result from your planning, you must take some time and try to force yourself to perform the designed program. After a while, this program will become part of your regular plan.
8- Increase your efficiency
Studies result show that 10 to 15 minutes of rest every 1 hour improves your ability to concentrate. Conversely, if you do not take study breaks, you will end up tired and stressed. Regular rest can have a positive effect on your study schedule.
9- Evaluate your study plan, and modify it if necessary
Your study plan will help you to be more efficient. Do not disappointment if you find that it does not work. You know what works best for you, so make some changes to the program.
10- Keep others informed of your plans
Sometimes it becomes difficult to run programs. Since others like to spend time with you. So to stop this from happening, you need to describe your planning to others. Request them to align themselves with your planning.
Finally, keep in mind that although a study program can help you pass the ASVAB math test, it does not answer automatically, and the final success of the test depends on your willpower to do the program.
Looking for the best resources to help you or your student succeed on the ASVAB Math test?
The Best Study Guide to Ace the ASVAB Math Test
More from Effortless Math for ASVAB Test …
Do you have a question about the highest ASVAB test score?
Find your answer here: What is the Highest ASVAB Score?
Are you wondering what kind of Math is on the ASVAB test?
The answer to your question is given in the What Kind of Math Is on the ASVAB Test? article. Also, you can learn and practice ASVAB Math topics.
The Best Books to Ace the ASVAB Math Test
Have any questions about the ASVAB Test?
Write your questions about the ASVAB or any other topics below and we'll reply!
Related to This Article