5 Best ASVAB Math Study Guides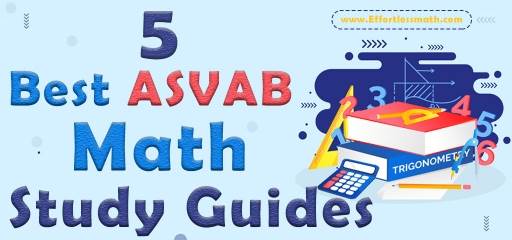 Enlisting in the US Armed Forces is not an easy task. First, you must pass the ASVAB test to qualify for enlistment.
If you're worried about the math section of this exam, you're in the right place. Here are the five best ASVAB math study guides that will help you prepare for this test:
Final Words
These are the top five ASVAB math study guides. Whichever book you get from this list, rest assured it will help you immensely. That is because all of them are written by experts and cover the exam content thoroughly.
The most comprehensive workbook for the ASVAB Math test
More from Effortless Math for ASVAB Test …
Need a FREE ASVAB Math Course to help you prepare for your test?
Check out our Ultimate ASVAB Math Course.
What do you know about ASVAB Score?
Find your answer here: What is the Highest ASVAB Score?
Looking for FREE ASVAB Math websites to find online resources?
Check out our Top 10 Free Websites for ASVAB Math Preparation
The Best Books to Ace the ASVAB Math Test
Have any questions about the ASVAB Test?
Write your questions about the ASVAB or any other topics below and we'll reply!
Related to This Article