The Best Standing Desks for Online Teachers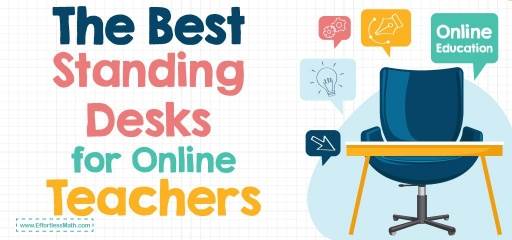 Even with the most expensive ergonomic chairs, sitting all day at a desk can be highly uncomfortable. The urge to shift around and move never goes away. A standing desk is an excellent option for online teachers. Stand desk can help online instructors to be more productive and can improve your health.
However, being on your feet All day isn't the best for your health as well. It is common to feel the urge to sit or move around, which can be distracting and less productive. Never fear. There is a solution! An electric height adjustment desk: the perfect combination of both! The best standing desk gives you the luxury of sitting to standing depending on how you feel.   
According to health.harvard.edu, "Advocates of standing desks point to studies showing that after a meal, blood sugar levels return to normal faster on days a person spends more time standing and standing, rather than sitting, may reduce the risk of shoulder and back pain."
What should you consider when searching for a standing desk?
There are a few things to look out for when searching for the best desk. Standing desk typically ranges from a low to a high price point. It's wise to take into account the desk size and how it will accommodate your technology.
The difference between an electrical and a Manual
The manual desk allows you to sit all day long with the click of a button, and the electric standing desk.
The price of a standing desk
Due to the unique features that a standing desk and even a regular standing do have to offer, it will be quite expensive. But some alternative stand desks are less expensive.
7 Best Standing desk for Teaching Online
Electric Standing Desk Dashboard, Adjustable Desk for Home Office,
Standing Desk, 20db Silent Lift for Office, 43 Inch Sit Stand Desk,
Flexispot Standing Desk, 48 x 24 Inches Height Adjustable Desk
Flexispot Standing Desk Height Adjustable Desk Electric Sit Stand Desk
DEVAISE Height Adjustable Electric Standing Desk
CO-Z Height Adjustable Computer Desk
Standing Desk Electric Height Adjustable
The Best Stand Desk for Online Teachers
Standing Desk Converter to Stand Height–Affordable Choice
The converter stand desk is an affordable alternative. The desk has the same feature that electric and manual desks have for half the price.
The width is 35.8 x 15.7. The keyboard space measures 25.6 x 11.8 the tray rises effortlessly along with the desk. After long hours of sitting, adjust the height to 4.7 to 19.3
Pros:
Converter desk style
Affordable price
Functions like an electric and manual desk
Cos:
Not much storage space or room space on your technology can fit on this desk.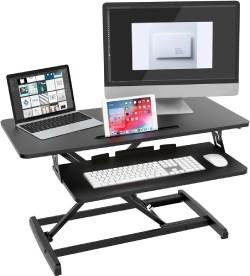 Electric Standing Deskboard Desk for Home Office,– Functional Choice
This desk is highly functional. There is so much room on this desk to work freely. There is a place for everything on this desk, including your headphone. Designed to accommodate all of your electronic devices.
The measurement of 35.8 x 15.7 gives you all the room and more to hold everything—Keyboard simultaneously with the desk with a simple press of the bottom. The adjusted height range is from 4.7 to 19.3.
Pros
A standing desk allows you to alternate positions.
Trust with CARB PS certification standards certified by the SDS.
Cons
There are no cons so far.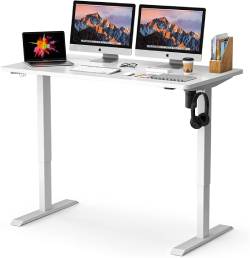 Standing Desk, 20db Silent Lift for Office, 43 Inch Sit Stand Desk– Cool design high functional!
Kiss the days away when you used to sit all day.  You will have full mobility with this desk. The sleek and cool design will look great in any bedroom or office. This ergonomic design desk brings convenience and safety.
The height range is 28.3 to 46 with this simple yet excellent desk. Feel productive and free with the 47.2 x 23.6 workspace.
The solid construction is made from MDF hardware that's easy to clean. The high-grade Industrial Steel frame and thick legs will last you a very long time.
Black is just one of those colors that brings serenity, and it's such an easy color to clean, so this death is a steal!
Pros
The desk is quiet and doesn't make noise while rising
Medium price points are very affordable
Solid black design Lots of surfaces
A lot of surface and keyboard space
Can hold dual monitor
Cons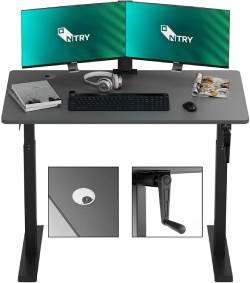 Flexispot Standing Electric Desk– Simplistic choose
This electric ergonomic desk is very spacious, 48 x 30. Eco-friendly ergonomic office desk, so much roomy Office Space you can hold two monitors and a laptop on it with a keyboard. Spread out freely and take on the challenges of the workspace what the total surface area.
The electric monitor lifts smoothly up to 28 to 47.6. With a solid construction of industrial-grade steel, an electric desk that's durable end sturdy. Perfect for online teachers. Now you can teach your students while standing or sitting.
Pros
Come in multiple colors
Has different sizes to choose from
The setup process
Cons
Assembly instructions could be better.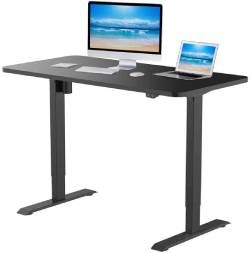 Standing Desk Electric Height Adjustable –Minualist Option
For the busy yet minimalist online teacher, this electric computer desk is perfect for you.
The reliable yet stable construction is made of an industrial metal grate frame with a particleboard top that can hold 176 lbs.
This minimalist desk is very spacious, with measurements ranging from 47x 32.6.
Take full advantage of the desks using them for your laptop, paperwork, keyboard, mouse, and any extra office supplies.
The sturdy yet smooth monitor will lift your workstation to help you maintain a healthy, productive lifestyle. The superior sit-stand function of this desk allows you to change positions how you see fit.
Pros:
Well made desk
Extremely affordable
Cons: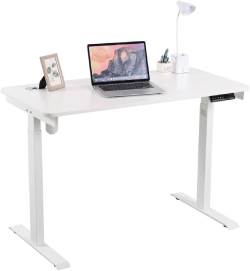 Best Standing Desk for Online Teachers Final Thoughts
The best standing desk for online teachers depends on four factors:
The type of work environment.
Functionality can you get the most use out of this desk
Quality is the most important.
Price is the price ideal for you.
Once you have all four of these factors figured out, you will find the best standing desk. If you still have trouble, take another look above at the recommendations of the box for the best standing desk for online teachers. It couldn't hurt!
Related to This Article