2nd Grade Mathematics Worksheets: FREE & Printable
Looking for a comprehensive collection of FREE 2nd Grade printable math worksheets to help your students review basic math concepts?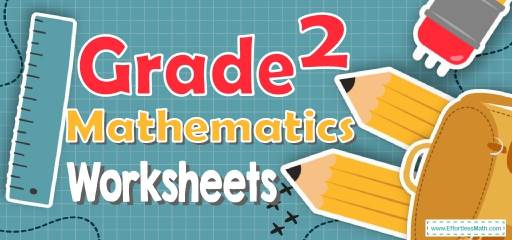 If so, then you are in the right place! Following is a perfect collection of free exercises and worksheets that would help your students for 2nd Grade Math preparation and practice.
Click on each topic and download the math worksheet for 2nd Grade.
Hope you enjoy it!
IMPORTANT: COPYRIGHT TERMS: These worksheets are for personal use. Worksheets may not be uploaded to the internet, including classroom/personal websites or network drives. You can download the worksheets and print as many as you need. You can distribute the printed copies to your students, teachers, tutors, and friends. 
You Do NOT have permission to send these worksheets to anyone in any way (via email, text messages, or other ways). They MUST download the worksheets themselves. You can send the address of this page to your students, tutors, friends, etc.
Related Topics
2nd Grade Mathematics Concepts
Math Worksheets
Looking for the best resource to help you succeed on the 2nd Grade Math test?
The Best Books for Elementary Math Courses
The Best Math Books for Elementary Students
Related to This Article