Best Office Chairs for Online Teaching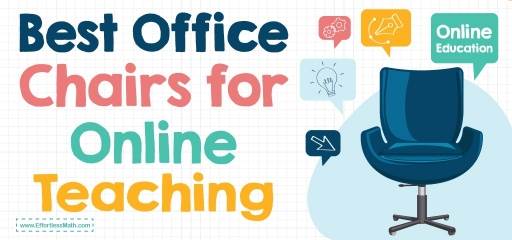 Hours in a chair teaching classes, marking papers, or planning for the next class will place wear on the body and can leave teachers with a sore back.
To ease the discomfort and improve productivity choosing the right office chair is an important task.
Look for a chair that will fit the space, offers lumbar and back support, and will not become the focus of the screen allowing your work to show through.
1- Classic Faux Leather Chair
The Classic Faux Leather Chair with a padded seat and back, no wheels to accidentally slide away from the workspace, and functional offers an all-around solid chair for your hours of teaching.
The back is high enough to offer support but not enough to be distracting or to block any whiteboards, calendars, or maps that you need for class. The classic design makes it suitable for almost any office space.
2- Dragonn by VIVO
For a different approach the kneeling chair Dragon by VIVO, or similar kneeling chairs, allow you to sit on the back seating area with knees on the front padded section.
This position maintains alignment of the spine and encourages the back to remain straight while engaging the core muscles to maintain the correct position.
With few restrictions, the arms are free to move and reach for anything you need, and without a full back, there is no distraction from your background.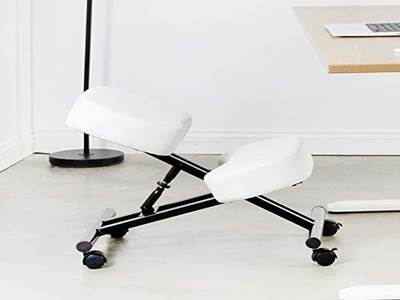 3- Volans Swivel Office Desk Chair
A swivel office desk chair offers you the stability of not having wheels combined with the movement of a swiveling chair to turn side to side as needed.
With a mid-height back, you are supported and comfortable in the Volans Swivel Office Desk Chair and the arms are curved upward to hug the body in comfort while you're seated.
With style and comfort, you can decorate your space with this hard-working chair.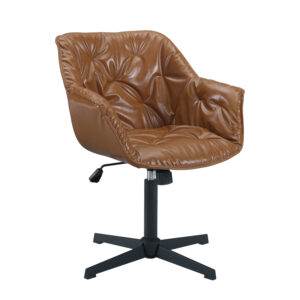 4- Armen Living Jaguar Dining Chair
In some rooms, a dining room chair may be a better fit. With a padded seat and back but a minimalist profile, the Armen Living Jaguar Dining Chair can be a great choice for a home office or in a classroom.
There are no wheels to move you from your space before you are ready, no arms to hinder movement, and a straight-back design that will lower back pain.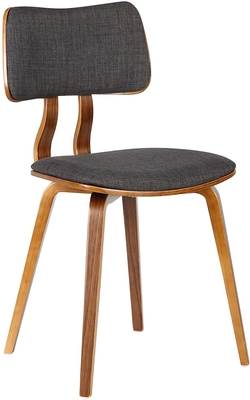 Ergonomic office chairs can be found in many shapes and styles. They offer a padded seat and support for the hips with a padded back and lumbar support that follows the natural curve of the back.
Created to decrease back and hip pain they can be found in mesh backs for airflow and a cooler feeling or a padded back for comfort.
Once you have chosen the most comfortable chair for you it should last several years, so maybe worth the investment in a more expensive and well-made chair with quality materials.
Your back should be comfortably aligned without being perfectly straight, feet flat on the floor, and the correct height for the hands to sit comfortably on a keyboard or writing surface without adding pressure to the wrists.
Related to This Article