Best Graphing Calculators for High School Students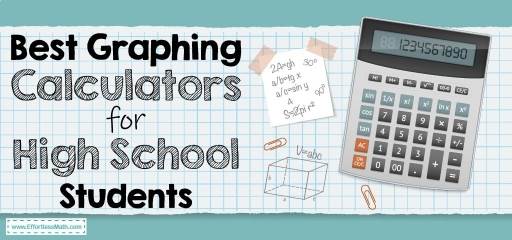 If you are a student who deals with complex graphs and calculations, you probably need a graphing calculator. Graphing calculators can help you solve complex questions. But first you, as a student, must make sure that the graphing calculator you choose is allowed in the courses or exams you take. Also, the most advanced calculator is not always the most suitable option for you. An advanced graphing calculator may be out of your class or level, which confuses you even more when using it. To avoid making the wrong choice, this article has been prepared so that you become better acquainted with the features of the best graphing calculators for high school students.
3- PRIZM FX-CG50
4- NumWorks Graphing
5- fx-9750GII
The Absolute Best Book for the Algebra I
Texas Instruments Nspire CX II CAS Graphing Calculator
The TI-Nspire II CX is a powerful device to meet the complex computing needs of high school students. It has a Full-color screen with a backlit display that shows numbers and expressions clearly. It also has a Computer Algebra System (CAS) that makes it easy to understand and solve complex expressions. With this graphing calculator, you can create faster and stronger connections between equations, graphs and, geometric representations on the screen. The battery of this device is rechargeable and lasts up to two weeks on a single charge. It can be said that TI-Nspire CX is the thinnest and lightest model of TI graphing calculators to date, and this feature makes it easy to carry. Considering the mentioned features, it is clear that this device is one of the best graphing calculators on the market, so it is in second place on our list.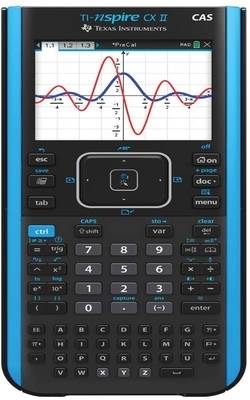 Pros:
Lightweight and easy to carry
High performance and unique features
Backlit color display
Rechargeable battery
CAS functionality
Ample RAM
Texas Instruments TI-84 Plus CE Graphics Calculator
The TI-84 Plus CE is the first choice of many high school students and the most popular graphing calculator. This version of the Texas Instruments brand is designed to be 30% lighter and thinner than previous versions. Available in eight different colors, it charges easily with a USB cable and has pre-loaded apps and images that enhance its performance. The display of this calculator is high-resolution and full-color with backlit. It is designed to provide the user with seven different graph styles to differentiate the appearance of each graph. The TI-84 Plus CE is a perfect device and can be an ideal choice for high school and college students.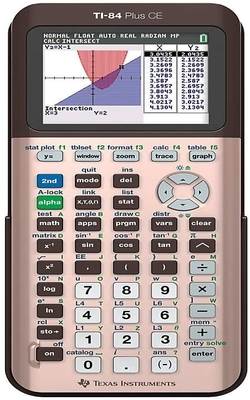 Pros:
Trusted and widely used by high school students
Comprehensive functionality
Allowed in SAT and ACT
Thoughtful design
Easy to work with
Has a decimal to fraction converter
Cons:
It's expensive
Prices vary according to color
CASIO PRIZM FX-CG50 Color Graphing Calculator
The PRIZM FX-CG50 is a graphing calculator from the Casio brand and it is a suitable choice for high school students. It has a high-resolution LCD with more than 65,000 colors, which allows the device to present graphs vividly. This device is also able to display graphs in three dimensions. PRIZM FX-CG50 is easy to use and its Natural textbook display feature enables you to see the expressions as they appear in the textbook. The use of this calculator is approved in AP, SAT I / II, PSAT, NMSQT, and ACT tests, so purchasing this device can be a good investment for high school students.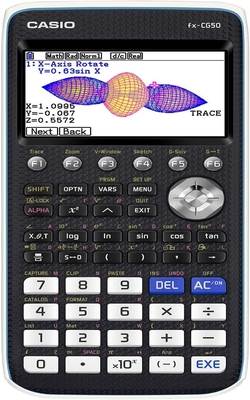 Pros:
High-Resolution Color LCD with over 65,000 colors
Natural textbook display
Picture plot technology
3D graphing capability
Approved for AP, SAT I/II, PSAT/NMSQT, and ACT Tests
2900+ functions
USB cable included
Icon-driven menu system
Cons:
It's not easy to navigate
The USB cable has low quality
NumWorks Graphing Calculator
NumWorks Graphing Calculator can also be a good choice for those high school students who are looking for a reliable Graphing calculator to help them in class. A distinctive feature of the device is that it can automatically calculate the value of y. The battery is rechargeable, which lasts a long time on a single charge. The color screen is high resolution. NumWorks is a user-friendly device. Its keyboard design is divided into three thematic parts to use by users easily: navigational area, advanced functions area, and a numerical keypad. It can be said that NumWorks is an innovative and beautiful device in terms of appearance and performance and can help students to understand complex math problems.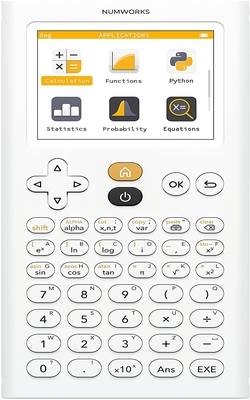 Pros:
The ergonomic design features
Six built-in apps
Rechargeable battery
User friendly and easy to learn
High-resolution color screen
High capacity
USB cable included
Cons:
TI calculators are more user-friendly and have a similar price
Not enough RAM and not enough flash memory
Casio fx-9750GII Graphing Calculator
The Casio fx-9750GII is an entry-level graphing calculator yet is a reliable computing device for high school students. It has a large 8-line display that makes all the numbers and expressions you won't easily fit on one screen. The icon-based menu of this device provides easy access to advanced functions. It has 4 AAA batteries that last more than 200 hours. This device has a USB connectivity that allows high school students to share their data. The Casio fx-9750GII is allowed in the PSAT / NMSQT, SAT, ACT, and AP, which is another reason why this device is a good choice.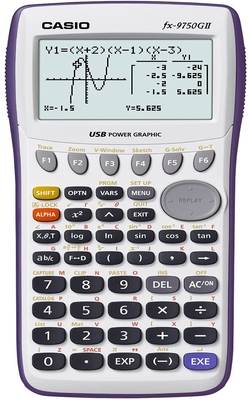 Pros:
USB connectivity
Mid-range price
Allowed in both ACT, PSAT and SAT
Straightforward navigation
High-resolution LCD screen
High-speed CPU
More than 200 hours battery life
Cons:
Doesn't have all of a top calculator's functionality
Lack of memory space
Fewer third-party apps
Now that you are familiar with the top 5 graphing calculators suitable for high school students, you have taken an important step to choose the right calculator. Note that although all of the above are good graphing calculators, you should consider the features you need before purchasing. We hope you make the best choice that suits your needs by considering the pros and cons of mentioned items.
The Best Books to Ace Algebra 2
Related to This Article