5 Best Laptops for Math Teachers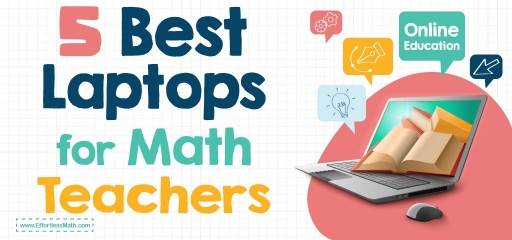 As a math teacher these days, you need the best laptop to keep organized and provide online learning for your students. It provides an excellent way to keep track of your lesson plans, research new topics for your classes.
In addition, it lets you interact with your students when they can't attend class in person, which has become the new way of working in the past year. But what are the best laptops for math teachers?
You may have to buy your laptop, or your school may give you a budget to purchase one. Whatever the case, you may be overwhelmed with all the different options, and you just don't have time to decide which one is the best laptop for a math teacher.
Don't worry though, we've got you covered with information on how you can select the best laptop, and we are providing the 5 best laptops that we think work well for math teachers.
How to choose the best laptop for math teachers
The first thing to consider is what kind of system does your school use? For example, are you mostly a Windows environment, or are you a Mac environment? While both can interact, you will have fewer problems if you select the same type of system as your school uses.
You also need to look at any programs or applications you want to use, or that you're required to use by your school. Do these programs have specific requirements? If so, make sure your laptop meets or exceeds them. Having a bare minimum laptop could cause delays or problems during class.
Another consideration is which laptops offer educator discounts. There are many stores and manufacturers that will provide a discount on specific laptops if you are a teacher, so checking with the store or online to find these discounts can save you a lot of money.
If this laptop is purely for teaching, your requirements would generally be online streaming for some of your classes and documentation or spreadsheets. Therefore, you shouldn't need the biggest, fastest, and most expensive laptop to meet your needs. However, you may want that if you plan to use the laptop as a personal device and a teaching laptop.
TOP Laptop Picks for Math Teachers
2- Lenovo Yoga 2-in-1
3- Microsoft Surface Laptop 3
4- Samsung Galaxy Book Ion
5- HP Spectre x360
Apple Macbook Pro
The best top-of-the-line laptop from Apple provides serious power if you plan to tackle advanced work and personal projects. Discounts are also available at the Apple education store.
Lenovo Yoga 2-in-1
A great convertible laptop. Providing excellent battery life at a very affordable price. A very light and portable laptop as well.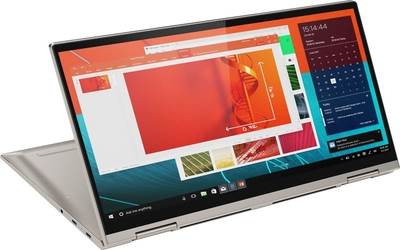 Microsoft Surface Laptop 3
An excellent touchscreen laptop, providing the full features of a regular laptop with the convenience of a touchscreen.
Samsung Galaxy Book Ion
This notebook is highly affordable, with 20-hour battery life. In addition, it has an HDMI port to connect to an external monitor or large screen to share with your class.
HP Spectre x360
A great laptop that also converts to a tablet. It comes with a stylus pen allowing you to write on it with ease when explaining higher-level math.
Final Thoughts
A good quality laptop should last you many years before you need to upgrade, so the purchase is an investment in your future classes as well.
Make sure you check educator discounts, price matches against different online or even local stores to save yourself potentially hundreds of dollars.
You may want to enhance your teaching experience with a good camera, headset and microphone, and a digital pen tablet. This will make your class even better for the students and easier for you.
Related to This Article