Top 10 Tips You MUST Know to Retake the TABE Math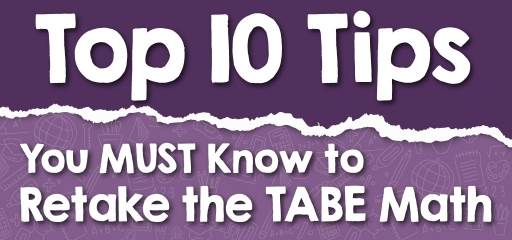 The TABE or Test of Adult Basic Education is a diagnostic test to assess a person's level of talents and skills. This test is used by schools and some colleges to help them determine a student's academic readiness. The TABE test has three sections:
If you are unsuccessful in one of the TABE sections, you only have to retake that particular part of the test. For example, if you have passed English and reading but do not accept math, you just have to try the math part again.
Now the main question is what strategies should you follow to prevent failure again in TABE math? By following the important tips provided here, you can remove all obstacles to passing the TABE math test. So join us!
The Absolute Best Book to Ace the TABE Math Test
1- Take a break
It is normal to feel frustrated when you do not get the grade you want. In such a situation, emotions dominate you and probably keep you from thinking logically. But take a step back. Allow yourself to relax and share your feelings with others like family or friends. It will help you to reduce stress and better understand your situation.
2- Review your test results
The first step to success in TABE math is to identify weaknesses and focus on addressing them. So you should check your score report to determine where you need more focus.
3- Evaluate your math study schedule
To read the TABE math, be sure to evaluate your math study plan. If your previous study method did not work, you should try a newer method. For example, you can use good TABE math preparation books that you have not read before. And you can also use online resources to better learn TABE math.
4- Take simulated tests
Participating in TABE simulated experiments is one of the best ways to prepare for a retake. Test conditions should be similar to the main test. Proper analysis of test results is important to identify strengths and weaknesses. You have to spend more time on your weaknesses and strengthen them with more practice. The more simulated tests you do, the more familiar you will be with the TABE test conditions. And you will have less stress on the day of the main test.
5- Get help if you need
You can get help from a tutor to better understand math topics. Tutoring is expensive but worth it. Also, you can use books that are like a tutor and help you learn the math concepts of TABE.
A Comprehensive Bundle for the TABE Math Test
6- Trust yourself
Great success in any exam is to believe in your ability. If you do your best, you know you will succeed in TABE math. Avoiding negative thinking and self-confidence will help you focus on retaking the TABE math test.
7- Improve your weaknesses
Adjust your study schedule to focus more on TABE math topics that you did not work well on. With careful and regular study, you can improve your weaknesses and increase your score. Be sure to use helpful tips and tricks for the TABE math section. Be careful not to overlook your strengths.
8- Change your attitude towards mathematics
Your success in retaking TABE math depends on your attitude towards mathematics. If you want to get rid of math exercises as soon as possible, you should spend enough time-solving math exercises and making learning math as easy as you can. Consider math a useful challenge, celebrate your small success in solving problems, and prize yourself.
9- Take care of your health
Taking care of your health is important, and you should pay attention to it during preparing for the TABE retake. You can spend many hours studying and preparing for TABE math, but you need to take care of your health. These steps will help you focus more when preparing for TABE math.
10- Stick to your study plan
Keep in mind that the most important part of TABE math retake is the commitment to study at a regular time. Do not leave your study until the last few days before the TABE math time. It is not a problem if you sometimes miss study sessions as long as you adhere to the general plan.
From the tips, it can be concluded that you should not let a bad test lower your self-confidence. Remember that no exam is so difficult that you cannot succeed with planning and enough effort. Always keep in mind that if others have passed the TABE math test, you can too.
The Best Book to Ace the TABE Test
More from Effortless Math for TABE Test …
Are you very anxious to take the TABE math test?
We help you get rid of this worry by providing practical tips: Top 10 Tips to Overcome TABE Math Anxiety
Do you need a coherent study plan to start studying TABE math?
Read the Top 10 Tips to Create a TABE Math Study Plan before you start planning.
Have you studied all the TABE math content and you feel fully prepared now?
Now it's time to use a full-length test for your assessment: Full-Length TABE 11 & 12 Math Practice Test
The Perfect Prep Books for the TABE Math Test
Have any questions about the TABE Test?
Write your questions about the TABE or any other topics below and we'll reply!
Related to This Article