A Comprehensive Collection of Free Praxis Math Practice Tests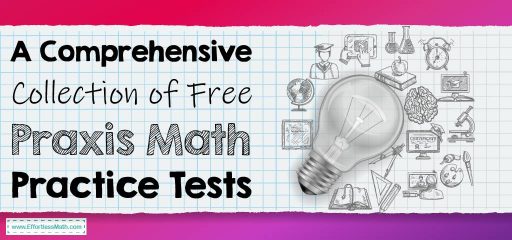 The Praxis exam measures the knowledge and skills of high school math teachers. Some states require it for teacher certification in the subject area. So, passing the exam is essential for your teaching career.
You are given 90 minutes to answer 60 questions that are split up into 2 parts:
Number and Quantity, Functions, Algebra, and Calculus (41 questions)
Probability and Statistics, Geometry, and Discrete Mathematics (19 questions)
This computer-based exam contains many questions, including selected-response, drag-and-drop, numeric-entry, and text-completion questions.
The Absolute Best Book to Ace the Praxis Core Math Test
Keep in mind that you are not allowed to bring any study materials, notes, bookbags, or any electronic devices to the test center. Scratch paper will be offered to be used during the test.
There will be a math formula sheet for the math section of the Praxis exam and it is not permitted to bring your own.
The passing score required for the Praxis Core Mathematics exam is 150 for all states, except for Washington, which requires 142.
An official score report will appear automatically in your online account within three weeks after a score is reported at the testing center.
There is no limitation to taking the Praxis test. So, if you fail the exam, you may retake it once every 21 days.
How to Prepare for the Praxis Math Test?
Find the Best Source of Study: There are numerous books about different parts of the Praxis test. But not all of them are worth studying. So, you have to choose the best one if you want to pass the test on the first try.
A useful math book must cover all the essential concepts and provides lots of practice and sample questions. You can also use several websites to have access to numerous online courses, practices, and reviews.
Reduce Test Anxiety: Taking the exam with anxiety will reduce the quality of your performance. Therefore, you have to eliminate exam anxiety by practicing and being well-prepared. You have to boost your confidence and be optimistic to answer any type of question.
Know the Test Completely: The first step to preparing for the exam is to gain information that helps you better understand the different parts and features of the exam. In other words, nothing must remain unfamiliar if you think of getting a good result.
Take Practice Tests: After working on essential math topics, you have to take several practice tests to test out your preparation and knowledge. These tests are effective to know the type and format of questions.
Time Management: The difficulty level of questions requires you to spend more of your time on the harder ones while some easy-to-solve questions require spending less time. This ability is achievable by practicing and mastering mathematical concepts.
10 Best Websites for Praxis Math Practice Tests
It is the most helpful website that contains free math practice so that you can practice with high-quality math tests. In addition, it provides a variety of books that are filled with sample questions, examples with solutions, practice tests, and reviews.
You will have access to a list of formulas that are required for the exam. There are also video lessons and tutors to help you master challenging topics.
This reliable website offers course summaries that help you with valuable information. It contains free math practice tests that give the opportunity of testing out your math knowledge.
Some video lessons and lesson transcripts teach you the materials step by step so that you can work on those areas that require more studies. Besides that, you can use its flashcards to memorize the formulas and important topics.
Whatever you need to know about the Praxis test and its subjects is packed on this great website. There are lots of free math practice tests that reflect the question type and exam style. You can take its practices and measure your progress and preparation.
It provides you with online courses and flashcards so you have this chance to work on challenging areas and master them.
You are given another chance with this website to gain a desirable score. It is filled with numerous free math practice tests that are categorized by topics. The benefit of these practice tests is overcoming each topic and taking the actual exam more confidently.
Besides that, there are some test preps and tutors that are helpful to learn all the materials and pass the exam.
With the help of each section of this website, you can develop your math knowledge. It provides some useful test day tips and overviews to enhance your information and prepare you to take the exam with less anxiety.
You can use the benefit of these practice tests to know whether you are ready for the exam or need extra exercises. One of its sections is dedicated to lessons so that you can work on every topic.
You are given a great opportunity to study this website's study guide and have enough information to take the exam. There are 2 practice tests for each subject of the Praxis test including mathematics. That way, it helps you evaluate your knowledge and progress.
Other things you see on this website are prep classes and online prep to work on the areas with which you have more challenges.
Use this website if you need to pass the exam on your first try. It contains free math practice tests that are categorized lesson by lesson and you need them to master the topics.
Many helpful videos teach you all the math materials thoroughly. You can find effective information in its study guide that helps you to know every detail of the exam.
This website provides you with several mathematics practice tests. They cover not only math but also all Praxis subjects. This great feature is essential if you want to evaluate your performance and progress.
Additionally, a course review gives you great information about the exam and how to take it confidently. So, it is worth using to achieve the best result.
The benefit of this website is to have access to lots of free math practice tests. You need them to measure your performance and know whether you are well-prepared to take the exam or have to study more.
There is a helpful study guide that answers several frequent questions that you may ask about the rest. So, these features help you pass the exam with a higher score.
It is a perfect choice if you want a comprehensive website that gives you helpful information and free practice tests. Therefore, you can find out challenging and comfortable math topics.
In addition, there is a section for tutorials so that you have the opportunity to work on math topics with professional instructors. Moreover, you get access to a study store to buy books and other related materials.
The Best Resource for the Praxis Core Test
Free Praxis Math Practice Tests
10 Best Praxis Math Books
Each of these books could be a ticket to passing the Praxis Core Math Test with a perfect score. So, choose the best one according to your need and plan.
The Best Books to Ace the Praxis Core Test
Related to This Article