8 Easy Steps for Success Study for a Math Test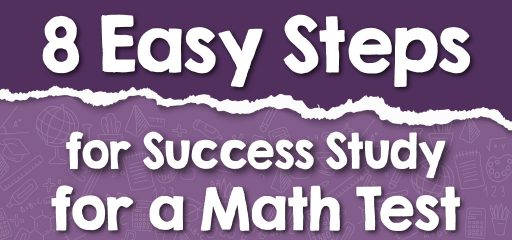 Do you have any difficulties with the tasks in Math? Look through these 8 simple steps to make the studies easier and more effective, without any limits.
8 Simple Steps to Pass Your Math Test Easier
When it comes to Math, especially Math tests, it is better to work smarter but not harder. Any Math test needs dedication and clear learning materials. But, it is equally important to arrange the preparation process well to reach the expected results and avoid being totally exhausted.
Are you also interested in how to study for Math tests to make your life easier? There are already tested tips and tools for that purpose.
That Exact Steps to Prepare for Your Math Test Easier
No one can tell you what is the best way to study for a Math test. That is a point of individual strategy in any case. But, these 8 simple steps will definitely help you to succeed:
1. Timing first
Be clear about the amount of time you need to prepare yourself for your Math test well. You will need to divide that into periods for learning specific topics or things. To monitor this process regularly, make a schedule on your laptop using special applications for this. You can download VeePN to access more apps and information to help you learn Math.
It is important! Don't hesitate with the organization till the last minute. Cramming will definitely not help you with passing your Math test successfully. Devote some time simply to understand and grasp specific Math concepts well.
2. Think about motivation
Is that a reason to force yourself while preparing for the Math test? Nope, of course. The more reasonable your approach to Math test preparation – the higher results you may get.
Your motivation can be different – get some opportunity you want wholeheartedly with the perspective to raise big money in the future, become independent, and so on. Avoiding some negative consequences of a failed Math exam is a good motivation, in fact, also.
3. Form an appropriate environment for learning
This point is frequently underestimated. But, various distractors may decrease the effectiveness of your learning.
Try to avoid any music, except for one that is specifically designated for studies and memorizing, turn off your cell phone, and ask your neighbors not to disturb you.
4. Treat it as a game
This attitude will automatically reduce the level of anxiety and make all study things easier. Positive emotions matter a lot during any preparation.
If you approach your Math test as a kind of simulator to gain and boost skills, the entire preparation process may pass much easier.
5. Make useful notes
Don't limit your effort to highlighting only. Make useful and personalized notes with the points that are very important or difficult for you to remember.
By looking through these notes, you will easily increase subconsciously the entire effectiveness of learning a number of times.
6. Focus on problem-solving tasks
There is one tricky thing that can change the preparation dramatically – don't strive to find a solution only. Instead, do your best to grasp how you find this solution.
7. Ask questions if something doesn't work
It is totally okay if you can't grasp some things. It is never okay to leave those without sufficient clarification. Ask your teacher or tutor to help you with the things you find difficult.
It is important as non-clarified things may have a cumulative and always negative effect on the results of your preparation.
8. Do extra research
Sometimes having only those materials provided by your professor is not enough. You may easily do your independent search and find some good extra clarifying materials that will ease all your studies. For instance, an infographic may be extremely helpful.
Final Words
Any even very complicated, Math test can be easily tackled thanks to organizing the learning process properly.
Draw special attention to timing, practice problem-solving tasks, and think about the motivation to have extra effort for preparation.
Emphasize the clarity of the materials you have and don't neglect making any extra research on the matter.
Infographics and similar things can bring light to the most terrifying Math concepts, for instance. Save these Math test tips to succeed with your challenge.
If truly useful materials are not available to you because of some dull geographical restrictions, use a VPN tool. You will get an opportunity to change your real IP address to any other you will choose independently. And your device may even be likely from the country where geographical and other restrictions are applied. Try a free VPN to test the opportunities – enjoy your learning and explore more content for entertainment after your studies.
Related to This Article