5 Best AFOQT Math Study Guides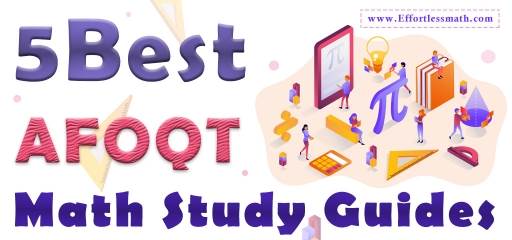 Do you want to join the United States Air Force? If so, you must be aware that you will have to pass the AFOQT test as one of the qualification requirements.
Passing the math section in the AFOQT test is tricky. However, with these five best study guides, you can easily ace this exam.
Final Thoughts
That was your complete guide to the five best AFOQT math study guides. All these books are written by experts and contain specific content. That is why they can help you pass the AFOQT test easily.
The Best Books to Ace the AFOQT Math Test
More from Effortless Math for AFOQT Test…
Do not know anything about preparing for the AFOQT Math test?
Check out How to Prepare for the AFOQT Math Test?
Need Math worksheets to help you measure your exam readiness for your upcoming AFOQT test?
Have a look at our comprehensive AFOQT Math Worksheets to help you practice all AFOQT Math concepts and prepare for the AFOQT Math test.
Want to review the most common AFOQT Math formulas?
Here is our complete list of AFOQT Math formulas.
The Perfect Prep Books for the AFOQT Math Test
Have any questions about the AFOQT Test?
Write your questions about the AFOQT or any other topics below and we'll reply!
Related to This Article