Top 10 Algebra 2 Books: A Comprehensive Guide for Students and Teachers (Our 2023 Favorite Picks)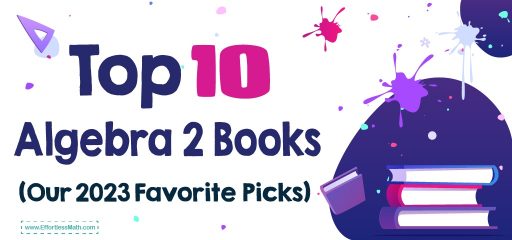 Algebra 2 is a crucial subject for students who want to pursue careers in science, technology, engineering, and mathematics (STEM).
It builds upon the concepts learned in Algebra 1 and introduces new topics such as functions, quadratic equations, and matrices.
To excel in Algebra 2, students need to have a strong foundation and a good understanding of the concepts.
One of the best ways to achieve this is by reading and studying from a comprehensive Algebra 2 textbook. In this blog post, we will introduce you to some of the best Algebra 2 books that are available in the market.
Best Algebra 2 Books in 2023
1. Algebra II for Beginners: The Ultimate Step-by-Step Guide to Acing Algebra II
2. Algebra II Practice Workbook: The Most Comprehensive Review of Algebra 2
3. Algebra 2: An Incremental Development by John H. Saxon
4. High School Algebra II: A Comprehensive Review and Step-by-Step Guide to Mastering Algebra II
5. High School Algebra II Unlocked: Your Key to Mastering Algebra II
6. Algebra 2: By Carter
7. Algebra II For Dummies
8. BIG IDEAS MATH Algebra 2
9. Carson Dellosa | Algebra 2 Workbook
10. Saxon Algebra 2: Homeschool Testing Book
Tips to choose an Algebra 1 Book
Know your familiarity and skill level of pre-algebra and algebra 1. Some books provide straightforward, basic information and some are much more focused. Starting with a book that is too detailed could be frustrating and basically useless. Likewise, starting with a book that is too basic will fail to offer the higher-level information some students need.
Ask yourself if you prefer a book source or online materials. Some of the books might not be as thorough as others but offer awesome online resources. Likewise, some prep books offer very few or no online components.
Know your budget and mission. Books range in price, and some can be quite expensive. Ask yourself if you want the best all-around prep book for your needs regardless of price, or if you are more interested in getting the best value.
Related to This Article