STEM Education is the Key to Success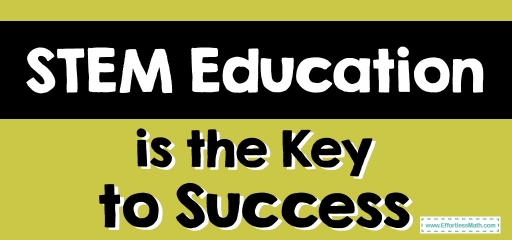 We are living in an era completely taken over and dominated by technology. Almost every activity one could think of is now becoming possible online or has some effect of technology on it.
In such a generation, students have changed views and opinions on future studies, as most of them wish to learn the skills that make them future-ready.
If we look closely, STEM in education has taken center stage. STEM is also what defines the future of the nations and economy.
The future is STEM
The first and foremost reason that shapes STEM to become the key to success is its future. As we are already living in times where everything is beginning to be driven by technology, the future is only promising.
This is the most critical reason students must consider taking science, technology, engineering, and mathematics as their study options.
Sure, these subjects might seem difficult initially, but if success is in mind, then the best way to do so is by selecting either of these subjects for a fruitful career. 
Read an essay about STEM
Students must also take out time to study and research STEM to be able to understand the importance of the subject and what to expect.
Before embarking on a journey of education, students must take the time to bring help for essay related to STEM education on WritingBro.
The first step is reading about STEM, then writing about it and why it makes the best career choice, and then start practicing writing as that comes to be important as students study STEM for the next few years. 
Inculcates critical thinking
Critical thinking skills are key when one talks about performance and groundwork in one's career. While books and knowledge in college are important, what cuts workplaces is the ability to think wise and critically.
Apart from critical thinking, it also instills an innovative and problem-solving mindset in the learners.
Looking at the trends with which industries are adopting technology, there will soon perhaps come a time when STEM will become an integral part of education, and more students will be seen opting for it. With such great growth patterns, children will also be ample learning opportunities.
Encourages experimentation
If the technologies that are present today were stuck due to a lack of experimentation, the high chances are that we may still have been living in old times with having to do everything physically.
STEM is the sole reason behind creative thinking and experimentation. That is also an important reason that pushes the learners of the subjects to think out of the box and apply experimentation in their practices. In times to come, today's students will be the future that brings to life much more in tech than what we already are witnessing.
Makes one resilient
Resilience is a crucial factor that comes into play as a student gears up for jobs and career-making in years to come.
STEM brings on the power to experiment, fail and try again. It is important to understand that not every experiment leads to fruition, and this learning only comes from practice.
Making mistakes is a part of the learning process, and this is what students can learn and gather with time. 
Trains one to teamwork
Teamwork is also an important aspect of learning and teaching abilities for the future. When it comes to STEM, students are encouraged to work together in a team, code together, or practically do assignments in groups. Therefore, these key aspects are all present in STEM education and are also promising for future work opportunities.
Teaches skill of knowledge application
STEM is all about applying technology and what can teach one practical knowledge than a subject that leads to the implementation of learnings. There is no better way than taking STEM subjects to learn practical knowledge of skills and learning applications.
Whether it is science or coding, it all has a real-life application, which forms the beauty of these new-age learning subjects. 
Conclusion
Students need to take the time to understand the subjects and also their future applications. It does seem quite exciting but is also equally difficult. Therefore, research, knowledge gaining, and understanding these subjects are key to success.
It also mainly helps students to seek guidance from experienced professionals who are already working on the ground or in related fields. It is essential to make a completely informed decision.
Author's Bio
James Collins works for a famous tech MNC where he is the lead content writer and has earned fame for his blogging and copywriting. He's equally excellent in his freelance role as an academic writer. Besides his work, he loves outdoor sports, hunting, and RVing.
Related to This Article