How to Apply for College: Complete Guide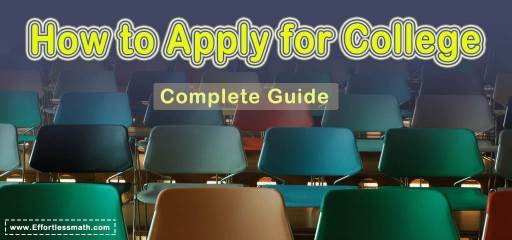 The application process for college can be scary when students have no one who has done it before and can offer advice. Typically, you will complete the required examinations, compose a personal statement, and then submit your application.
Students should always make a to-do list during their junior year of high school to prepare their application materials to ensure that they have enough time to complete their applications.
Below, we'll discuss in full detail the process of applying to college. We will also help you maximize your chances of getting into your dream school.
Visit Colleges
Visiting a college campus is an excellent initial step in the application process for many aspiring college students. You should visit a range of schools, and if you can't physically visit them, you can always look them up on the internet: There are frequent images of the campus, curriculum listings, and other information available there. You'll get a better sense of your desire and ideal school as you research your possibilities.
How to Apply for College
As your junior year of high school draws to a close, you should complete your selection of schools to apply to. Although having a backup school is usually a good idea, if you are positive that you have the necessary grades and test scores for your desired school, you may only need to apply to one.
Make sure you have all of the essential application materials when applying to these universities in your senior year.
Here below, are a few other items of college application that prospective students should be ready to take care of as they apply:
Personal Information:
In the first portion of a college application, students will have to provide basic and important information about themselves, their school, and their family.
Test Scores:
Many colleges require a college entrance examination, although some schools recently have dropped this requirement. Schools now require applicants to submit SAT or ACT scores.
Almost every college that requires test scores will accept either the ACT or the SAT, so you can choose to take both.
High School Transcript:
Colleges will also need an official high school transcript, which is a record of the courses pupils have taken and their grades.
Most college admissions offices prefer to get a transcript directly from the school rather than from the student.
Recommendation Letters:
Grades and exam scores tell the institution what you've learned, but they don't inform the college about your personal experiences. Colleges frequently require students to submit at least two or more letters of recommendation to solve this issue.
Students should seek out recommenders, who could be teachers, school counselors, or another adult mentor from outside the school system who is familiar with you and can speak to your abilities as well as your traits and accomplishments. These letters help the college form a more complete picture of your personality. Students should acquire recommendation letters far ahead of the deadline for their applications.
Personal Essay:
In addition to letters of recommendation, most colleges will also love to hear from you. They're eager to hear about your interests, experiences, challenges you've faced, and of course aspirations.
When planning to write your essay, be sure to consider what the colleges want to know about you and make sure to work with an adult who can be of help in offering suggestions on your essay.
Don't forget to have someone experienced enough to help check out and edit your essay before submitting it.
Setting aside time to complete your applications is the most crucial thing to remember. Because most college deadlines come between January and February, candidates should allow ample time to submit their applications in August, before their senior year begins…
Related to This Article