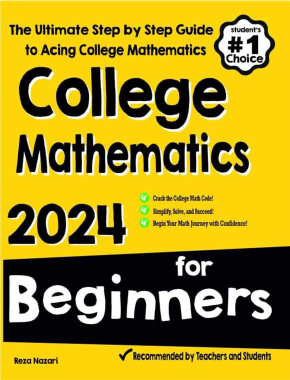 College Mathematics for Beginners
The Ultimate Step by Step Guide to Acing College Mathematics

"College Mathematics for Beginners" stands as a pioneering resource for students venturing into the realm of college-level mathematics. This book is crafted to be your ultimate companion on your academic journey, blending traditional study methods with interactive digital tools. Here's what sets it apart:

+1K Downloads
Teacher's Choice
100% Guaranteed
Secure Checkout
Lifetime Support
Key Features of the Book:
Comprehensive Coverage: The book is structured with each chapter focusing on a key mathematical concept. This ensures you build a solid foundation in every fundamental area of college mathematics.
Interactive Online Course: Alongside the book, there's a complementary online course. This course enhances your study sessions with detailed lessons, providing a multifaceted learning experience.
Scan and Learn: Each chapter features QR codes and web links, directing you to exclusive online content. These digital tools make the learning experience more dynamic and engaging.
Rich Digital Content: The online platform offers a wealth of resources, including extensive lessons, detailed work examples, and interactive exercises. These materials allow for a deeper exploration and understanding of mathematical concepts.
Visual Aid: For each topic, video lessons are available, simulating a classroom learning environment in the comfort of your own space. This visual component is particularly helpful for students who benefit from seeing concepts in action.
Practice Makes Perfect: To reinforce learning, each chapter is accompanied by exercises and worksheets. These are designed to help you practice and solidify your understanding, enhancing your proficiency in each topic.
Immediate Feedback: All exercises come with provided answers, giving you the ability to check your work immediately. This instant feedback helps ensure that you're on the right track and understand the concepts thoroughly.
"College Mathematics for Beginners" is more than just a textbook; it's an interactive study guide tailored for the modern student. It emphasizes engagement, practice, and mastery of material, making it an invaluable tool for anyone preparing to embark on their college mathematics journey. This book is designed not only to aid in reading and memorizing but to encourage an active and comprehensive understanding of mathematics, setting a confident foundation for your college education.
Effortless Math: We Help Students Learn to LOVE Mathematics - © 2023