Best Back-to-School Math Apps for Students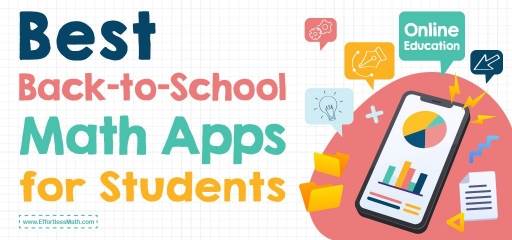 Math is a subject that many people find challenging, even parents. That is why it can be difficult for some students to catch up on new mathematical concepts when school starts. But, thanks to the digital age, there are endless back-to-school math apps your child can use.
Here are the top math apps that students swear by.
1- Monster Math
Pricing: Free, but there are in-app purchases
If your child is anywhere between kindergarten and fifth grade, Monster Math is ideal for them. That is because it will help your child to build strong math foundational skills. Over three million people worldwide use this math app.
Even if your child invests ten to fifteen minutes in this app in a day, they will become much better at math. The app takes kids through a step-by-step journey that will build their fundamental math skills in no time.
2- DoodleMaths
Pricing: $7.91/month
The co-founders of DoodleMaths are Tom Minor and Nicola Chilman. According to them, this back-to-school math app is a fantastic tutor that will offer your child the learning technology they require. That is because the app will customize the mathematical content depending on the strengths and weaknesses of the student.
You can use the Parent Dashboard to check the areas your child is excelling.
Besides that, the dashboard will also reflect the areas your child can use for improvement. It will allow you to tailor the learning needs in the app.
3- Monkey Math School Sunshine
Pricing: $1.99
If you require a beginner math app for your child, you must not look further than the Monkey Math School Sunshine.
It covers all math fundamentals such as subtraction, addition, counting, and patterns. The app targets kids between three and six as they build on their basics.
The best part about this app is that it uses fun activities and problems to engage the child in interactive learning. So, if you want to teach math basics to your child, be sure to check this app out and see the fantastic results in no time.
4- Splash Math
Pricing: Free with in-app purchases
If you want a comprehensive math solution for your child, the Splash Math app is one of your best options.
It offers interactive games to kids and rewards them with coins so they can learn better. Parents can access the dashboard of this app to check the progress reports of their children.
The best part is that Splash Math provides lessons to children in over three-hundred math skills. Keep in mind that you will have to opt for in-app purchases to access more playtime and some fantastic features.
Final Words
These are the best back-to-school math apps for students who are finding the subject difficult. Each app is unique and will offer something different to parents and children.
That is why you must go through our guide and make an informed decision about the app you wish to use. Once you do, your child will excel in math in no time.
Related to This Article