The 10 Best Whiteboards for Online Tutoring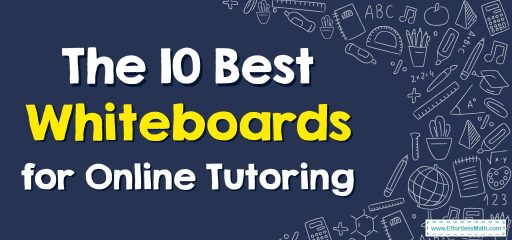 Being an online tutor means you need to invest in tools to ensure your students can learn effectively and continue coming back to you. In traditional class settings, you would be showing all of your work on paper with individual students or on a whiteboard to your class.
You now have the option of using an online whiteboard to show everything you're writing or drawing without having to focus a camera on a physical whiteboard.
Essential Features of an Online Whiteboard
Online whiteboards offer a variety of features that you may or may not need. Three essential features you should be looking for are:
Real-time screen sharing, otherwise why bother?
Integrations with third-party applications like Slack and Google Drive.
Infinite workspace. If you are limited, then there are better options out there.
Provided below are the top 10 best whiteboards for online tutoring to ensure your success.
Top 10 Best Whiteboards for Tutoring Online
1. Ziteboard
Ziteboard offers a vast range of features, many of which you might have needed another service to provide online tutoring. For example, you can share and collaborate on your lesson plan and upload PDF files to review together.
You can also import and export data so you can keep copies of your lessons. You can also use Ziteboard as audio and video conferencing option so you and your students can see and hear each other without needing another service.
2. Miro
Miro offers the standard whiteboard collaboration screen, along with several other valuable features. Some of the top features include creating lesson plan templates, so you don't spend time redoing everything for each student.
You also can write down ideas and leave feedback. In addition, all lesson plans can be saved as a template for later or exported as a PDF for offline review.
You also can upload documents, images, and anything else you need for review in an online class from both the student and teacher.
3. Conceptboard
Conceptboard offers a massive range of features, so depending on your needs may be overkill. For example, you can collaborate on whiteboards, import and export documents, and store documents in the system with version control.
Version control allows you to see progress or revert lessons if there are problems. If you are setting homework or tasks for students to complete, you can also set up a task list with email alerts.
4. TutorsBox
TutorsBox offers a collaborative whiteboard with a pen tool for writing and drawing on the whiteboard. It's great for math classes that require equations to be stored and reused, along with a function graph, and shape creator.
It also provides access to a Wolfram alpha search engine, which is great for asking specific questions and getting exact answers without looking through multiple results, which is handy for educational topics like math and physics.
5. Bitpaper
Bitpaper comes with video and audio conferencing built-in, which is handy and saves money. In contrast, some other online whiteboards do not offer this feature. Something you may not think about, but Bitpaper will also automatically save your lesson as it's happening, some services will not, and if you close out the session, you may lose everything you have been working on. You can also tag your saved lessons to be reused either as a template or with the same student for the next class.
6. Lessonspace
Lessonspace offers video conferencing, chat, whiteboard, and document sharing. Meaning you can have one-on-one lessons or a group tutoring session with one person talking but questions are being asked or reviewed in the chat.
7. Limnu
Limnu offers excellent features whether you have a free or paid account. However, more features are available with paid.
The main benefit of Limnu is your ability to break into teams and provide control per team. This control is great for multiple tutors using an account and breakout rooms for numerous students to work together on shared projects.
8. Bramble
Bramble offers a simple setup and use. It is available across all platforms and prioritizes low bandwidth so that all students can interact and use it from any location.
You can record sessions and search for past sessions, and you can import and export documents for review.
Bramble also offers analytics showing how much you are talking and how much the student interacts. These analytics allow you to see if any students aren't engaging well with specific topics.
You can also see if you're spending too much time talking and not enough interacting with the student.
9. LiveBoard
LiveBoards' selling point is allowing students to interact with the lesson as it's going on; they aren't simply sitting and watching. In addition, users can record and export their classes.
However, the most significant selling point for LiveBoard is that it's geared toward mobile devices. If students don't have a suitable laptop available, LiveBoard may be a better option to work with them.
10. Scribbler
Scribbler is a blank canvas to be used as you see fit. It has integration with writing pads to draw and write on the whiteboard as if it was real.
Scribbler also allows you to import documents and images to be used on the whiteboard sharing session.
Final Thoughts
Online whiteboards and collaboration screens are the optimal way to tutor online. Using a traditional whiteboard that you focus your camera on is ineffective, can't be seen as well, and there is no collaboration with your student.
Make sure you invest in a critical tool when providing online tutoring to your students. Online whiteboards can even be a tool used in classrooms if your students have laptops available.
It makes viewing and interactive collaboration much easier, with notes and diagrams being easily saved for later review in most cases.
Related to This Article