Dual Degree Programs: A Complete Guide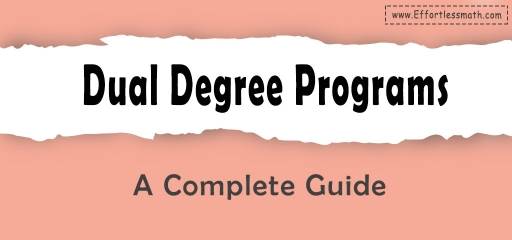 Dual-degree programs enable students to study two or more fields concurrently. Students frequently select this option when they may benefit from studying numerous subjects simultaneously.
For instance, aspiring teachers may concentrate their studies on education and a particular subject area, such as science or mathematics.
While some colleges provide pre-designed dual-degree pathways, others allow students to design their curriculum.
In addition, numerous choices allow students to achieve two degrees in a short period. For example, 4+1 programs allow students to get both a bachelor's and master's degree in five years rather than six.
This guide discusses how dual-degree programs function, discusses several common possibilities and discusses the advantages of these academic paths.
What Is a Dual Degree?
Some dual-degree students pursue two bachelor's degrees concurrently (for example, business, and economics).
In contrast, others pursue several degrees in the same field (for example, a bachelor's and a master's in nursing). Thus, these programs can be beneficial for students who have a certain career path in mind and those exploring their possibilities in a variety of areas of interest.
How Do Dual-Degree Programs Work?
Dual-degree programs often adhere to a somewhat rigid framework to ensure students graduate on time and with all requisite credits. Some credits may be transferred between the two programs, though the regulations vary by school.
The dual-degree program is designed to save students time and money.
For instance, students pursuing dual bachelor's degrees at Lehigh University must earn 30 credits beyond their first degree to earn the second.
Students enrolled in bachelor's-programs and master may take graduate-level courses during their senior year to fulfill both undergraduate and graduate requirements.
The dual-degree program is designed to save students time and money. For instance, rather than finishing a discrete bachelor's degree followed by a discrete master's degree, which typically takes about six years, many bachelor's-dual-degree master's programs can be finished in as little as five years. This enables students to enter the workforce and earn professional pay sooner.
Typically, students enroll in classes across various departments at the same college or university. However, some alternatives may include classes taught by faculty from partner institutions.
Before applying to programs that span multiple schools, ensure that you understand and meet all travel requirements. Certain programs may be online, while others may require attendance in person at multiple locations.
How Do You Get into the Dual-Degree Program?
The application process varies considerably depending on the school and program. Due to the demanding curriculum required to ensure students complete all credit requirements on time, candidates are frequently required to apply to the dual-degree program rather than to the institution or university as a whole.
At the bachelor's level, many colleges admit students on a first-come, first-served basis and then allow them to add a dual degree afterward. Thus, learners begin with one program and then switch to a dual degree program after the third year of attendance.
Although it is less typical, a few master's programs enable students to begin one master's program and then add a second master's program after the first or second semester. Others require candidates to apply to both programs individually.
Students will be required to enroll in an existing dual-degree program, depending on the school. Other kids may be given the option of creating their own.
Related to This Article